Round Rock man sentenced to 37 years for pouring boiling water on wife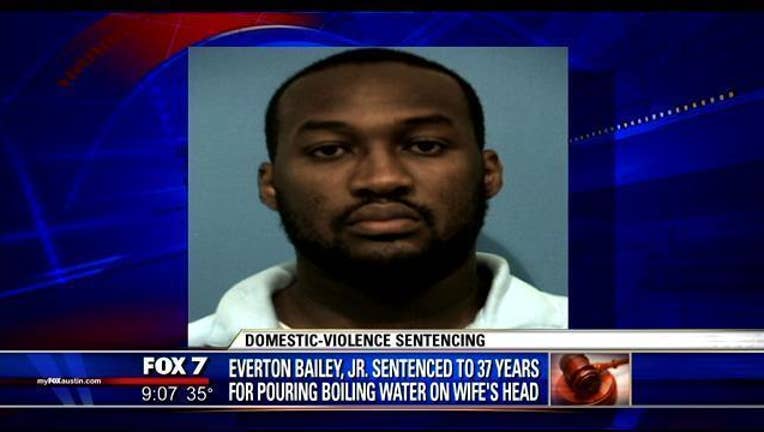 article
ROUND ROCK, Texas - A Round Rock man is now facing 37 years behind bars.
A Williamson County jury handed down the harsh punishment because of what he did to his wife.
It was a horrific assault.
A 29-year-old man poured boiling water on his wife as she knelt in front of him.
Round Rock police say in May 2013, Everton Bailey Jr. punched his wife twice then forced her to kneel down while he went to get a pot of boiling water. He came back and poured it on her. It severely burned her.
She was able to escape and remarkably drove herself to the hospital then once she was able, ten days later, she walked into the Round Rock Police Department and filed a report. Bailey was charged with aggravated assault with a deadly weapon.
Late this week, he was found guilty and then sentenced to nearly four decades behind bars.
"Based on the seriousness of the injuries that she had sustained it was evident to me based on training and experience that this wasn't a one-time deal," Detective John Combs with the Domestic Crimes unit of Round Rock Police.
Experts say that victims of abuse don't always get out for different reasons. One of them is because they have nowhere to go.
In Williamson County there's only one shelter for victims of domestic violence. It's called Hope Alliance and it's in Round Rock. They provide other services to victims too but every day say they're forced to turn victims away who are in need of a place to stay.
"Unfortunately they will stay in the relationship unless they can find a better resource. We offer some victims hotels if we have the money to do that and until we can make room in their shelter," said Patty Conner, the CEO of Hope Alliance.
If you'd like to learn more about Hope Alliance, click here.