Senate to hear from Comey; Dems raise new Session questions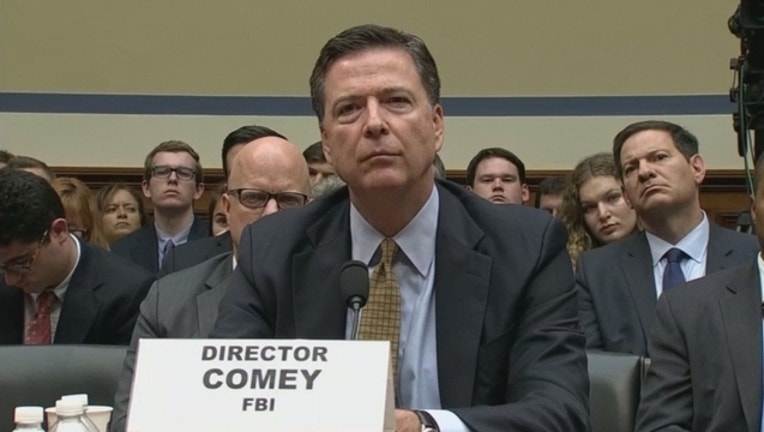 article
WASHINGTON (AP) -- James Comey, fired last month as FBI director amid a federal investigation into connections between Russia and the Trump campaign, is set to testify next Thursday at a highly anticipated congressional hearing that could shed light on his private conversations with the president in the weeks before the dismissal.

The Senate intelligence committee announced Comey's appearance, and a Comey associate said he had been cleared to testify by Robert Mueller, another former FBI director now overseeing that investigation as special counsel.

Also on Thursday, Democrats raised more questions about contacts during the campaign between the Russian ambassador to the United States, Sergey Kislyak, and Trump's attorney general, former Sen. Jeff Sessions, R-Ala.

Sessions, a close Trump adviser, withdrew from the Russia investigation in March after admitting to two previously undisclosed contacts with Kislyak last summer and fall.

Sens. Patrick Leahy, D-Vt., and Al Franken, D-Minn., released a letter urging the FBI to investigate whether Sessions had falsely testified under oath when he said at his January confirmation hearing that he hadn't had any contacts with Russia.

"If it is determined that the attorney general still has not been truthful with Congress and the American people about his contacts with Russian officials during the campaign, he needs to resign," the senators wrote.

In addition to the two meetings Sessions has acknowledged, the senators pointed to the possibility of a separate encounter at an April 2016 Trump campaign event that Sessions and Kislyak attended.

The Justice Department has acknowledged that Sessions was at the Mayflower Hotel event in Washington, but said there were no private or side conversations that day,

Comey's testimony probably will focus on the private meetings Comey had with President Donald Trump and subsequently chronicled in internal memos and recounted to associates who have divulged their contents to The Associated Press and other media outlets.

Comey's associates have said Comey told them that Trump asked him at a January dinner to pledge his loyalty to the president and, at an Oval Office meeting weeks later, asked Comey to consider ending an FBI investigation into Trump's first national security adviser, Michael Flynn.

The White House has denied those characterizations.

The scope of Comey's testimony was not exactly clear, though Mueller was permitting him to speak publicly, an associate told the AP.

Mueller's investigation could include a look at the circumstances of Comey's firing, especially since Trump has said publicly that he was thinking of "this Russia thing" when he made the move.

It is possible that the Trump White House could try to raise executive privilege claims in arguing that any conversations with the president could not be discussed publicly.

A similar back-and-forth occurred before the testimony last month of former acting Attorney General Sally Yates, though the White House said it did not try to block her appearance.

------

Associated Press writer Jake Pearson contributed to this report from New York.