Sheriff: Six Camp Fire-related arrests made on charges including looting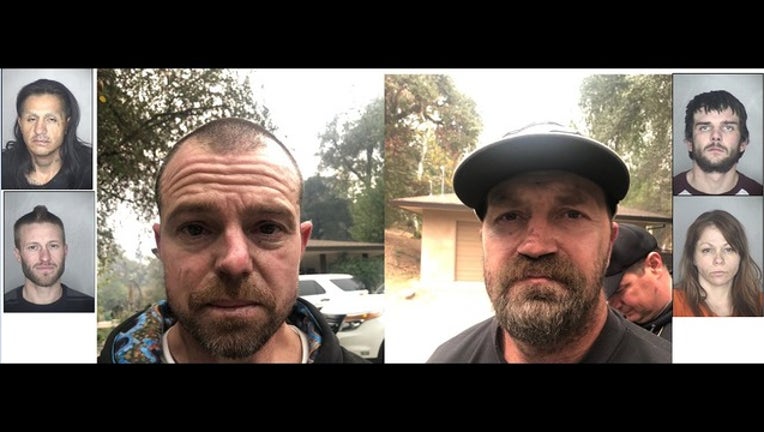 article
PARADISE, Calif. (KTVU) - Adding insult to injury in a situation that has caused panic, grief and devastation, Butte County Sheriff's coroner announced the arrest of six suspects at Tuesday's daily briefing on the deadly Camp Fire. 
Sheriff-Coroner Kory L. Honea said the fire had grown to 130,000 acres and that firefighters had reached 35% containment. The death toll climbed to 48 with the discovery of six more humans' remains-- all within their Paradise homes.
But he also mentioned the six suspects' arrests on charges ranging from possession of firearms, controlled substances and for being in an evacuated area. 
Jason Burns, 41, of Chico and Michael Salisbury, 48, of Reno were arrested on Monday. Deputies who were patrolling Butte Creek Canyon were approached by a PG&E employee who spotted the two men in the evacuated area. The worker said they appeared to be looting. 
In a news release issued after the news conference, Sheriff's deputies said the two ran into a residence on Quail Run Drive. Deputies followed them inside and found both hiding inside a room in the residence, which turned out to be the residence of a relative of Burns'. 
The men were said to be in possession of a handgun, loaded magazines for the weapon, methamphetamine, heroin, and drug paraphernalia. An assault rifle and several chainsaws were found in the garage, all suspected to be stolen. Sheriff's deputies said an ATV reported stolen was found outside the residence. 
The sheriffs' office checked to see whom the handgun was registered to. It belonged to a Paradise resident who was evacuated from their home. Both suspects were booked into Butte County Jail with bail set at $89,000. An investigation in that case is ongoing according to the sheriff. 
Teddy King, 27, of Paradise and John Brown, 38, of Oroville were also arrested when they were spotted by sheriff's deputies in an evacuation zone early Tuesday morning. Officials said the two were on a bike path and were in possession of a laptop that did not belong to them. They also had a ski mask and drug paraphernalia. They were booked into the county jail. 
Later that same morning, deputies on patrol spotted a motorhome that was reported stolen out of Magalia, an area under evacuation orders. Deputies said they conducted a traffic stop and identified the driver as Shayne Tinnel Jr., 22, of Magalia and the passenger as Tracy Sizer, 42, of Magalia. 
Officials said there was no key in the ignition and that the ignition was damaged. Both suspects were arrested and charged with vehicle theft, possession of a stolen vehicle and looting. 
In all, Sheriff Honea said there was 208 "suspicious incidents" reported since the fire began, 18 of them were reported to be looting.
Later on in the news conference Sheriff Honea passed along a message on behalf of the district attorney who was said to be taking an aggressive stance on "price gouging." Anyone suspected of being taken advantage of, whether it be extra charges on hotels, gasoline or rent; the D.A. asks that you call 1-866-DAFRAUD. 
Honea concluded by saying he considers price gougers to be in the same category as looters. 
WATCH: Cal-Fire, Butte Co. Sheriff's Office Camp Fire update 
This story was reported from Oakland.