Soldiers begin re-supply and recon Houston area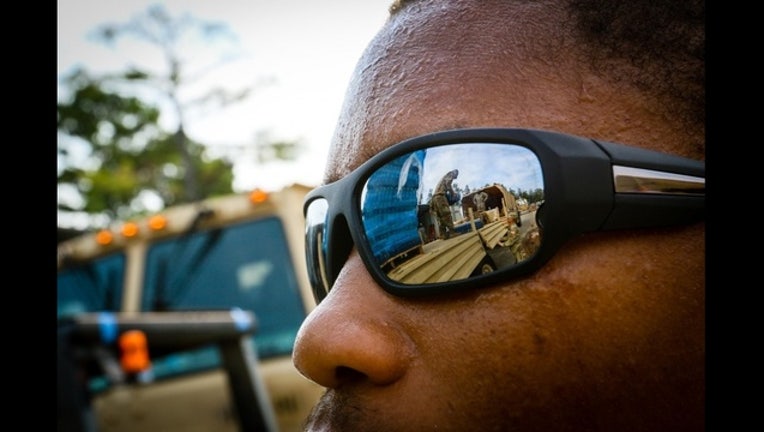 article
HOUSTON (FOX26) - KATY, TX – For some of the residents of the counties surrounding Houston, Texas, relying on each other for supplies through Hurricane Harvey has become a hallmark of the strength of their communities.
Active duty Soldiers assigned to the 36th Engineer Brigade and other supporting units from Fort Hood, Texas are continuing their efforts to build on each community's strengths and give the residents additional help as they recover from the devastation the hurricane caused.
In order to accomplish this task, the military units from "The Great Place" started a mission on Sep. 3 to find, supply and assess the needs of the civilian communities that have been helping each other without military support.
The mission searched for these communities via military convoys out of a Responder Support Camp operating in Katy, Texas. Coordinating with the American Red Cross and getting the supplies to the rural areas outside of Houston was paramount to the citizens in and around Houston.
"The residence here said that they want to see more of our support out in rural areas," said Capt. Diana Bojorquez, a native of Mesa, Arizona and commander of the 104th Engineer Company, 36th Engineer Brigade. "So far the majority of our support has gone to the main Houston area. This mission gives the rural communities supplies, and it helps us understand how to better provide relief to those communities."
The supply mission, which would usually have pre-planned drop-off locations, required the unit to be innovative due to the exploratory nature of the operation. The unit had to communicate with local emergency disaster response professionals to find the towns where people had set up local supply distribution centers.
"We had to talk to local experts to find where we were most needed," said Bojorquez. "The difficult part of the mission was finding where the people were – the easiest part was finding out what they need."
Over the next few days, the convoys will carry different supplies for each trip due to the needs of a particular area.
"Everyone has come here with patience," said Steve Clayton, American Red Cross supervisor of emergency supplies for District 1. "The team of folks we have here, the American Red Cross and the Army, everyone has the right attitude."
As the mission continues, the Soldiers supporting the relief efforts will remain flexible and prepared to assist the citizens of Houston as they continue to provide supplies to communities.
"Cleaning, supplies, tarps, water, rakes, meals (MREs), it's all for flood victims to help clean up," said Clayton. "We are all one team in this. We are all on the same mission."
Story by Spc. Hubert Delany, 22nd Mobile Public Affairs Detachment