South Korea parades powerful weapons, thousands of troops in massive Armed Forces Day ceremony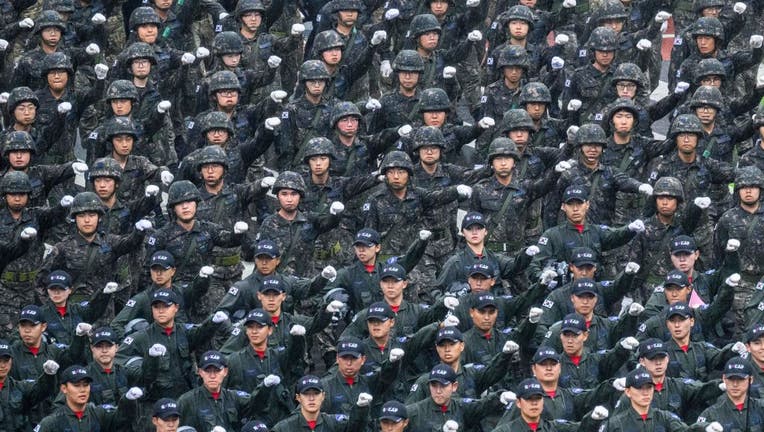 article
SEOUL, South Korea (AP) - South Korea paraded thousands of troops and an array of weapons capable of striking North Korea through its capital as part of its biggest Armed Forces Day ceremony in 10 years on Tuesday, as its president vowed to build a stronger military to thwart any provocation by the North.
Concerns are growing that North Korea is seeking Russian help in expanding its nuclear arsenal in return for supplying Moscow with conventional arms exhausted by its war with Ukraine.
"After looking at your imposing march today, I believe our people would trust you and have faith in our national security," President Yoon Suk Yeol told cheering soldiers at the end of the ceremony in a central Seoul plaza. "I'll always support you together with our people."
Earlier, South Korea rolled tanks, artillery systems, drones and powerful ballistic missiles capable of hitting all of North Korea through the streets of Seoul, amid steady autumn rains. About 4,000 South Korean troops carrying rifles or flags followed them, accompanied by about 300 U.S. soldiers, in the first such military parade since 2013.
As the soldiers and their weapons went past, Yoon waved, clapped and flashed a thumbs-up.
Since taking office last year, he has been pushing hard to beef up South Korea's defense capability while expanding military drills with the United States in response to North Korea's advancing nuclear arsenal.
But a complication in Seoul and Washington's efforts to curb the North's nuclear ambitions is the latest North Korean push to deepen military cooperation with Russia. Earlier this month, North Korean leader Kim Jong Un traveled to Russia's far eastern region to meet with President Vladimir Putin and visit key military sites.
North Korea reportedly wants to receive Russian technologies to help its development of spy satellites, nuclear-propelled submarines and powerful long-range missiles. Such weapons would pose a major security threat to South Korea and the U.S.
In a formal Armed Forces Day ceremony at a military airport near Seoul earlier Tuesday, Yoon said he'll strive to build "a strong military that instills fear in the enemy."
"Based on battle-ready combat capabilities and a solid readiness posture, our military will immediately retaliate against any North Korean provocation," he said. "If North Korea uses nuclear weapons, its regime will be brought to an end by an overwhelming response" from the South Korean-U.S. alliance.
That ceremony drew about 6,700 soldiers and 200 weapons assets, the largest of its kind since 2013, according to South Korean officials.
Yoon didn't mention North Korean-Russian ties in either of his two speeches Tuesday. But in an address to the U.N. General Assembly last week, he said South Korea "will not sit idly by" if North Korea and Russia agree to such weapons deals in violation of U.N. Security Council resolutions that ban all weapons trading with North Korea.
U.S. officials have also said that North Korea and Russia would face consequences if they go ahead with such deals.
Also Tuesday, senior diplomats from South Korea, Japan and China met in Seoul and agreed to hold the first summit of their leaders in four years "at the earliest convenient time," according to a statement from South Korea's Foreign Ministry. No date has been fixed, however, and the South Korean statement said the three countries agreed to hold a related foreign ministers' meeting in a couple of months.
Yoon said last week that Chinese Premier Li Qiang and Japanese Prime Minister Fumio Kishida had expressed their support for a trilateral summit in South Korea.
Yoon's moves to strengthen South Korea's military alliance with the U.S. and boost Seoul-Washington-Tokyo security cooperation have caused concerns that Seoul's relations with China, its biggest trading partner, will be undermined. But Yoon says Seoul-Washington-Tokyo cooperation won't marginalize any particular nation.