Launches cap busy week for SpaceX as possible Starship test flight nears
CAPE CANAVERAL, Fla. - SpaceX launched rockets from both coasts this weekend as all eyes now shift to Texas and the possible next test flight of the company's giant Starship rocket.
Transporter 9 launch
Saturday morning, a Falcon 9 rocket blasted off from Vandenberg Space Force Base in California with dozens of small payloads. It was the latest in their Transporter series of launches, designed to make it cheaper and easier for smaller companies to launch micro-payloads into space.
The top of the rocket was packed with 90 payloads; thus far, the company says, customers have confirmed 86 successful deployments. A few more were expected to deploy from their own transfer vehicles later.
The Falcon 9 first stage, making its 12th flight, landed back at Vandenberg's Landing Zone 4 after launch.
SES O3b mPOWER launch
A Falcon 9 rocket rises behind the old Titan ITL complex at Cape Canaveral Space Force Station. (Photo: Chris Boex / FOX)
Sunday afternoon, a Falcon 9 cut though the low Florida clouds, carrying two O3b mPOWER communication satellites for Luxembourgish tech company SES. That brings the total number in the constellation so far to six, and the activation of this latest pair should clear the way for SES to begin providing broadband and mobile service to remote places.
The Falcon 9 lifted off from Cape Canaveral Space Force Station, where SpaceX is modifying Launch Complex 40 to be able to support astronaut launches. The white crew access arm was visible in its retracted position on the new support tower next to the rocket.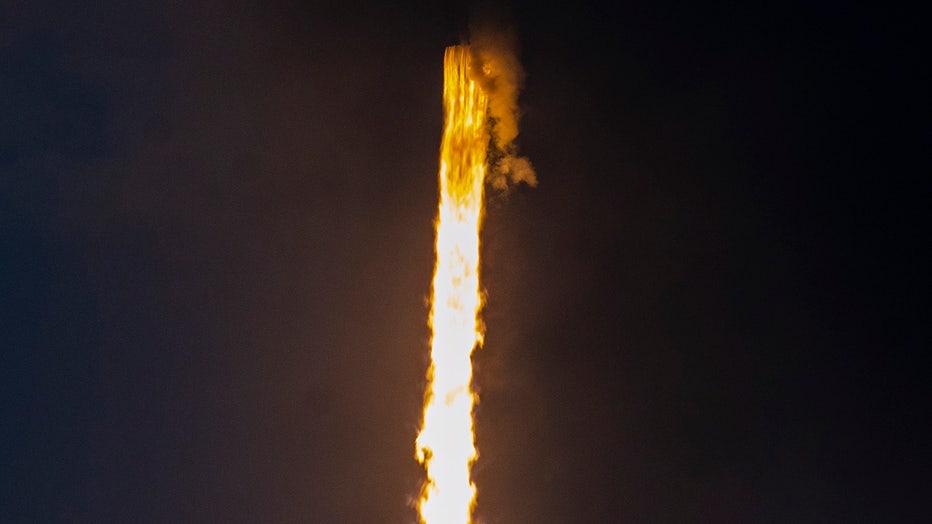 The Falcon 9 carrying SES O3b mPOWER payload launches through a cloud at Cape Canaveral Space Force Station. (Photo: Chris Boex / FOX)
The first stage booster, making its ninth flight, landed on the SpaceX barge out in the Atlantic.
The weekend missions capped a week in which SpaceX also launched a cargo capsule to the International Space Station and yet another round of Starlink internet satellites.
Next Starship launch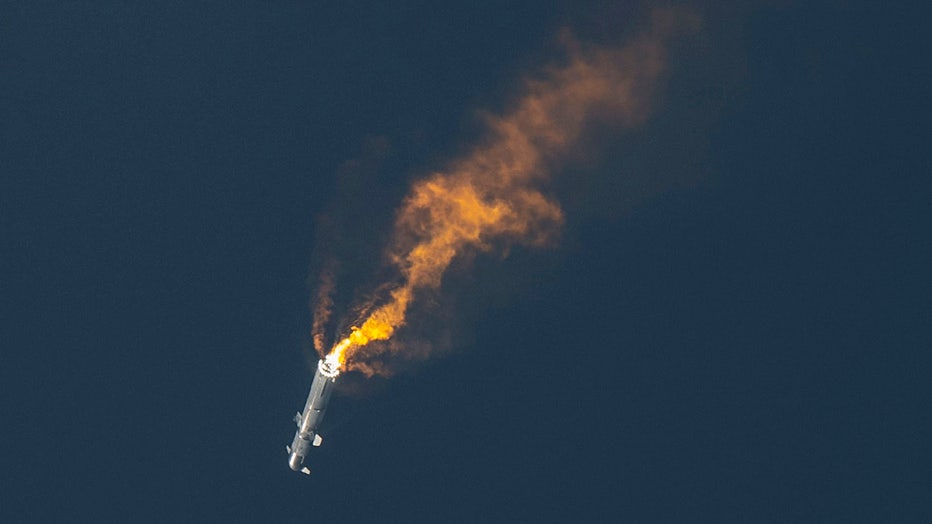 File: SpaceX's Starship spacecraft and Super Heavy rocket explodes after launch from Starbase on April 20, 2023. (Photo by Jonathan Newton/The Washington Post via Getty Images)
As the reliable Falcon 9 rockets continue to launch and land, SpaceX is gearing up for the second test flight of its enormous Starship rocket from its launch site in south Texas. The first flight of the experimental vehicle spewed sand six miles away and ended with the rocket tumbling through the air after three of the rocket's 33 engines failed at liftoff, while several more shut down in flight. 
After less than four minutes, the rocket exploded after engineers issued the self-destruct order.
Since then, SpaceX says it has been identifying the flaws and improving the rocket's design, while upgrading the rocket's launch pad, which was built without a flame-diversion system or water sound-suppression system.
"Starship's first flight test provided numerous lessons learned that directly contributed to several upgrades to both the vehicle and ground infrastructure to improve the probability of success on future flights," the company noted.
PREVIOUS: SpaceX makes changes to Starship after 'lessons learned' from test flight
Federal investigators have yet to sign off on the various improvements, though that milestone could be close. Last week, SpaceX said Starship could be ready for its second flight by November 17, "pending regulatory approval."
SpaceX has historically innovated at a fast pace in which vehicle failures are part of the learning process – what they call a "rapid iterative development approach." But when dealing with most powerful rocket ever flown, investigators have moved more cautiously with their approvals. The FAA's investigation closed with 63 "corrective actions" SpaceX was required to take before the next launch.
The company hopes the fully reusable two-stage vehicle cuts the cost of orbital launches the same way the partially-reusable Falcon 9 already has. Company CEO Elon Musk has talk of plans to use the vehicle for Mars missions, and NASA plans to use a modified version of the upper stage as a lunar lander in the upcoming Artemis missions.