Stanford engineers unveil self-driving DeLorean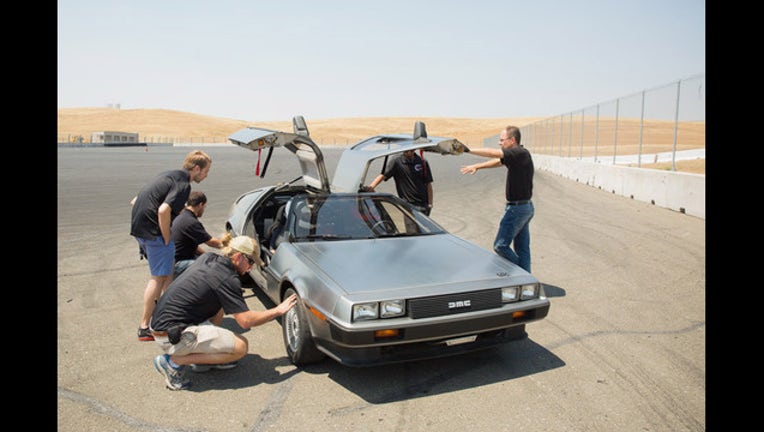 article
STANFORD, Calif. - It may not time travel, but Stanford University engineers unveiled a DeLorean modified to be self-driving, electric, and drift like a pro driver on Tuesday.
The DeLorean is nicknamed MARTY, which stands for Multiple Actuator Research Test bed for Yaw control.
It was developed by Stanford mechanical engineering professor Chris Gerdes and his students to research
how cars perform in extreme situations and ultimately develop better safety mechanisms in cars.
The engineers' announcement of MARTY was timely as today is the future date that Marty McFly and Doc Brown use their time machine DeLorean to travel to in the 1989 film "Back to the Future Part II."
"We want to design automated vehicles that can take any action necessary to avoid an accident," Gerdes said in a statement. "The laws of physics will limit what the car can do, but we think the software should be
capable of any possible maneuver within those limits.
MARTY is another step in this direction, thanks to the passion and hard work of our students."
According to graduate student Jonathan Goh who was in charge of engineering MARTY's drifting technique, the car can lock itself into a perfectly circular donut at a large drift angle.
This is the first step on the path to a self-driving car that can deal with extreme situations, according to Stanford officials.
"The sublime awesomeness of riding in a DeLorean that does perfect, smoke-filled donuts by itself is a mind-bending experience that helps you appreciate that we really are living in the future," Goh said in a
statement.
MARTY was built in partnership with Silicon Valley electric vehicle tech startup Renovo Motors, which gave the Stanford team early access to a brand new platform that allows precise control of the gearboxes and rear
wheels during drifting.
According to Goh, the car's systems are managed by a central application program interface, which allowed the integration process of replacing the original gasoline engine to happen over the course of just a
few months.
Ultimately, Gerdes and the seven students involved in Gerdes' Dynamic Design Lab hope to program the car to be able to drift around a track, interact with a car steered by a human, and be able to negotiate tight
turns and obstacles when required.
"A drift competition is the perfect blend of our two most important research questions: how to control the car precisely and how to design automated vehicles that interact with humans," Gerdes said in a statement.
"While we aren't picturing a future where every car produces clouds of white tire smoke during the daily commute, we do want automated vehicles that can decipher the subtle cues drivers give when driving and
incorporate this feedback when planning motion."