'Star Wars' X-wing model used in movie sells for more than $3 million
A model of an X-wing starfighter used in the original "Star Wars" in 1977 sold for an eye-popping sum over the weekend.
The miniature so-called "Red Leader" brought more than $3.1 million at the estate sale of late Hollywood visual effects artist Greg Jein, Heritage Auctions said in a press release Monday.
The model is screen-matched and was depicted leading the Rebel Alliance's assault on the Death Star in "Star Wars: Episode IV - A New Hope." It was built by Industrial Light & Magic, which won the Academy Award for Best Visual Effects for the film.
RENEE ZELLWEGER, JAKOB DYLAN'S FORMER HOLLYWOOD HILLS HOME ON SALE FOR NEARLY $5M
Jein, an Oscar- and Emmy-nominated model maker who built numerous miniatures for the "Star Trek" franchise and had a more than six-decade professional career, died last year.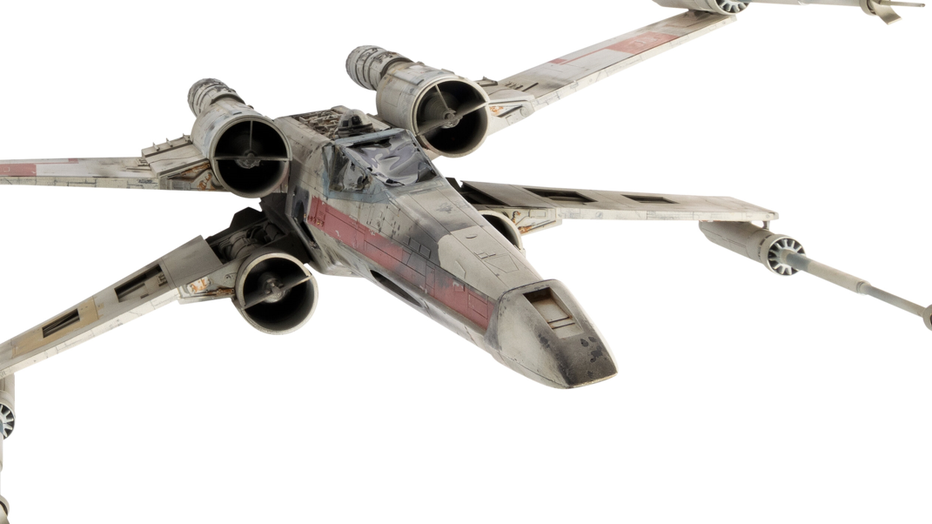 Screen matched hero "Red Leader" (Red One) X-wing Starfighter filming miniature. (Credit: Heritage Auctions)
The two-day sale of his collection realized more than $13 million total, making it the second-highest grossing Hollywood auction ever, only beaten by Debbie Reynolds' estate sale in 2011, which brought $22.8 million.
Heritage said the sale was nearly a sold-out event and that more than 2,200 bidders participated, including all those who cast bids online, over the phone and in person.
BARRY MANILOW, JENNY MCCARTHY HONOR SUZANNE SOMERS AS HOLLYWOOD MOURNS LOSS OF 'THREE'S COMPANY' STAR
"The success of this auction — from the overall result to the number of participating bidders to the packed-out auction room full of Greg's friends and fans — was a profound testament to my friend as both a visual-effects master and one of the great collectors," Heritage Executive Vice President Joe Maddalena said in a statement.
GET FOX BUSINESS ON THE GO BY CLICKING HERE
He added, "This event exceeded my expectations, and I couldn't be prouder to have been part of this historic event."
Read more of this story from FOX Business.