Tipping fatigue: Here are the states with the best and worst tippers
The debate over tipping has become more heated as diners try to determine a fair amount to reward food service workers for their efforts. 
Some consumers tend to be more generous than others, and a recent study examines this practice nationwide.
A new report from Toast, a cloud-based technology platform for the restaurant industry, conducted a ranking of all 50 states with the best and worst tippers.
Based on their data, Delaware ranked first, with the highest average tip percentage at 21.8%. Indiana was second at 20.6%. Kentucky ranked third, also at 20.6%. And California came in last place, with an average tip percentage of 17.5%.
RELATED: Is tipping out of control? Americans voice frustration over rise in tip requests
Delaware earning the top spot marks the first time Indiana was bumped from number one since Toast began tracking tipping on its website, the company noted.
Best states for tipping
Delaware (21.5% average tip rate)
Indiana (20.6% average tip rate)
Kentucky (20.6% average tip rate)
Wyoming (20.4% average tip rate)
Ohio (20.4% average tip rate)
New Hampshire (20.3% average tip rate)
West Virginia (20.2% average tip rate)
Wisconsin (20.1% average tip rate)
South Carolina (20.1% average tip rate)
Michigan (20.1% average tip rate)
Pennsylvania (20% average tip rate)
Missouri (20% average tip rate)
According to Toast, the average restaurant tips servers received in all 50 states was 18.9% for the second quarter of 2023, a slight decline from 19% in this year's first quarter.
This data marked the lowest average tip amount for full-service restaurants Toast has counted since the start of the pandemic. 
The company also monitored tipping rates at full-service restaurants and learned that rates at these establishments dipped to 19.4% in the second quarter, a slight change from 19.7% in the first quarter, the study noted. 
Three factors for a slump in tips by customers are "tipping fatigue," the cost of living and wage laws for tipping workers related to inflation, and service charges introduced by restaurants, the report noted.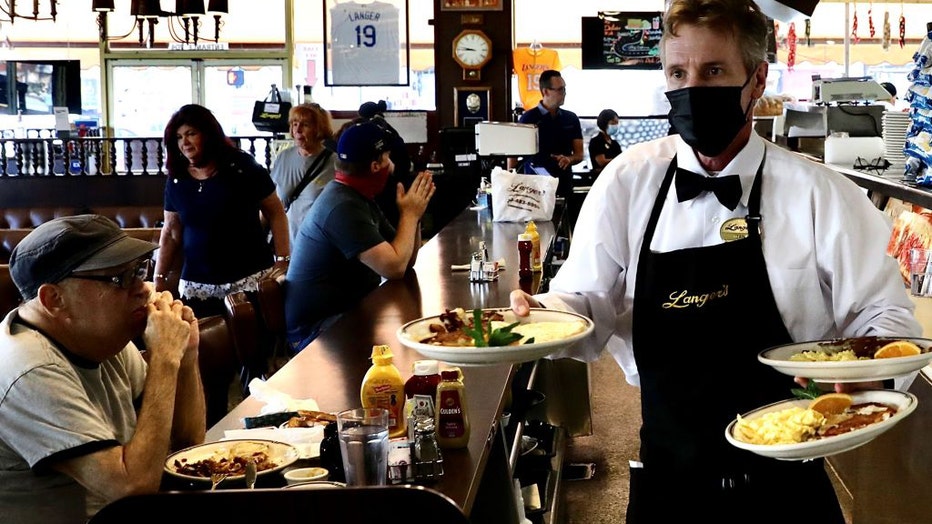 FILE-A waiter serves food at the Langer's Delicatessen-Restaurant in Westlake in Los Angeles, California on June 15, 2021. (Photo by Xinhua via Getty Images)
Toast says in their report that it works with roughly 93,000 restaurants in the U.S. and noted that its study compiled sales data from some restaurants and locales.
RELATED: Here are the cities that tip the best, study finds
Back in March, Toast conducted a similar ranking when the company looked at U.S. cities with the best tippers. 
Cleveland grabbed the number one spot with an average tip rate of 20.6%, followed by Denver at 19.8%, Salt Lake City at 19.6%, and Phoenix at 19.5%, and San Francisco ranked last with an average tip rate of 17%.
RELATED: Which age group tips the worst? Survey reveals tipping frustrations
This story was reported from Washington, D.C.