Storms in Bastrop knock down trees, powerlines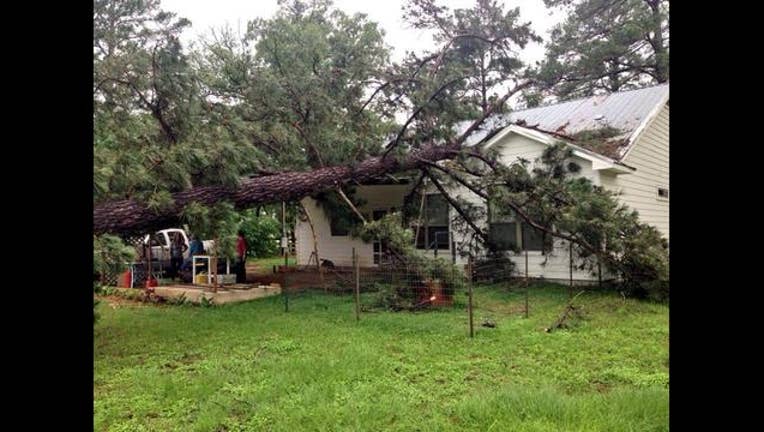 article
The storms Saturday afternoon caused some serious damage in Bastrop County.
High winds knocked down trees and power lines leaving many homeowners in the dark.
The Fletcher family who live off Highway 21 near FM 1441 got hit especially hard.
"There were pine cones falling everywhere and hail. It was black out here, pitch dark, it was a mess," said Terry Fletcher who was at his mother's home when the storms rolled in.
The high winds and already saturated ground was the perfect recipe to uproot large trees in the area. Something the Fletcher family found out the hard way.
"Sounded like about 10 shotguns going off all at once," said Terry.
"Once the storm went through we got the phone call" said Ken Altmiller, president of Interior Solution Services.
"Help a whole tree just fell on my house," he added.
Luckily, no one was injured when the large tree fell onto the Fletcher's roof, but this isn't the first time the family has found themselves in harm's way.
"We just got built back after the fire three years ago," said Joyce Fletcher who lives in the home with her husband.
Now once again the Fletchers are turning to their neighbors to help out.
"It's fractured the roof, it's punctured a two foot by one foot hole. It's leaning very precariously on an angle so it could roll over at any time. We got to be very careful with this," said Altmiller.
The Fletchers said they have had an eye on the large tree in their backyard for the last couple of weeks.
"We've been trying to get it cut down. We were supposed to get it cut down next week," said Terry.
Next week didn't come soon enough.
"It's thousands of dollars of damage, no doubt about it. The attic, the air conditioning unit, the back bedroom, waters running down the wall between the den and the bedroom," said Joyce.
Still, the Fletchers said it could have been a lot worse.
"It was worse when it burned," said Joyce.
The family said they will be happy when the threat is gone.
"My dad's on full-time oxygen and pretty much bedfast and having to worry about them already because of medical issues and now having to worry about the house caving-in the shards or leaks, yeah, it's terrible. I'm really stressed out over it," said Terry.
There were also a few telephone poles on Cardinal Street that got knocked over during the storm. Crews were out Saturday afternoon trying to restore power to that area.