Suspect dead after report of gunshots at Nashville theater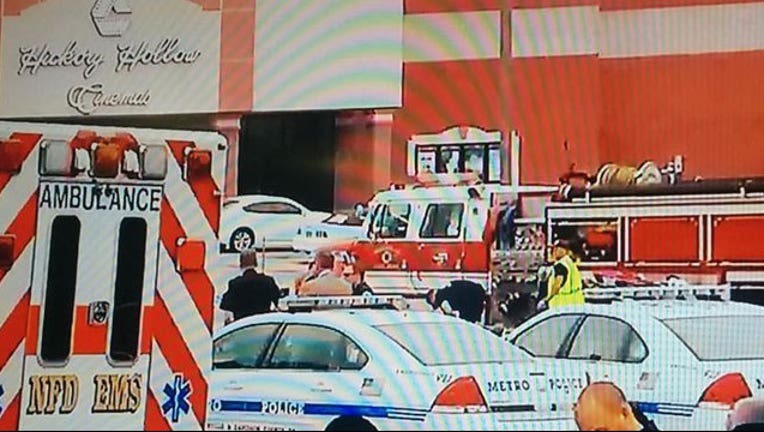 article
NASHVILLE, Tenn. (AP) -- A suspect is dead after officers responded to reports of shots fired at a movie theater southeast of Nashville, Tennessee, police said Wednesday.
The suspect, who was not identified, was armed with a gun and a hatchet at the Carmike Hickory 8 theater in Antioch, said Don Aaron, a spokesman for Metro Nashville police. One person may have suffered a hatchet wound, he said. The extent of that person's injuries or whether others were wounded was not immediately clear.
Aaron said an officer came into the theater and was fired upon by the suspect. The officer shot back, then backed off. After that, a SWAT team came in, and there was another exchange of gunfire. The suspect was then found dead.
The suspect had two backpacks, which are being checked by authorities.
Video from the scene showed a heavy presence at the theater, with local, state and federal officers setting up a perimeter in the parking lot. A wide area was roped off with yellow police tape, and at least one ambulance was outside the theater. Many officers were heavily armed.
The theater in Antioch is near Global Mall, a shopping center in a middle-class neighborhood.
The latest shooting comes about two weeks after a gunman opened fire inside a movie theater in Lafayette, Louisiana, during a screening of the film "Trainwreck."
Police said John Russell Houser killed two people and wounded nine others before fatally shooting himself.
Copyright 2015 The Associated Press. All rights reserved. This material may not be published, broadcast, rewritten or redistributed.