Traffic surged 1,226% on Vote.org after Taylor Swift urged fans to register to vote
Vote.org, the largest get-out-the-vote group in the U.S., had its biggest voter registration day since 2020 this week – thanks in part to a boost from Taylor Swift.
According to Vote.org, a nonpartisan, nonprofit organization that works to increase voter turnout, this year's National Voter Registration Day on Sept. 19 generated 32,252 new registrations, a 22.5% increase over last year. The site saw a 115% jump in 18 year olds registering to vote compared to 2022.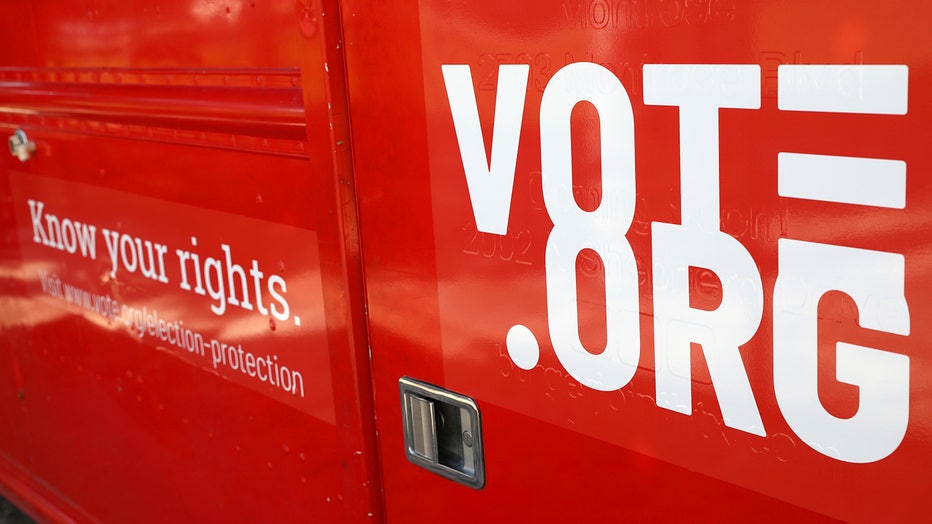 Vote.org food trucks deliver tacos and water to Houston voters in line on Election Day on November 03, 2020 in Houston, Texas. (Photo by Rick Kern/Getty Images for Vote.org)
Andrea Hailey, CEO of Vote.org, said the numbers are "a highly encouraging sign of voter enthusiasm."
"Time and time again young people are showing up and demonstrating they care about their rights and access to the ballot box," Hailey said in a news release. 
How did Taylor Swift help get out the vote?
On Tuesday morning, Taylor Swift posted an Instagram Story urging her 272 million followers to register to vote using Vote.org.
READ MORE: 'Taylor Swift Reporter' job opening available at media company
In her message, Swift wrote: "Are you registered to vote yet? I've been so lucky to see so many of you guys at my US shows recently. I've heard you raise your voices, and I know how powerful they are. Make sure you're ready to use them in our elections this year! Register to vote in less than 2 minutes at vote.org/NVRD."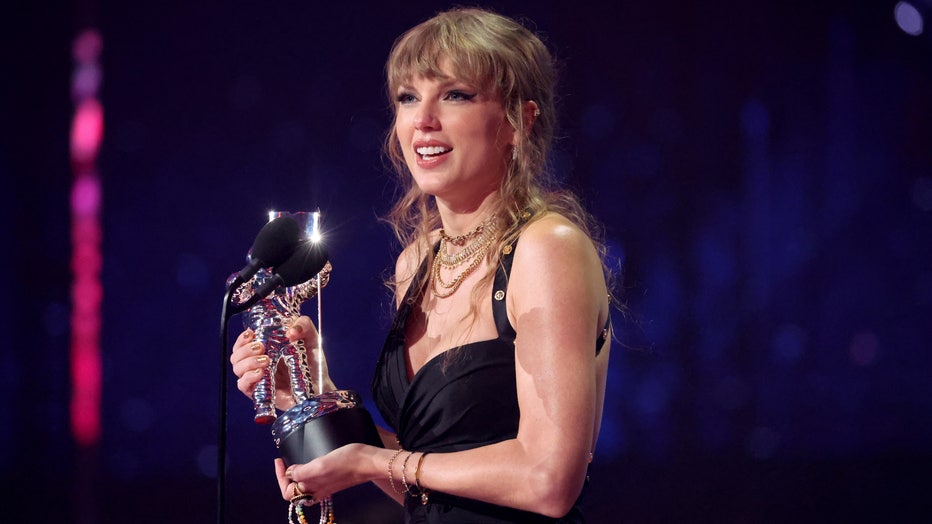 Taylor Swift accepts the Best Pop award for "Anti-Hero" onstage during the 2023 MTV Video Music Awards at Prudential Center on September 12, 2023 in Newark, New Jersey. (Photo by Mike Coppola/Getty Images for MTV)
In the hour after Swift posted, the site was averaging 13,000 users every 30 minutes – "a number that Taylor Swift would be proud of."
Vote.org said Swift has partnered with them for several years to help get out the vote. The nonprofit hopes to register 8 million voters before the 2024 presidential election. If polls are any indication, the group may have their work cut out for them.
READ MORE: Poll shows half of young Americans not excited about voting in 2024 election
A recent poll of more than 1,500 potential voters between 18 and 34 years old found that 50% of young Americans said they were very or extremely motivated to vote, compared to 50% who said they were only somewhat or less motivated or not motivated to vote in the 2024 presidential election.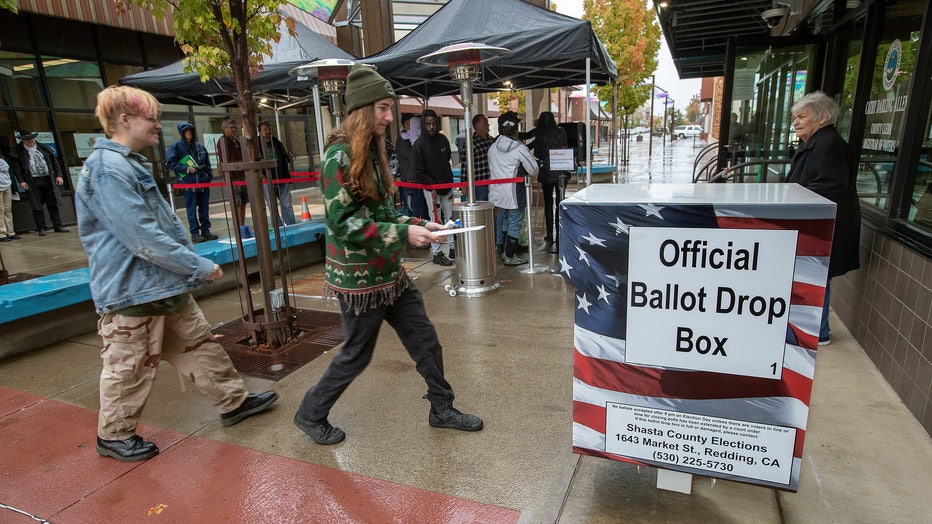 Redding resident Sirion Yates,18, right, prepares to place his ballot inside an official ballot drop box as others in background wait in line to vote in person at the Shasta County Clerk & Elections office in Redding. (Mel Melcon / Los Angele
While the survey showed President Joe Biden held a slight lead over a general Republican candidate 44% to 32%, approximately 53% of respondents said they would consider voting for a third-party candidate, but 47% replied they wouldn't.
The poll released by American University's Sine Institute for Policy and Politics also showed that 45% of young Americans believe the election won't make a difference in their lives.
FOX's Daniel Miller contributed to this report.