Teacher wears superhero mask to help ease nervous students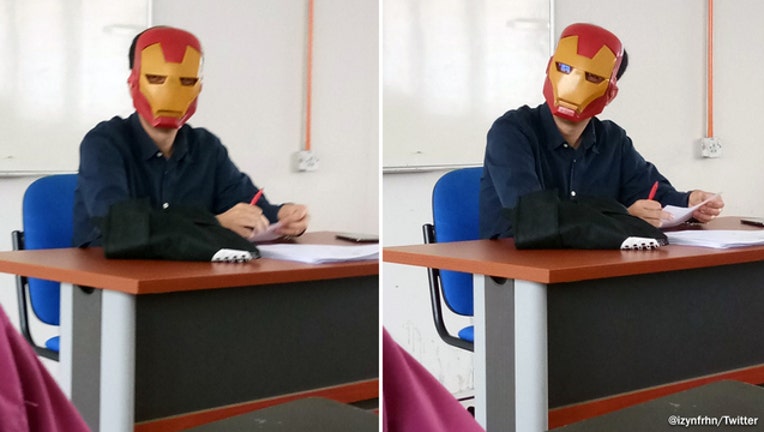 article
A super teacher who wears hero masks to ease his anxious students is proof that not all heroes wear capes-- some prefer masks.
Izyan tweeted a picture of her professor wearing an Iron Man mask during lecture and the internet showered him with praise.
The viral tweet read," My lecturer wears mask to hide his expression so students wouldn't get nervous when hes giving marks." 
Professor Mohd Nazriq, 29, has been teaching at International Islamic University Malaysia since 2012. Subjects he teaches include public speaking, thinking skills, and linguistics. 
But the story behind the mask runs deep and will make you love this real life "Tony Stark" even more.
In 2014 he developed a heart condition and was admitted to a hospital. After being released, he had to wear a heart monitor on his chest which emitted a blue light. For him, it was extremely depressing. 
But most importantly, he didn't want his students emotionally impacted by the situation.
So in efforts to show students that life goes on, and you can have fun out of a depressing situation, Professor Mohd Nazriq bought a mask to match his device. The mask has been with him ever since!
A huge fan of Marvel, Professor Mohd Nazriq's parents gifted him with the Iron Man mask-- he's his favorite.
And depending on the subject he teaches, he switches out masks. 
Izyan told FOX 5, "I think he's an awesome lecturer for actually considering our feelings." 
She said she's looking forward to attending his lectures. 
He's the hero his class didn't ask for but the hero they all needed!