Texas to use mobile, floating border wall in effort to prevent illegal crossings
AUSTIN, Texas - Texas Governor Greg Abbott announced a new concept in the state's effort to secure the border.
"I want to give you breaking news," said Gov. Abbott after a bill signing on Thursday that would expand the ability for the state to arrest people crossed the border illegally.
The governor then displayed photos of a new "water-based barrier" meant to be deployed on waterways along the Texas-Mexico border.
"We can put mile, after mile, after mile of these buoys," said Gov. Abbott. "We are securing the border at the border."
Abbott said the buoys will be able to prevent people attempting to cross into Texas from even reaching the border.
On its website, the security company Cochrane describes them as "marine floating barriers." The buoys displayed at the news conference did not appear to have spiked attachments.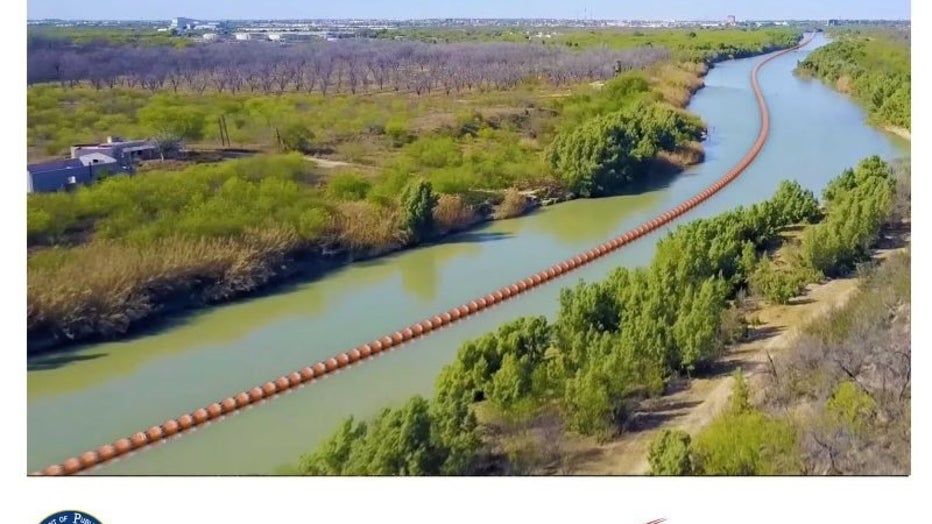 The governor said the barrier will be paid for by the more than $5 billion in funding for border security passed by the Texas Legislature this year.
The new strategy will be implemented "pretty much immediately", according to the governor.
Col. Steven McCraw of the Texas Department of Safety called the buoy's a proactive way to prevent border crossings.
"Nobody needs to be coming between the ports of entry. It's dangerous," said Col. McCraw. "The buoy is on the water itself. They can be quickly deployed, and they can be moved."
READ MORE: Texas, federal officials taking credit for drop in border crossings since Title 42
The first 1,000 feet of the buoys will be deployed in Eagle Pass, Texas, on July 7. The cost of the first 1,000 feet is about $1 million.
McCraw said they are four-feet high, equipped with weights and netting, and designed to rotate to keep people from scaling them.
"Something we can do quickly, put it there and it deters a lot of people of moving into that area and we control it," McCraw said.
They'll be put in the river in Eagle Pass, which McCraw said is currently ground zero for illegal border crossing.
"Because of the water and buoyancy, it's hard to be able to go through these. Very difficult to go over," he said.
McCraw added that they will be moved where they are most needed.
This is not a new idea, as President Donald Trump asked his staff to evaluate floating barriers to supplement his border wall project back in 2020.
Abbott's version is the latest tactic at the state level to try and secure the border.
In preparation of Title 42 being lifted, Texas DPS and the Texas National Guard installed miles of razor wire. 
"Texas is no longer ground zero for this crisis. Texas is a stronghold," said Major General Thomas Suelzer, Adjutant General of Texas.
Illegal crossings between points of entry have slowed in recent weeks, possibly because violators now face a threat of long-term expulsion.
But for Abbott, border security remains a top legislative priority.
At Thursday's ceremony, he signed six bills related to border security.
Among them, SB1900, which now classifies Mexican drug cartels as foreign terrorists, adding them to organized crimes offenses under state law which results in higher penalties.
Another bill, SB423, authorizes the Texas Military Department to use drones to secure the border.
"What they are doing now is deploying a strategy that no state has ever before deployed to stop people from entering Texas illegally," Abbott said.
Another law now on the books, SB1133, helps Texas ranchers living in border communities who have their agricultural properties damaged by illegal immigrants or smugglers, providing them with up to $75,000 per incident.
It was also revealed Thursday that 11 other states have now sent members of their national guard to Texas to help secure the border.