Texas Gov. Perry arrives for booking on charges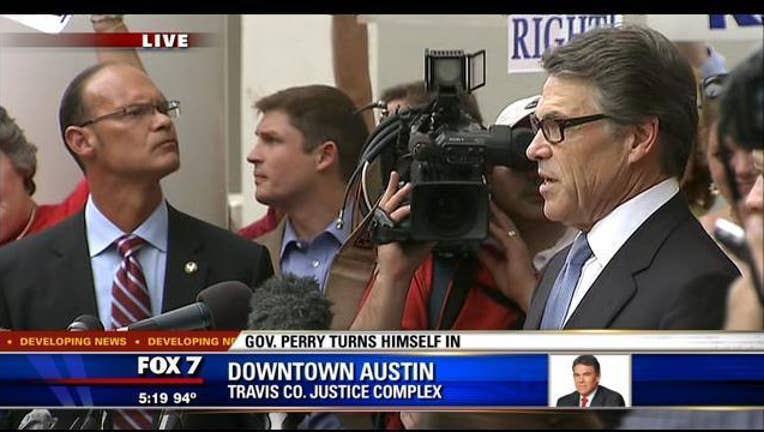 article
AUSTIN, Texas - Governor Rick Perry surrendered himself to county authorities after being indicted last week by a grand jury. A large crowd was at the Travis County Criminal Justice Complex to meet him. Some were there to shout their support for Governor Perry, while others were hoping they are getting to see the beginning of the end of a politician they have fought for more than a decade.
The circus rolled into Austin this week. While the three rings for these pachyderms and clowns will be inside the Irwin Center, a political circus is taking place a few blocks away. The stage is set in this Travis County Courtroom for the first act on Friday. The symbolic ticket for the show is a court summons issued Monday for the main attraction –Governor Rick Perry.
The jury box could accomplish what opposition groups have not been able to do at the ballot box. Will Hailer with Texas Democrats didn't want to call the situation a pivotal moment for this party but admitted it could pull more people into the political process.
"I think it's a day for Texas to figure out what's happening in this state ... it's a day to reflect on what type of leadership they want in this state and a day to reflect on what that leadership means across the state," said Hailer.
A Travis County Grand Jury indicted the governor last week. He is accused of abiding his power and trying to coerce a public servant. The case involves the conduct of Travis County D.A. Rosemary Lehmberg after she was arrested last year for drunk driving. Perry allegedly threatened to veto funding for a special investigation unit she managed if she didn't resign. Lehmburg refused to go and he pulled the money out if the state budget - ironically, Perry's legal defense bill is also being paid out of the state general fund budget.
Since he was hired- David Botsford, Perry's original private attorney, has submitted bills for legal working totaling almost $80,000 according to state records. Monday new lead attorney Tony Buzbee defended Perry's use of tax dollars for the defense.
"Without this wrongful indictment, the Taxpayers of the state of Texas would not have to pay for such a defense. Now, which of these lawyers will be paid by the state of Texas and which will be paid by from other funds, whether it be a Defense Fund or what-not, that hasn't been sorted yet," said Buzbee.
In a statement released by Texas Democrats, spokesperson Lisa Paul questioned the use of tax dollars for Perry's defense, asking, "why is that acceptable when he is sitting on $5 million in his campaign account?"
Paul later suggested in the release that it would be better for the Governor to resign than spend tax dollars on his defense and campaigning for Republican candidates in other states.