Texas man shielding sun for elderly woman sparks several acts of kindness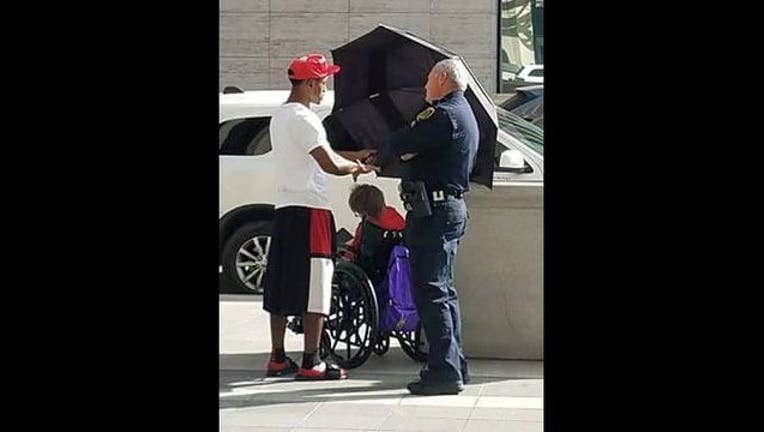 article
HOUSTON, Texas. - For the past month or so, Louis Jordan, 35, has been going to pick up his mother almost every afternoon at her job in downtown Houston at the city's Solid Waste Management department after working a full day himself at UPS.
As he waits for his mother, Vernette Botts, Jordan also began noticing an elderly woman, "Miss Michelle," waiting for the METRO Lift, a free paratransit service, to pick her up and take her home. The lift has typically been late and the weather has been typically hot. So, since April, he has been shielding Miss Michelle from the sun with an umbrella he stashed in his car. 
But on April 27, something about this ritual was a little different. A police officer entered the scene, watching Jordan as he approached Miss Michelle. He later told Botts that he wasn't sure if her son was going to snatch the elderly woman's bag and he wanted to keep an eye on things. Jordan's mother took out her cell phone, both taking a picture for future evidence, if need be, while also capturing her son's simple act of kindness. She posted the photo -- of her son, Miss Michelle and the police officer -- on her Christian ministry Facebook page, writing "My Samaritan Son."  The image has since gone viral and now, Jordan is being hailed a hero. What's even more amazing is that people who have seen his good works are paying it forward in remarkable ways.
"I'm really surprised," Jordan said by phone on Friday. "I really didn't invite this fame."
For Jordan, doing acts of kindness is just how one should live life. "I know," he said. "I've been down and out myself. It doesn't take a lot. I just do what I can do."
He said he's inspired by God and the teachings of the church. "I pray every day that God will allow me to be closer to Him," Jordan said. 
What his mother likes to remember is the time during Hurricane Katrina, when Jordan walked seven miles to retrieve his grandmother from the high waters. Or the time when he hopped out of the car to push a man in a wheelchair all the way home. His bosses at UPS tweeted they were so proud of him and weren't surprised by his kind behavior. Jordan and his mom have gotten their 15 minutes on TV.  And the police officer later told Botts that her son showed him that "there are still good people out there." 
As for Miss Michelle, with whom Jordan has a shared love of pork chops and a newfound friendship, her life has improved, too. Officials at METRO Life told Jordan's mother that the drivers would not be late for her again. 
"That's all I really wanted," Jordan said.