Rangers fans, Arlington businesses getting ready for the start of the World Series
ARLINGTON, Texas - Rangers fans and the entire city of Arlington have been prepping all week, but in reality, fans and restaurants already had the World Series plans in place in hopes the Rangers would make it. 
We are less than 24 hours away from the start of the series and you could feel it in Arlington Thursday.
"It's here, can you believe it? Wow," Karina Cassell said. 
Rangers fans are starting to believe it.
MORE: Texas Rangers Coverage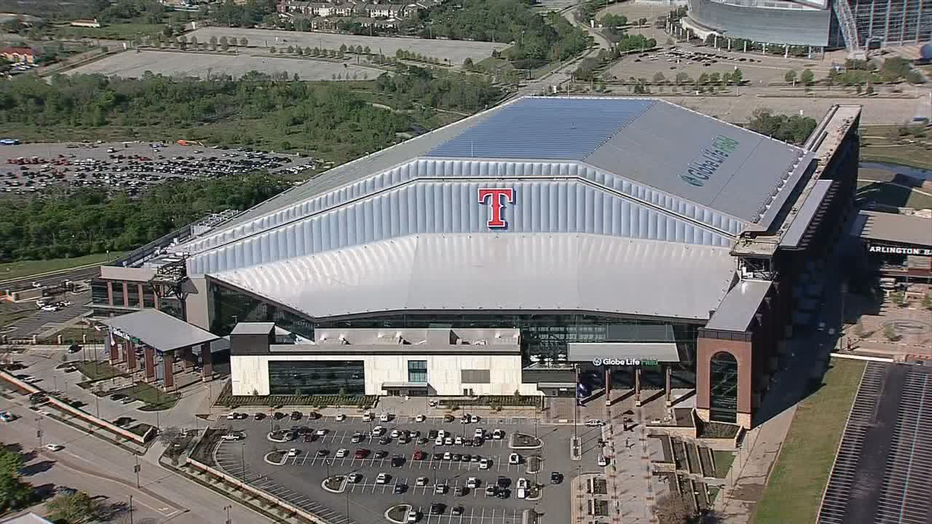 Thursday night, the team store at the ballpark stayed open late for those last-minute purchases. 
"We are going to get our World Series gear we will rock on Saturday night. Go Rangers," Jeff Cassell said. 
For Jennifer and Travis Walker, Texas isn't their home anymore, but they drove in from Alabama. 
Their son, Ryan Walker, is named after Nolan Ryan. He was fresh off the plane from Wisconsin. 
The last time the family was in Arlington was for the 2011 World Series across the street.
"I feel like a little kid again coming back to the World Series," Ryan said.
Ryan was 12 at the time. It was a trip that turned him into a lifelong fan.
"I am due. We are due," he said.
You can also feel and smell the buzz of excitement two miles away at Hurtado BBQ, where they are finishing up their first year as the official BBQ restaurant of the Texas Rangers. 
"We had to start cooking for this weekend a day earlier than usual. Usually we wouldn't start until now cooking for the weekend, versus now, we started [Wednesday]," Hurtado manager Seth Simmons said.
It's all hands on deck at Hurtado, balancing dine in orders, catering, a weekend watch party, and their stand inside Globe Life Field.
Hurtado hauled in an extra smoker just to keep up. 
"We have to think about doubling businesses throughout the weekend. A lot of numbers games at this point," Simmons said.
People got a first look at the new Heim Hammer that is being sold by Hurtado BBQ at Globe Life Field during the World Series.
The shareable beef shank is named after the Rangers catcher. 
Hurtado BBQ is also hoping to prove to any Arizona fans who stop by that everything is bigger and tastier in Texas. 
"The storm has not come yet. It will be very crazy this weekend," Simmons said.