Texas: The Issue Is - Sen. Ted Cruz discusses issues in the House, the border, and his race in 2024
DALLAS - Texas Senator Ted Cruz is one of the most polarizing members of Congress.
FOX 4's Steven Dial sat down with him to talk about the House, the southern border, and his race in 2024. 
Dial: "Let's go with the elephant in the room, the drama in Congress, specifically in the House. What are your thoughts on what has happened in the last few days?"
Cruz: "I don't like seeing chaos in the Republican House. I think they are doing a lot of good, but that's a mess. That being said, it looks like we are going to get a new speaker and I hope it's someone who is a principled conservative, who is a strong conservative leader."
Dial: "Do you think that rule is acceptable, about one member of Congress being able to call up a vote. Do you think a small number of Republicans should be able to basically kick out the Republican speaker?" 
Cruz: "Look, I think the House will figure out its rules. One of the things, I am staying out of the House leadership fights. I got enough fights on the other side of the Capitol in the Senate. I don't need to be in the middle of that."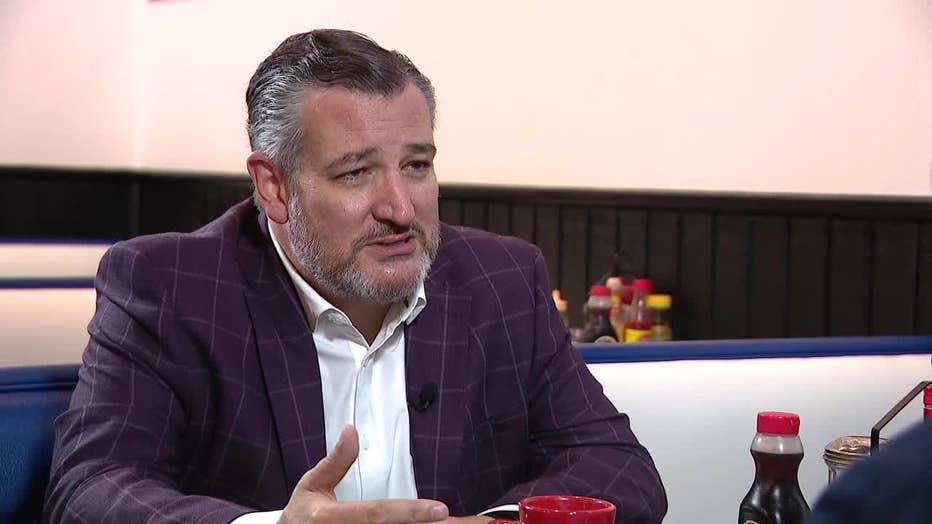 Cruz: "The House should have impeached Alejandro Mayorkas. Mayorkas is the Secretary of Homeland Security. He has presided over the worst crisis at our southern border in history. It's never been this bad. I think the House should have impeached him and send it over to the Senate for a trial. I hope the new speaker does that."
Dial: "Mayorkas just made recent comments about saying there is a threat, and the Biden administration is calling for some type of structure to be built."
Cruz: "[Mayorkas] is and it is ironic for them to be saying, build the wall. It is a little jarring. To be honest with you, I don't believe it."
Dial: "You don't think they will build anything?"
Cruz: "They may build a little bit for the TV cameras, but this administration does not want to stop what is happening. This is happening because Joe Biden and the Democrats want it to happen and the fundamental problem is not wall or no wall. The fundamental problem is when people are apprehended the Biden administration lets them go its catch and release…As you know, I was not a fan of Barack Obama. But I got to say, on immigration, he by and large followed the law. Other than DACA, which is a very limited population, Obama followed the law. When he apprehended people, Obama deported millions of people. Remember the left got mad at Obama and called him the deporter in chief. What Biden and Kamala Harris are doing, no president has ever done."
Dial: "Former President Trump has not been at any debate. He's leading in the polls. Is it time for candidates to get out of the way?"
Cruz: "I think we've got a real primary. I am good friends with all of the candidates running. I think it is mostly a two-man race with Trump and DeSantis, and I think the voters are going to decide. I think we are going to see a race shake out."
Dial: "2024 also is going to be a big year for you. You are possibly going to run against Dallas Congressman Colin Allred or San Antonio State Senator Roland Gutierrez. Who threatens you more?"
Cruz: "There are a bunch of Democrats running, I guess I should take that as a compliment. I don't care who wins. Whoever wins, the Democrats have targeted Texas. Chuck Schumer has made clear that I am his number one target in the country, so frankly, the Democrats can nominate a ham sandwhich and they are going to raise $100 million to next year to try to beat me. I don't think they are going to succeed because what we are doing in Texas is working…Colin Allred, you mentioned him, his first four years, he voted with Nancy Pelosi 100% of the time."
Dial: "Do you think Colin Allred will be your opponent?"
Cruz: "I don't know, but it doesn't matter because any of the Democrats, they all follow orders, they just obey, they vote as a block. Whatever Democrat it will be, they will vote with Bernie Sanders and Elizabeth Warren. They will vote for higher taxes, they'll vote to destroy energy, oil and gas in the state of Texas."