The Bitzee could be this year's hot toy for kids; here's what it is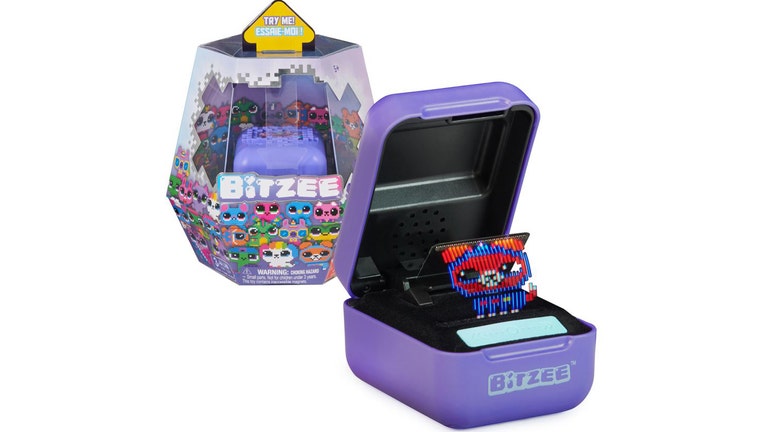 article
The holiday season is approaching, and kids are already making their list of their must-have toys for Christmas. 
For parents trying to figure out what to get their little ones, there's a toy generating a lot of buzz called the Bitzee, which has a chance to become this year's in-demand stocking-stuffer for the holidays. 
Here's what you need to know. 
What is a Bitzee?
A Bitzee is a virtual pet toy by Spin Master. It comes in a purple shell case that kids can open up to reveal a 3-D, holographic pet with a display made of a thin strip of color-changing LED lights that create the appearance of a hologram.
Kids can collect 15 pets in one Bitzee pod, including a cat, bunny, and unicorn, while unlocking unique Super Bitzee outfits and games.
RELATED: Survey: Holiday shoppers to spend more on gifts this year – here's what they plan to buy
How do you play with a Bitzee?
Bitzee's react to your swipes, tilts, shakes, and touch, and kids can use treats to attract new Bitzee pets. The portable toys aren't rechargeable but come with three AAA batteries, and can be played with anywhere, according to Target's website. 
When the toy grows into an adult form as a Super Bitzee, kids can unlock surprises like cool outfits and games that can be played in a group.  
RELATED: These five toys are finalists for National Toy Hall of Fame
Occasionally, a Bitzee will ask for care and attention, and if it feels like it's not getting attention, it may roll away, but does return when offered a favorite treat. 
How much does the Bitzee cost?
Prices for the Bitzee range depending on where you purchase one, but top retailers like Amazon, Target and Walmart are selling them for nearly $25. 
These interactive toys are for all kids and are ideal for a fun birthday or Christmas gift. 
This story was reported from Washington, D.C.