'The Masked Singer': Grandmaster Flash reveals Shaquille O'Neal should join show
LOS ANGELES - Grandmaster Flash became the latest celebrity to drop a beat and be unmasked on Season 9 of "The Masked Singer," revealed as Polar Bear. 
"We are in the presence of an icon," host Nick Cannon said immediately after the reveal. "A pioneer of a whole culture."
The legendary artist – known for pioneering the genre of hip hop DJing, cutting, scratching and mixing – told FOX Television Stations that he learned how to be "child-like" while participating on the show. 
"It was quite an experience and reminder that it's okay to get down on the floor and be child-like," Grandmaster Flash shared. "To get down on the floor and just have fun – even if it's just for an hour – it's so healing… I'd do it again. I would. Absolutely."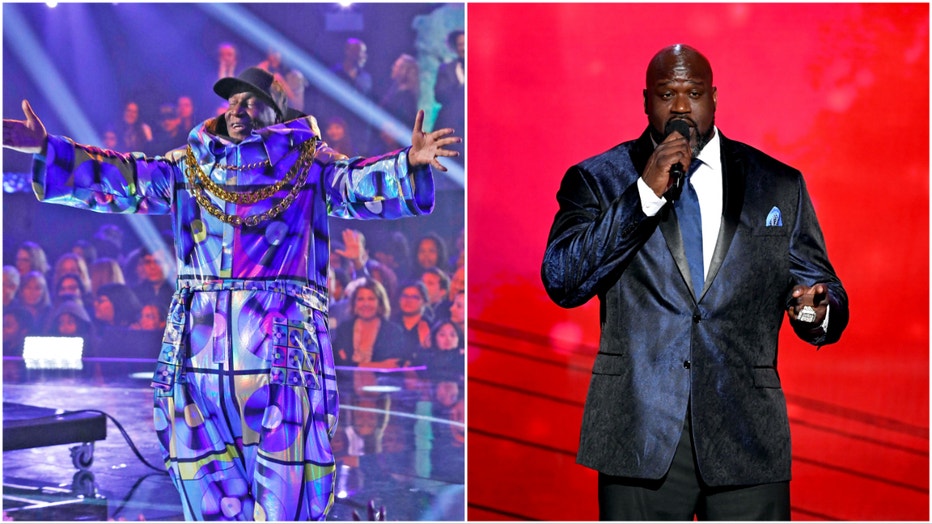 LEFT: Grandmaster Flash in the "New York Night" episode of 'The Masked Singer. (Credit: Michael Becker/FOX)RIGHT: Shaquille O'Neal speaks onstage during the 2019 NBA Awards in Santa Monica, California. (Credit: Kevin Winter/Getty Images for Turner Sp
The 65-year-old also revealed he would like to see former professional basketball player Shaquille O'Neal compete on the show, pointing to his combined competitive and positive personality. 
"He's an incredible example of being able to flip-flop between the two," Grandmaster Flash continued. "He would be wonderful on the show."
And there's actually a connection there. 
Throughout the series' past nine seasons, its panelists have continually guessed the iconic basketball star, commonly known as Shaq, as the person underneath the costumes.
Last year, Hummingbird – later revealed as NSYNC band member Chris Kirkpatrick – claimed he got his start with the help of O'Neal and hinted that they dominated the Super Bowl together.
"I got my start with the help of Shaquille O'Neal and formed a patriotic team that felt like family. Together, we dominated the Super Bowl. My career has been a revelation. But I'm only human. I'm so nervous to step on that stage tonight. But here we go! I guess it's all or nothing," he told the audience. 
And, it wouldn't be the first time an athlete has graced "The Masked Singer" stage. 
RELATED: 'The Masked Singer': Season 9 contestant Polar Bear drops beat, sent home
Rob Gronkowski, Tony Hawk, Victor Oladipo, Terry Bradshaw, Jordan Mailata, Antonio Brown, Mark Sanchez, Johnny Weir, Tony Hawk and Dwight Howard are just a few of the athletes who have competed on the reality series. 
But, could Shaq be next? Only time will tell. 
"The Masked Singer" Season 9 airs Wednesdays at 8 p.m. ET on FOX.
This station is owned by FOX Corporation.