Tito's Vodka donates 75 gallons of hand sanitizer to Hays County Sheriff's Office
HAYS COUNTY, Texas - Tito's Vodka has donated hand sanitizer to the Hays County Sheriff's Office, joining other businesses like Desert Door Distillery.
The Austin-based distillery donated 75 gallons to be used by HCSO patrol deputies, corrections officers, dispatchers and support units, says the sheriff's office in a Nextdoor post.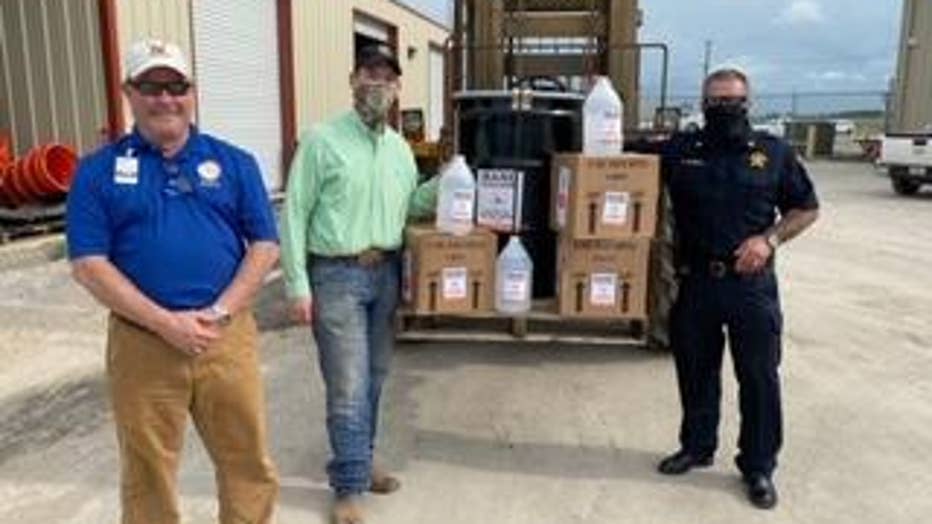 (Hays County Sheriff's Office)
RELATED: Tito's Handmade Vodka set to begin production on hand sanitizer
The donation was presented to HCSO Captain David Burns and Commissioner Walt Smith thanked the distillery for their donation.
Tito's Vodka said in a post on their website that in their first two weeks of hand sanitizer production, they have produced, packaged and donated a few tons over their initial commitment of 24 tons and that they now have the capacity to make at least 60 tons per week for as long as there is need and they're working to increase that capacity even more.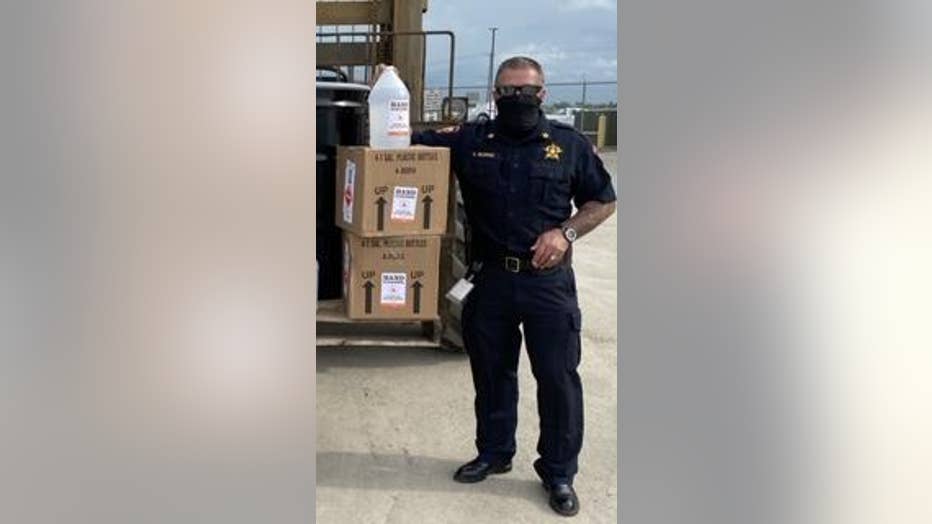 (Hays County Sheriff's Office)
The distillery says it has donated sanitizer to Austin frontline organizations and other Texas communities, as well as to New York, New Jersey, Louisiana, Massachusetts, Illinois, Michigan, California and Florida. The company says any Texas government emergency management official, first responder, healthcare worker, nonprofit employee, or are other critical personnel that is in need of hand sanitizer can complete this form to submit their request. 
RELATED: Desert Door Distillery donates hand sanitizer to local law enforcement agencies
"Please note that due to a high volume of inquiries we are not able to respond to each request individually," says the company. "But, please know that you are important to us, and we are working to fulfill hand sanitizer needs as quickly as we can."
RELATED: Anheuser-Busch says it will begin producing hand sanitizer to curb COVID-19 shortages
The company has also pledged a $2 million donation to organizations providing assistance to those affected. It's made an initial $1 million donation to four groups focused on those in the service industry and it says it will fund the additional money as more needs are uncovered.
CLICK HERE FOR THE LATEST INFO ON THE CORONAVIRUS OUTBREAK
---
FOX 7 Austin is working to keep you up to date with coronavirus, with both local and national developments. Every weekday we're live at 1 p.m. with a special show reporting the latest news, prevention tips and treatment information.
You can watch live in your FOX 7 Austin app or on the FOX 7 Austin Facebook page.
You can also get the latest COVID-19 news from around the country at coronavirusnow.com.