Manor train derailment being investigated by Federal Railroad Administration
MANOR, Texas - A train derailment happened in the middle of Manor Monday, March 6. The Federal Railroad Administration is now investigating.
"I was still asleep. But when you're in a deep sleep and something like that wakes you up, it's pretty bad," said Sylvia Lopez.
It's the third near-miss for Lopez and her neighbors.
"And it's always in the middle. Yeah, in the middle of the night. And people just wake up, and they just wake people. It's bad enough when they pass because they at the home or something. So that wakes you up. But when they derail that loud, you don't know if they hit something, or you actually come out and see," said Lopez.
The train was hauling 65 cars filled with gravel from Marble Falls when the derailment happened near the intersection of E. Parsons Street and N. Lockhart Street. 
Of the five that derailed, three overturned spilling stone and bending rails. The line, which is on the CapMetro right of way, is operated and maintained by a Kansas freight company called WATCO. 
As the cause of the derailment was being investigated, morning commutes were being adjusted. That included parents and students of a Manor ISD school located near the railroad.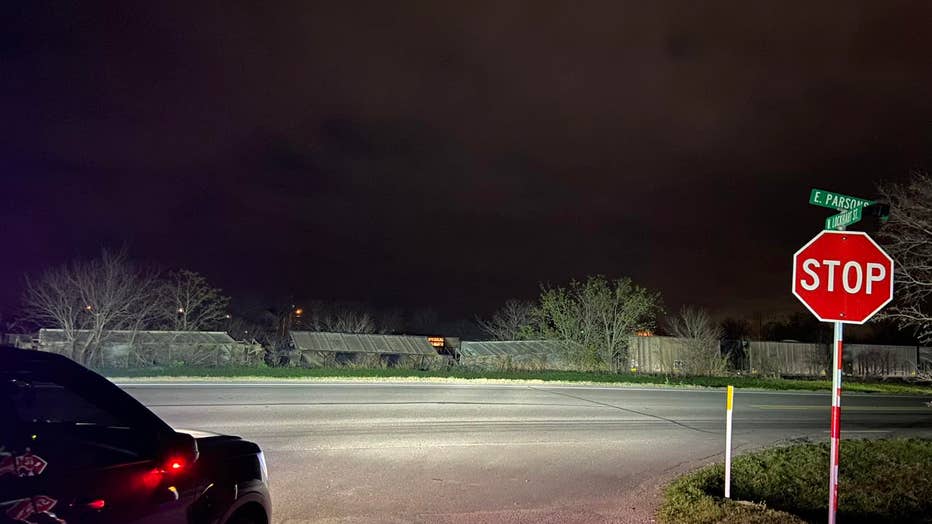 Train derailment in Manor leaves several cars on their side. (Manor Police Department)
"The largest impact we've seen with this is obviously the destruction of the land around the tracks. But we've also seen the interference with our morning and afternoon traffic. These rail cars sit blocking some of the main cut through intersections of our community, from people traveling from outside from Travis County through the city. And so that right now is being our biggest headache along with the cleanup. And you know, what's to say next time we're not dealing with something, something bigger," said Manor Police Chief Ryan Phipps.
Several recent big derailments, like the ones in Ohio, are putting a new focus on railroad safety standards. In Manor, there is a Hazardous Materials Response Plan.
While activation was not needed Monday morning, Chief Phipps said this reoccurring problem is not being ignored.
"So I'm on the path to making sure that some regulatory agencies are aware of what is occurring out here and see if they can come out and provide any assistance, the causes, and what we're seeing," he said.
Railroads in Texas are regulated by TxDOT. FOX 7 was sent the following statement regarding the Manor incident:
"TxDOT works with the Federal Railroad Administration to promote safety on railroads in the state of Texas. We distribute federal funding to improve safety at railroad crossings and inspect railroads to ensure compliance with federal railroad regulations."
FOX 7 has requested information regarding the last inspection of the track through Manor, and if any problems were found. The rail line between Austin and Elgin has been identified by CapMetro as a possible new route for commuter rail and is designated as the Green Line.
As of Monday afternoon, the overturned gravel cars were upright. As the damage is hauled off and the rails repaired, residents like Lopez could only wonder when the next derailment will happen.
"Well, it is worrying. You know, it's something to worry about. But as long as it doesn't hit me, I'm just they stay away from, you know, it's just bad. It is bad," said Lopez.