Tropical Storms Rina, Philippe spin in tandem in the Atlantic, complicating forecast for both
Two tropical storms swirling in near tandem in the Atlantic Basin are keeping forecasters busy and presenting challenging forecast for their tracks.
Here's a closer look at Tropical Storm Philippe and Tropical Storm Rina that the FOX Forecast Center is tracking across the Atlantic basin:
Tropical Storm Rina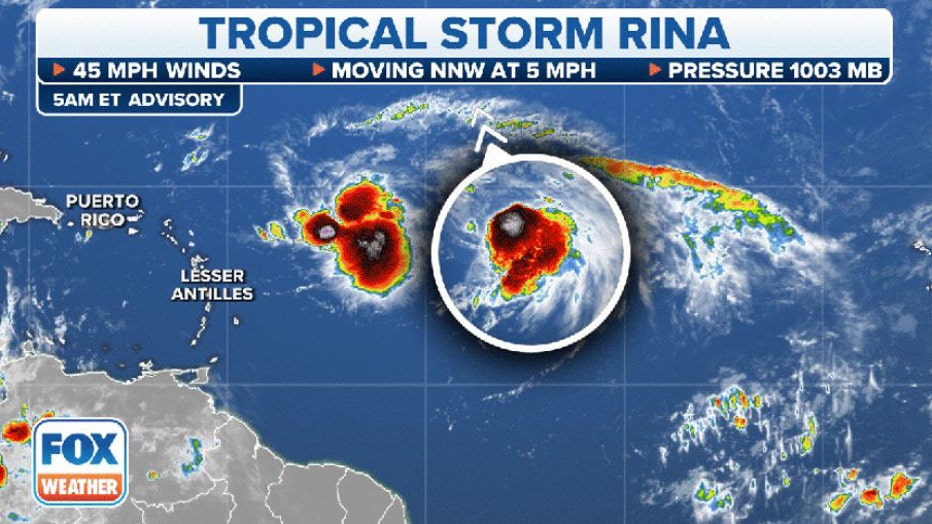 Tropical Storm Rina's stats. (FOX Weather)
The system had been dubbed Invest 91L for several days before it was upgraded to a tropical storm on Thursday.
The National Hurricane Center (NHC) says Tropical Storm Rina is moving to the northwest at 5 mph and has maximum sustained winds of 45 mph with higher gusts. 
The NHC now says Rina is expected to experience some gradual weakening over the next several days, maintaining weak-to-moderate tropical storm strength. 
Rina is now the 17th named storm of the 2023 Atlantic hurricane season and the 18th to reach at least tropical storm status.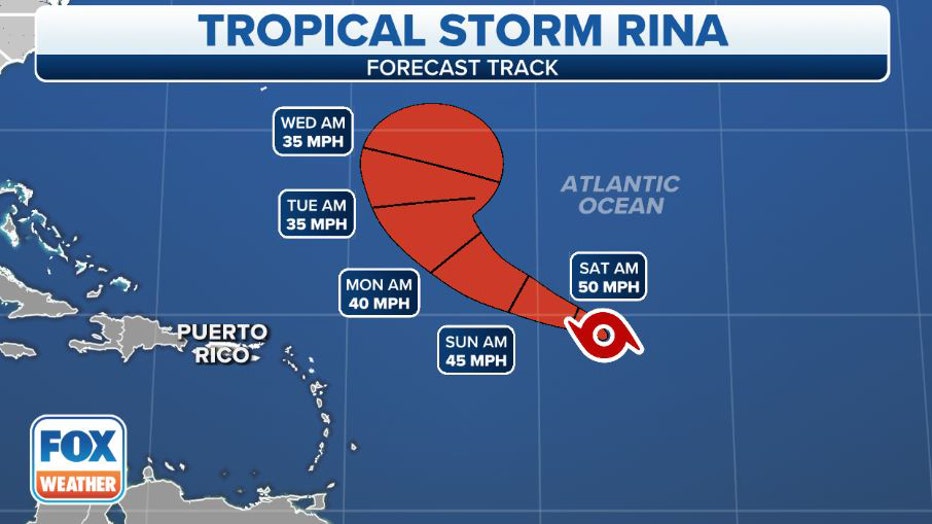 Tropical Storm Rina's forecast cone. (FOX Weather)
Tropical Storm Philippe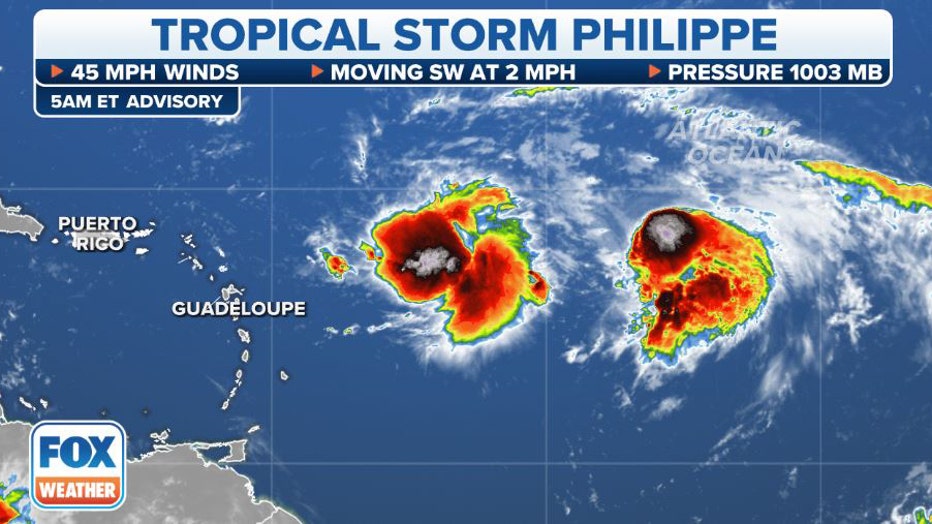 Tropical Storm Philippe's stats. (FOX Weather)
Tropical Storm Philippe has slowed to a near crawl around 500 miles east of the northern Caribbean islands. Philippe's peak winds are still estimated at 45 mph, but now as forecasters watch its interaction with nearby Rina, Phillppe's long range prospects have improved as an updated track now has the storm perhaps entering more favorable conditions for development and the storm could eventually near hurricane strength.
But forecasters still have low confidence in Philippe's future track and say its future is uncertain. There are several complex atmospheric factors in play that will influence Philippe's future, including the fate of Tropical Storm Rina churning just behind Philippe. 
"The fact that these two systems are so close to each other means that their possible interaction has to be considered. Whichever system can find a conducive patch of atmosphere might well become dominant and control the path of the other," FOX Weather Hurricane Specialist Bryan Norcross said. "The phenomenon of two systems affecting each other is called the Fujiwhara effect, or a binary interaction. They can also interact without disrupting each other's track by simply creating more hostile wind flow around and over the twin system."
BRYAN NORCROSS: TROPICAL STORMS PHILIPPE AND RINA BATTLE FOR SUPREMACY IN ATLANTIC
As of Friday morning, the forecast track and cone of Philippe has the storm drifting to the west or southwest over the next few days, followed by a turn back to the north early next week, which could bring Philippe near the northeastern Caribbean islands. But the storm could also feel the tug of Tropical Storm Rina behind it, complicating the forecast for both storms.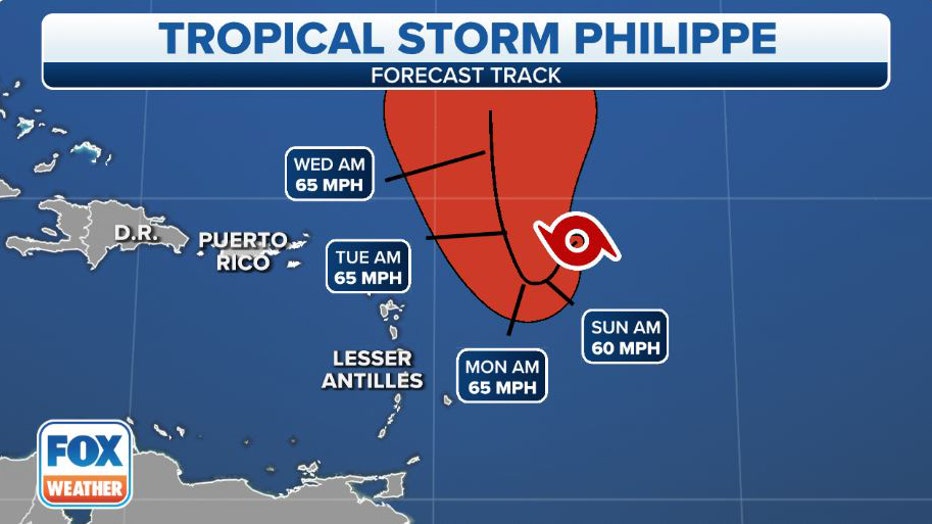 Tropical Storm Philippe's cone. (FOX Weather)
The long range wind forecasts now show Philippe will maintain moderate-to-strong tropical storm status and could strengthen further in the future. 
"Until it becomes more clear how Philippe will evolve over the next couple of days, the official intensity forecast will remain on the conservative side," the NHC wrote in its forecast discussion on Tropical Storm Philippe. "But future adjustments to the forecast are becoming more likely."