U-Haul offers free self-storage during Hurricane Irma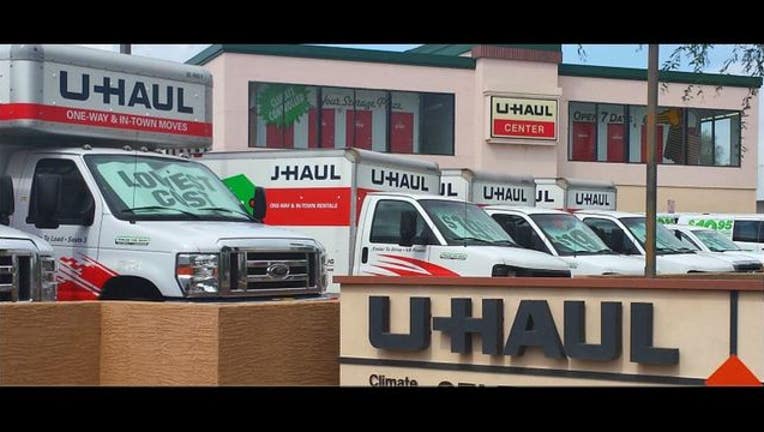 article
U-Haul is offering free self-storage for Florida residents who may be impacted by Hurricane Irma.

Stores across Florida will offer 30 days of free self-storage at 96 of its facilities.

"Thousands have begun to leave their homes, creating an immediate need for secure facilities where evacuees can store their possessions," U-Haul Company of Eastern Florida president Cal Conner said in a press release. "This is a neighborly service we have the ability to extend as Irma approaches, and in her aftermath. We are happy to assist our communities in times of need."

Those seeking self-storage assistance should contact their nearest facility.
More than 30 facilities are in the Tampa Bay area. Below are those locations. For the full list click here.

U-Haul of Bradenton
3602 14th St. W.
Bradenton, FL 34205
(941) 747-3744

U-Haul Moving & Storage of Brooksville
15334 Cortez Blvd.
Brooksville, FL 34613
(352) 799-0591

U-Haul Moving & Storage of Spring Hill
13416 Cortez Blvd.
Brooksville, FL 34613
(352) 596-6825

U-Haul Moving & Storage of Sunset Point / U.S. 19
23917 U.S. Hwy. 19 N.
Clearwater, FL 33765
(727) 796-2132

U-Haul Moving & Storage of Haines City
3307 U.S. Hwy. 17-92 W.
Haines City, FL 33844
(863) 588-0707

U-Haul Moving & Storage of Hudson
14906 U.S. 19
Hudson, FL 34667
(727) 862-2572

U-Haul Moving & Storage at Moon Lake
10601 State Road 52
Hudson, FL 34669
(727) 856-1633

U-Haul Moving & Storage of Lakeland
1621 N. Florida Ave.
Lakeland, FL 33805
(863) 688--6725

U-Haul Moving & Storage of Lake Wales
24789 U.S. Hwy. 27 N.
Lake Wales, FL 33859
(863) 439-4773

U-Haul Moving & Storage at Belcher Road
2180 Belcher Road S.
Largo, FL 33771
(727) 531-1072

U-Haul Moving & Storage of Largo
13564 66th St. N.
Largo, FL 33771
(727) 536-7849

U-Haul Moving & Storage at Starkey Road
12420 Starkey Road
Largo, FL 33773
(727) 584-1660

U-Haul Moving & Storage of Walsingham Park
13240 Walsingham Road
Largo, FL 33774
(727) 596-0765

U-Haul Moving & Storage of New Port Richey
5631 U.S. Hwy. 19
New Port Richey, FL 34652
(727) 842-8415

U-Haul Storage of New Port Richey
6118 U.S. Hwy. 19 N.
New Port Richey, FL 34652
(727) 848-2598

U-Haul Moving & Storage of North Port
5055 Pan American Blvd.
North Port, FL 34287
(941) 426-6464

U-Haul Moving & Storage at Eastlake
3182 Curlew Road
Oldsmar, FL 34677
(813) 854-5002

U-Haul Moving & Storage of Palm Harbor
30750 U.S. Hwy. 19 N.
Palm Harbor, FL 34684
(727) 771-8058

U-Haul Moving & Storage of Pinellas Park
4015 Park Blvd.
Pinellas Park, FL 33781
(727) 545-1723

U-Haul Moving & Storage of North Sarasota
7850 N. Tamiami Trail
Sarasota, FL 34243
(941) 355-8535

U-Haul Moving & Storage of South Sarasota
4861 S. Tamiami Trail
Sarasota, FL 34231
(941) 921-6605

U-Haul Moving & Storage of Seminole
6249 Seminole Blvd.
Seminole, FL 33772
(727) 393-3569

U-Haul Moving & Storage at Park St.
5200 Park St.
St. Petersburg, FL 33709
(727) 546-1572

U-Haul Moving & Storage at Citrus Park
6111 Gunn Hwy.
Tampa, FL 33625
(813) 962-7338

U-Haul Moving & Storage of East Tampa
5806 N. 56th St.
Tampa, FL 33610
(813) 621-9764

U-Haul Moving & Storage at Florida Ave.
9505 N. Florida Ave.
Tampa, FL 33612
(813) 933-0499

U-Haul Moving & Storage at Gandy Blvd.
3939 W. Gandy Blvd.
Tampa, FL 33611
(813) 832-5682

U-Haul Moving & Storage of Historic Ybor City
2309 Angel Olivia Senior St.
Tampa, FL 33605
(813) 247-5936

U-Haul Moving & Storage of North Tampa
10415 N. Florida Ave.
Tampa, FL 33612
(813) 933-2821

U-Haul Moving & Storage of South Tampa
3826 W. Marcum St.
Tampa, FL 33616
(813) 839-2376

U-Haul Moving & Storage at W. Waters Ave.
5404 W. Waters Ave.
Tampa, FL 33634
(813) 249-9677

U-Haul Moving & Storage of West Tampa
4406 W. Hillsborough Ave.
Tampa, FL 33614
(813) 873-2333

U-Haul Moving & Storage at Westchase
11401 W. Hillsborough Ave.
Tampa, FL 33635
(813) 855-5976