*Update* Former President George H.W. Bush won't need surgery after fall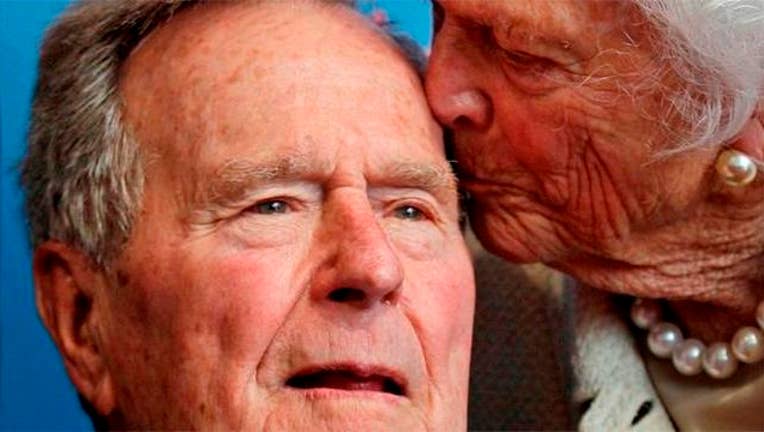 article
PORTLAND, Maine (AP) *Update* The office of former President George H.W. Bush says he won't need surgery to repair a broken bone in his neck. The 91-year-old Bush, the oldest living former president, remains hospitalized in fair condition a day after he injured himself in a fall at his summer home in Kennebunkport, Maine.
His office says the facture to his C2 vertebrae didn't impinge on his spine or cause neurological problems, and that it's expected to heal on its own. In a statement, his office says a "prolonged recovery period" at the hospital isn't anticipated.
Bush has a form of Parkinson's disease and uses a motorized scooter or a wheelchair for mobility. He is being treated at the Maine Medical Center in Portland, where a children's hospital is named for his wife.
This is an update to a previous story, the original version is as follows:
KENNEBUNKPORT, Maine (AP) -- Former President George H.W. Bush has fallen at home in Kennebunkport, Maine, and broken a bone in his neck.
Spokesman Jim McGrath says the 91-year-old Bush is in stable condition and is doing "fine" after Wednesday's fall.
He says in a tweet the 41st president will be in a neck brace.
Bush was hospitalized in Houston in December for about a week for treatment of shortness of breath. He said he was "grateful to the doctors and nurses for their superb care" after his treatment there.
Bush is the oldest living former U.S. president. He served two terms as Ronald Reagan's vice president before being elected the nation's 41st president in 1988. After one term highlighted by the success of the 1991 Gulf War in Kuwait he lost to Democrat Bill Clinton amid voters' concerns about the economy.
He spent Christmas 2012 in intensive care at the same Houston hospital while being treated for a bronchitis-related cough and other issues. He was discharged in January 2013 after a nearly two-month stay.
Bush, the father of former President George W. Bush, was a naval aviator in World War II and was shot down over the Pacific.
He has skydived on at least three of his birthdays since leaving the White House. He celebrated his 90th birthday by making a tandem parachute jump near his summer home in Kennebunkport. During the winter, Bush and his wife, Barbara Bush, live in Houston.
Bush, also a former U.S. ambassador to China and a CIA director, has a form of Parkinson's disease that has forced him in recent years to use a motorized scooter or wheelchair for mobility.

Copyright 2015 The Associated Press. All rights reserved. This material may not be published, broadcast, rewritten or redistributed.