US 183 traffic shift rescheduled for this weekend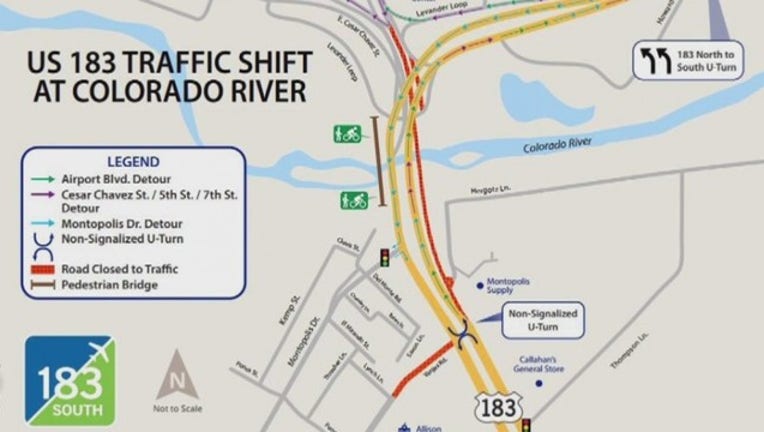 AUSTIN, Texas (FOX 7 Austin) - A traffic shift on US 183 has been rescheduled for this weekend.
A significant northbound traffic shift on US 183 starts July 20 as the Central Texas Regional Mobility Authority prepares to demolish and rebuild the northbound bridge over the Colorado River. 
The shift was originally scheduled for July 13, but was postponed.
The northbound US 183 exit to downtown Austin will be closed and traffic using northbound US 183 to reach Airport Boulevard, 7th, 5th and Cesar Chavez streets will be rerouted, according to a release.
Northbound US 183 traffic will be temporarily shifted onto an adjacent bridge across the Colorado River. 
Northbound drivers wishing to access Airport Boulevard and the other downtown routes will follow a detour to Bolm Road, where there will be a U-turn to enter southbound US 183, and then exit at Levander Loop to access those streets. 
Hergotz Lane will also be closed during demolition and reconstruction of the bridge.
The existing traffic light at Vargas Road will be permanently removed and replaced with non-signalized U-turns in both directions.
Northbound drivers wanting to access Montopolis Drive will continue north past Montopolis Drive and U-turn at Bolm Road , then take US 183 southbound to Montopolis Drive. Southbound drivers are encouraged to find alternate routes to the Montopolis neighborhood via SH 71 and Riverside Drive.
Work is expected to take approximately one year and travel delays are likely. CTRMA encourages drivers to plan ahead, allow extra travel time, and consider alternate routes.
To learn more about the project and the traffic shift, visit the project's website.