Vida Blue, the legendary Oakland A's pitcher, has died
OAKLAND, Calif. - Vida Blue, the legendary Oakland A's pitcher of the 1970s, passed away Saturday night, his family and the A's have confirmed.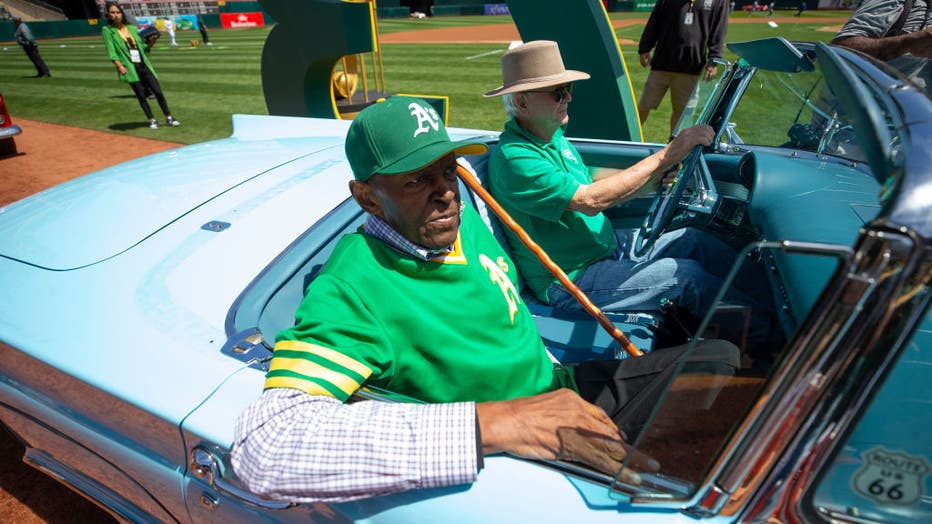 OAKLAND, CA - APRIL 16: Vida Blue during a ceremony honoring the 50-year reunion of the Oakland Athletics 1973 World Series Championship before the Athletics game against the New York Mets at RingCentral Coliseum on April 16, 2023 in Oakland, Califor
"There are few players with a more decorated career than Vida Blue," the A's said in a statement. "He was a three-time champion, an MVP, a six-time All-Star, a Cy Young Award winner, and an Oakland A's Hall of Famer. Vida will always be a franchise legend and a friend. We send our deepest condolences to his family and friends during this arduous time."
Blue's family thanked the community for their love and praise and has asked for privacy as they mourn their loss.
"It is with great sadness that the Blue family mourn the passing of our beloved father Vida Blue," the Blue family said in a statement. "Vida was a great father, grandfather, brother, friend, and teammate who will be forever cherished, honored and loved. We appreciate your uplifting prayers as we deal with the overwhelming loss of our father. We ask for respect and privacy during this challenging time."
The left-hander played in the MLB from 1969 to 1986 and was a key member of the "Swingin' A's," the historical A's team that won three straight World Series championships in 1972, 1973 and 1974, and won five consecutive American League West titles from 1971 to 1975.
Blue's half-of-fame career includes 209 wins, a 3.27 ERA, and he was the first pitcher to star in the All-Star Game for both the American League and the National League. 
Blue also played for the San Francisco Giants from 1978 to 1981, and again in 1985 to 1986, as well as for the Kansas City Royals from 1982 to 1983.
"The SF Giants are saddened to learn of the passing of six-time All-Star and longtime Bay Area pitcher Vida Blue," the Giants tweeted. "Our deepest condolences go to the Blue family, his friends and all those whose lives he touched."
Praise for the baseball legend poured in across social media.
Dave "Smoke" Stewart, another former A's pitcher, called Blue a "mentor, hero, and friend."
Dallas Braden, yet another legendary A's pitcher, said Blue was a "mythical figure."
Blue's last public appearance was during a celebration for the A's 1973 World Series championship victory back in April.
He was 73 years old.