Watch: Cat named Loki photobombs marriage proposal
Pretty fitting behavior for a cat named after the god of mischief. 
A cat became the unexpected star of a marriage proposal video after it decided to pop into the frame at the perfect moment. 
Video filmed by Annie Polley began as a typical recording as she watched her sister receive a ring from her partner when suddenly, Loki, Polley's sister's appropriately-named cat, came into view.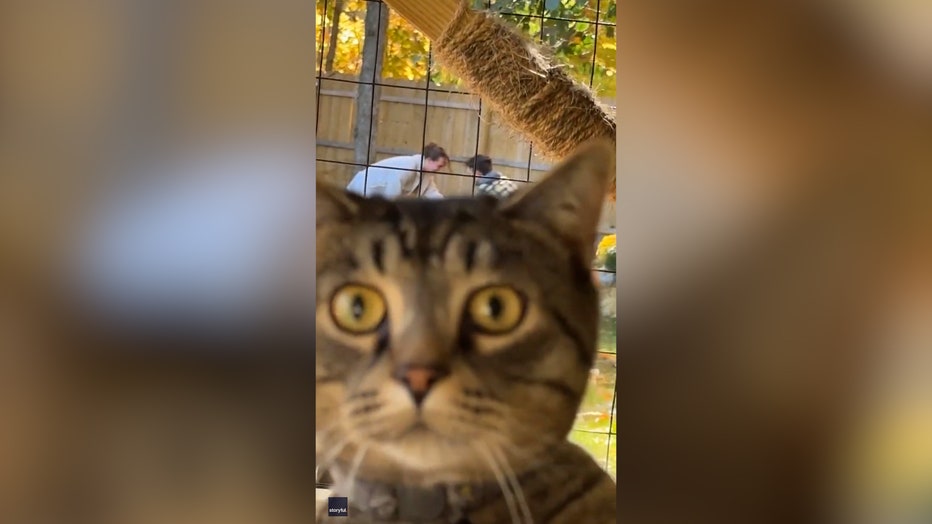 FILE - Still image taken from video showing Loki the cat photobombing a marriage proposal. (Annie Polley via Storyful)
Loki proceeds to stare into the camera – and into our souls – as Annie tries to angle the camera away from the cat and focus on the task at hand. 
"Just as her partner dropped to one knee and began to utter those heartfelt words, their mischievous cat, Loki, decided it was the purr-fect time to make a cameo. He popped his face up right in front of the camera, seemingly asking, "What's going on here?"" said Polley. 
Polley had originally used Loki as a shield to hide herself before capturing the tender moment between the soon-to-be engaged couple. 
Storyful contributed to this report. This story was reported from Los Angeles.