Weather Facts: Snow in Texas?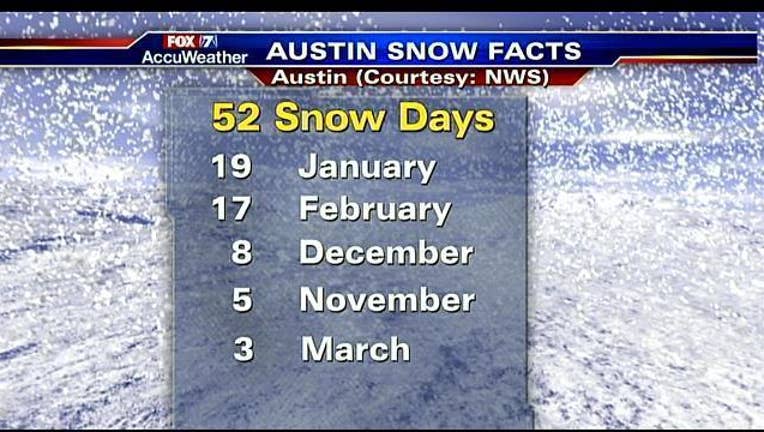 article
AUSTIN, Texas - Winter is still young but we've already had a couple of rounds of sleet and freezing rain. Many of you want to know why we don't get snow very often?"
This week marks the 30-year anniversary of the "Great Snow Storm of 1985." All of the ingredients came together that time to produce 3 to 7" of snow. That is the last time we had a big time snow event.
The biggest snow storms occurred decades ago. The snowiest days happened late in November in 1937 where 11" fell in Austin.
Snow events don't happen very often around here. Since 1898, in Austin we have seen 52 snow events with grand total of 90 inches. The bulk of them have happened in January or February.
To get snow in here it takes just the right ingredients. Living in Texas it is very hard to get very cold air, enough moisture and instability in place at the same time to produce snow.
NASA did some research to see if El Nino enhances snow events in Texas. They concluded that there is a strong connection between the warming of the eastern pacific and increased snowfall in Texas especially from Dallas to west Texas.
Around here during the last 9 El Nino winters we have seen snow in five of them. With the small data set we do see a slight increase in snowfall during the El Nino season by a half inch. The jury is still out if that will happen this winter.