Who is Eminem's daughter Alaina Scott? A look at her wedding and life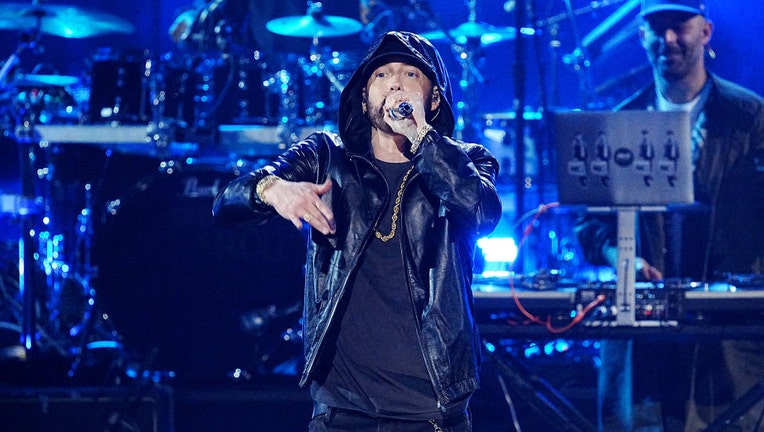 article
Alaina Scott may not be a name many know, but after her recent wedding on June 9 in Detroit, she is making headlines because she's the daughter of rap superstar Eminem. 
Scott married Matt Moeller, and she posted photos from her ceremony on her Instagram page. The Grammy-winning rapper walked his daughter down the aisle, and Scott's sister Hailie Jade was her maid of honor, Billboard reported. 
RELATED: Taylor Swift guitar, Eminem shoes among items in charity auction
Eminem is the father of three daughters, Hailie, Alaina, and Stevie Scott. Hailie is his only biological daughter and Alaina and Stevie were adopted. 
According to the New York Post, Alaina was born in 1993 and attended Oakland University, earning a Bachelor's degree in communication with a double minor in public relations. 
Despite her privileged upbringing, Scott faced troubles in her childhood. Her mother Dawn struggled with drug addiction and died from a suspected heroin overdose in 2016. Dawn is the twin sister of Kim Scott, Eminem's ex-wife.
Eminem adopted Alaina in the early 2000s and told Rolling Stone in 2004 that she was a big part of his life, the New York Post noted.  
During his career, Eminem had troubles with drug addiction and credits his kids and family for helping him overcome those issues. According to the New York Post, the rapper shared that he's been sober since 2007 after overdosing on methadone.
Eminem has referenced his daughters in several of his songs, including the 2004 track "Mockingbird." Hailie, 27, graduated from Michigan State University with a psychology degree and got engaged to longtime boyfriend Evan McClintock in February. 
Stevie was born in 2002 to Kim and her boyfriend, Eric Hartler. Eminem legally adopted Stevie in 2005, but Hartler died in 2019. According to the New York Post, Stevie announced being nonbinary in 2021 and is dating TikTok influencer Declan Jace.
This story was reported from Washington, D.C.