Witness video: Brightline passenger train slams into car hauler stuck on railroad tracks
HOLLYWOOD, Fla. - The trouble on the roads in South Florida after torrential rainfall over the last 24 hours has not been limited to cars and trucks.
The Brightline train service was temporarily halted between Miami and Fort Lauderdale after a passenger train slammed into a car hauler trailer that became stuck on the tracks. 
It happened Wednesday, April 12 near the intersection of Dixie Highway and Washington Street in Hollywood, Florida.
The impact sent the cars and trailer flying sideways.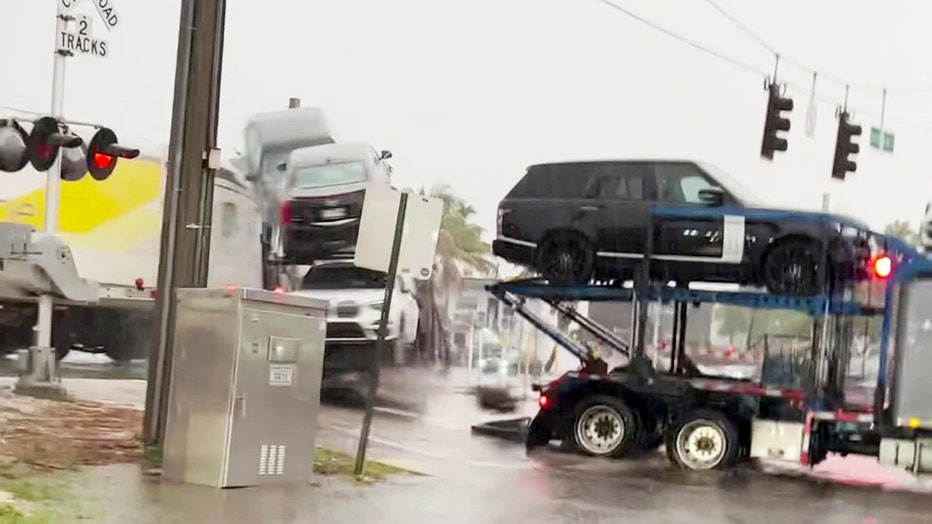 Still image of video showing a Brightline passenger train hitting a car hauler stuck on the railroad tracks in Hollywood, Florida April 12, 2023
"The train was going fast and he was using the horn and the truck was not moving until the train crashed [into] the trailer and split it in half," recalled Alexander Quintero, who was at a stop light when he saw the impending crash and started recording.
"He tried to continue going forward and I noticed his wheels started to spin and he was not moving at all," Quintero said. "I realized that he was stuck on the railroad. I looked on my mirror and I noticed the light of the train coming behind me, that is when I thought something was about to happen."
Brightline released a statement, saying in part, "Service suspended between [Fort Lauderdale] and Miami (only) while PD and Brightline's team work to clear the scene, and that effort is being affected by the weather."
Brightline train hits car hauler in Florida
Brightline resumed normal operations as of around 8am local time on Thursday, according to a Facebook post.
Despite the mess, Brightline said no injuries had been reported.
This story was reported from Tampa, Florida.