Woman survives 5 days stranded in Australian bush with only a few snacks, bottle of wine
VICTORIA, Australia - The 48-year-old was found safe and well by Victoria Police after her car became bogged in mud. 
A woman who survived five days stranded in the Australian bush with only a few snacks and a bottle of wine was rescued by Victoria Police on Friday.
According to officials, the woman from Cheltenham in Melbourne went on a vacation to Bright, Victoria, but when she didn't make her daily call to check in with family on April 30, they became worried. 
Emergency services carried out extensive searches but were unable to find any sign of the 48-year-old.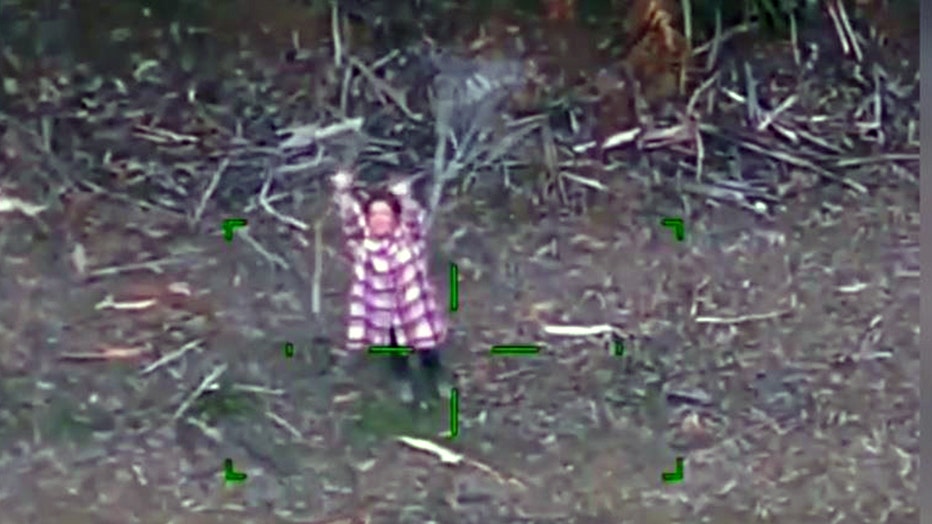 (Credit: Victoria Police via Storyful)
But, on May 5 – five days after her disappearance – a police helicopter spotted the woman's car at the end of a dirt road. A police van was directed by the helicopter to her location where she was found safe and well.
The woman told officials that she hit a dead-end road and realized she had taken a wrong turn. While trying to turn around, her car became bogged in mud, and without mobile coverage, she wasn't able to call for help.
"She used great common sense to stay with her car and not wander off into bushland, which assisted in police being able to find her," Wodonga Police Station Sergeant Martin Torpey said in a press release.
RELATED: Video shows dramatic rescue of 4-year-old boy, dog lost in NJ woods
While she couldn't move her car, the woman was able to use the car's heater overnight to give her some warmth.
"After being lost in the bush for five days, she was extremely relieved and grateful to see us and we were just as happy to see her," Torpey continued.
Lillian was taken to a hospital for observation and to be treated for dehydration.
"She was only planning a short-day trip so had only taken a couple of snacks and lollies with her but no water," Torpey continued, adding, "The only liquid Lillian, who doesn't drink, had with her was a bottle of wine she had bought as a gift for her mother so that got her through." 
When local news outlet 9News asked how the wine tasted, she quickly replied, "I thought I was going to die out there." 
"My whole body shut down on Friday," she revealed to 9News, adding, "I'm an adventure person, but next time I'll be better prepared.
This story was reported from Los Angeles.