D'oh? No! Homer and 'The Simpsons' team earn Hall tribute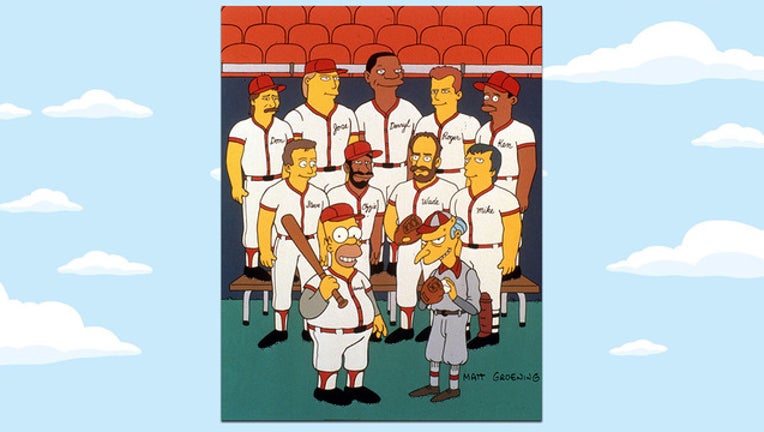 article
Steve Sax won two World Series rings, was a five-time All-Star and got nearly 2,000 hits in the big leagues. Yet to many fans, it's those half-dozen lines he uttered to a bunch of yellow cartoon characters a long time ago that really made him famous.
"I get asked as much about being on 'The Simpsons' as I do about baseball," Sax said this week. "They don't want to know how it was to hit against Nolan Ryan. They want to know about being on that show."
All thanks to "Homer at the Bat."
Still hugely popular 25 years after it first aired, that Simpsons episode featuring the voices of Ken Griffey Jr., Darryl Strawberry, Jose Canseco and a lineup full of luminaries gets a fitting tribute Saturday from the national pastime.
That's when the Hall of Fame in Cooperstown, New York, will present a plaque to Homer - well, really a piece of paper. Plus, a Simpsons-themed exhibit will open inside the shrine.
Actual Hall members Ozzie Smith and Wade Boggs will be in town to talk about taping their roles as Homer's teammates on the ringered-up Springfield Nuclear Plant softball squad, as will Sax.
Miami Marlins manager Don Mattingly was playing for the New York Yankees when he lent his voice to the animated show that was sweeping the nation.
"I didn't know a whole lot about it, honestly. I knew it was hot and my kids watched it, but I didn't really know that much," he said.
Doesn't to this day, either. He's never seen the half-hour episode from start to finish.
"No, not the whole thing," Mattingly said.
But plenty of people saw "The Simpsons" the night it aired on Feb. 20, 1992. In their third season, Bart & Co. outdrew "The Cosby Show" for the first time in a head-to-head matchup, and also topped the telecast of the Winter Olympics.
The show took months to assemble, with players taping when their teams played at Dodger Stadium or the Angels in Anaheim during the 1991 season. Members of "The Simpsons" staff divvied up which guys they would direct.
Executive story editor Jeff Martin, a Red Sox fan from his days of rooting for Carl Yastrzemski, drew Boston pitcher Roger Clemens.
Great, only one hitch: Martin had to inform the imposing Clemens the script called for him to cluck like a chicken. Over and over.
D'oh!
"I had visions of telling him and having him stomp out," Martin recalled this week from Fenway Park. "But without missing a beat, he started clucking away."
Clemens was fine with his character being put under a spell by a hypnotist. In the cartoon, Sax was arrested for hundreds of unsolved murders in New York.
"I liked mine in the show. Got to show off my rough side," Sax kidded.
The only player who wasn't happy with his part was Canseco - rather than a scandalous plot, he wanted to be more gallant. And the Simpsons crew got every star it wanted except one, with Ryne Sandberg passing and Sax taking his place at second base.
In the episode, most major leaguers hired by the evil Mr. Burns to play for Springfield in the championship game vs. the Shelbyville Nuclear Plant are befallen by some odd fate. Strawberry is the lone starter, and Homer pinch hits for him in the bottom of the ninth inning with two outs and the bases loaded.
This time, Homer turned out to be a hero. He gets hit in the head with a pitch, giving Springfield a 44-43 win. There were a lot of unusual twists, in fact, even by Simpsons standards.
"At the time, I think we thought maybe this show is too weird for some people," Martin said.
As it came out over the years, a couple of actors who voiced prominent characters in the show notably didn't like the episode written by Simpsons great John Swartzwelder.
Los Angeles Angels manager Mike Scioscia liked it then, and now. He was catching for the Los Angeles Dodgers when he did his part, which had him miss the big softball game because of acute radiation poisoning.
"I'm still signing Simpsons items," he said.
The residuals are nice, too.
"The checks come in, usually they're about 79 cents," he said, laughing. "A big one might be six bucks."
Commissioner Rob Manfred said he was familiar with the show.
"Among the various items that I was given as a gift when I was elected was people at Fox sent me a Simpsons cartoon with me as part of it. ... so I do know a little something about the Simpsons," he said.
Added up, this was a perfect time to honor the episode, Hall President Jeff Idelson said.
"The museum is always cognizant of baseball's contribution, not only to the game, but the culture," he said.
Boggs, Smith, Sax, Martin and several other members of the Simpsons team will hold a round table discussion Saturday morning, before Homer is "inducted." A possible topic: Would the show try for a replay, 25 years later, with current All-Stars?
"Just imagine all the talent you could assemble," Martin said. "But how would you draw Bryce Harper's beard? Would it look like Bart's head upside down?"
___
AP Sports Writer Kristie Rieken and AP freelance writer Michael Wagaman contributed to this report.