Lakers-Warriors FOX Bet Super 6 Contest: Studio host shares his picks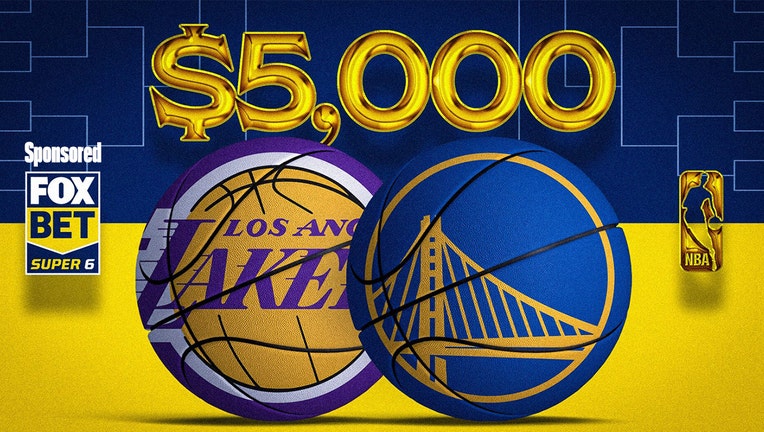 article
"It's like watching graceful ballerinas. So majestic. And the players' athleticism is second to none."
That's the sentiment FOX Sports studio host Mike Hill shared to describe the beauty of the NBA. Truer words have never been spoken.
"It's real special to witness the greatness of future Hall of Famers like LeBron James, Steph Curry and Kevin Durant. And as a Knicks fan, it's even more special to cheer for a team this year that actually might be playing for something."
Devoting oneself to lifelong Knicks fandom takes dedication. But it was applying that kind of unwavering commitment to his professional career that helped catapult Hill into the stratosphere as one of the industry's most revered on-air personalities.
"I've been at FOX Sports since FS1 launched 10 years ago. I'm one of the old heads here now," Hill joked. "Now, I host the studio shows for college football and college basketball, I go on the road for BIG NOON Kickoff, and I do a couple of MLB studio shows, too. I've even had my own show during my time at FOX Sports."
A brilliant résumé and stellar reputation preceding him, it's obvious why sports fans tune in religiously for Mike's perspective. And when it comes to his point of view on this year's NBA playoffs, it's the lower seeds that have grabbed his attention.
"The Miami Heat, as a No. 8 seed, knocked off the Milwaukee Bucks. They did that in five games. That's incredible. Yeah, Giannis was banged up, but the Heat lost one of their star players, Tyler Herro, in the first game of the series, and they were still able to pull that off."
He also gave a nod to higher seeds like the Nuggets and the 76ers.
"I love how Denver's playing right now. The Nuggets look like the best team left. And then there's Philadelphia. That's a team playing at a high level without the NBA MVP, Joel Embiid. We're seeing how good the league really is during these playoffs."
Speaking of good, it's time for you to prove that you're good, too, by trying your luck at Thursday's FOX Bet Super 6 NBA Playoffs contest.
FOX Bet Super 6 is a free-to-play contest where you can pick six different outcomes in the FOX Bet Super 6 NBA Playoffs Game II Contest featuring the Lakers and the Warriors to win $5,000. Just download the FOX Bet Super 6 app on your phone or mobile device, make your picks and submit your selections before the game tips off on Thursday.
Playing is always free, easy and it's fun. And we want you to know that people really do win!
Before you make a fast break to submit your picks, check out Mike Hill's expert insight for Thursday's thrilling showdown between these Western Conference foes.
FOX Bet Super 6 Picks from Mike Hill
Which team will have more turnovers and how many will they have combined?
0-19, 20-21, 22-23, 24-25, 26-27, 28-29, 30-31, 32-33, 34+
"I will say the Lakers are going to have more turnovers even though Golden State is more of a frenetic team. And I will predict that the Lakers will have 17 turnovers. So combined, the teams will have 30."
Prediction: Lakers, 30-31
Which team will have more rebounds and how many will they have?
0-35, 36-37, 38-39, 40-41, 42-44, 45-47, 48-50, 51-53, 54+
"I'll give the edge to the Lakers here. They have a bigger team — especially with Anthony Davis. Well, if Anthony Davis can stay in the game and play. With him, that's always a big if! 
"But if A.D. has a great game, Lakers got this one."
Prediction: Lakers, 45-47
Which team will have more assists and how many will they have?
0-24, 25, 26, 27, 28, 29, 30, 31, 32+
"Hmmm … I will give the edge here to the Lakers again. LeBron obviously is always willing to facilitate. And, of course, A.D. is gonna get a couple of assists in addition to his rebounds."
Prediction: Lakers, 24
Which team will have more steals and how many will they have combined?
0-9, 10, 11, 12, 13, 14, 15, 16, 17+
"The Warriors will have more steals. If my prediction is that the Lakers will have more turnovers, then I have to go with the Warriors having more steals."
Prediction: Warriors, 14
Which player — Steph Curry or LeBron James — will score more points and how many will they have?
0-21, 22-23, 24-25, 26-28, 28-29, 30-32, 33-35, 36-39, 40+
"Okay, gotta give Steph the edge here. He has to do more for his team than LeBron has to do for his. Steph averaged about 32 points a game in the Warriors' first-round series. So this Thursday, he'll step it up again."
Prediction: Steph Curry, 30-32
Which team will win and by how many points?
1, 2, 3, 4, 5, 6, 7, 8, 9+
"I know the Warriors will win Game 2. They know how crucial home-court advantage is because they have not been a really good road team."
Prediction: Warriors, 7
More predictions… and how to play
Looking for additional bold predictions? Well, Mike has you covered there, too.
"I'm stopping short of saying that the Warriors will sweep the Lakers because the Lakers have been playing well recently. Golden State will win in five. However, that's not my bold prediction," he laughed.
"My bold prediction for this series is that LeBron will not average over 25 points. And it's not because he's old," Mike explained. "You see Austin Reaves stepping up. You see D-Lo stepping up. LeBron will score 30 when he needs to score 30 as he did in the series against Memphis, but he's at the stage where he'd rather get everyone else involved."
And Mr. Hill's forecast for the NBA Finals is perhaps the hottest take of them all.
"The Miami Heat, as an 8-seed, will get to the NBA Finals, and they will play against the defending champion Golden State Warriors.
"The Warriors know this could be the final year that their team as we know it exists. So I think they're gonna go out with a bang."
With Mike's assist, you should be ready to play FOX Bet Super 6 for your chance at $5K.
Download the FOX Bet Super 6 app and submit your selections for Thursday's NBA Playoffs Game II Contest now. Then be sure to share your picks with us by tagging @FOXSuper6 and @EricaReneeD and using the #EricaSuper6 hashtag across all social media platforms.
Remember, you miss 100% of the shots you don't take. Good luck!
Download the FOX Bet Super 6 app for your chance to win thousands of dollars on the biggest sporting events each and every week! Just make your picks and you could win the grand prize. Download and play today!
No purchase necessary. Open to legal residents of the US, excluding WA. 18 and older. See terms and conditions at foxsuper6.com. Sponsored by TSG Interactive US Services Limited.