This weekend's NASCAR race on FOX: Ross Chastain seeks 2nd straight win at 2023 GEICO 500 in Talladega
TALLADEGA, Ala. - The second quarter of the NASCAR season gets underway on Sunday with the 2023 GEICO 500 from Talladega, Alabama. 
Coverage kicks off at 2 p.m. ET with NASCAR RaceDay on FOX followed by the race at 3 p.m. ET. 
Ross Chastain won last year's race after starting 19th and is seeking a repeat victory. 
But Chastain faces stiff competition Sunday from other top drivers, including Kevin Harvick, Brad Keselowski, Martin Truex Jr., Chase Elliot, and Denny Hamlin. 
Harvick will make his 800th career NASCAR Cup Series start at Talladega Sunday as the 10th driver to accomplish the feat joining Richard Petty, Ricky Rudd, Dave Marcis, Terry Labonte, Mark Martin, Kyle Petty, Bill Elliott, Darrell Waltrip, and Jeff Gordon, according to NASCAR.com.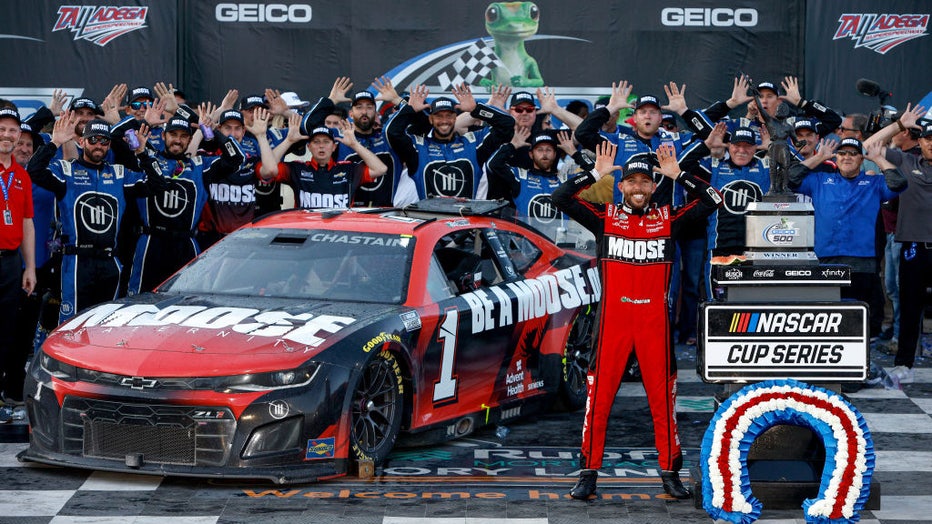 Ross Chastain, driver of the #1 Moose Fraternity Chevrolet, and crew celebrate after winning the NASCAR Cup Series GEICO 500 at Talladega Superspeedway on April 24, 2022. (Sean Gardner/Getty Images)
Another racer to watch Sunday is Ryan Blaney, who looks to end a 55-race winless streak. Blaney has won two of the last seven races on the 2.66-mile track.
Thirty-one races at Talladega Superspeedway were won on a last-lap pass, and 12 drivers claimed their first win at Talladega. For six drivers, it marked their only win, NASCAR.com noted. 
This story was reported from Washington, D.C.