New England Patriots owner Robert Kraft charged with soliciting prostitute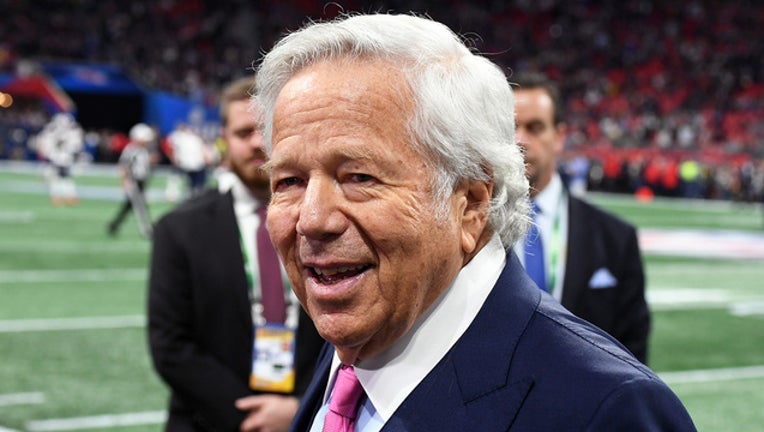 article
JUPITER, Fla. (FOX 13) - Robert Kraft, billionaire businessman and owner of the New England Patriots, has been charged with soliciting a prostitute, police said Friday. 
The charges come as part of a recent prostitution and human trafficking sting in Jupiter, Florida this week. Jupiter police told reporters Friday that the 77-year-old Kraft hasn't been arrested. A warrant will be issued and his attorneys will be notified.
Earlier this week at a news conference, Martin County Sheriff William Snyder told WPTV about 100 men would be arrested, including "a newsmaker." 
Jupiter police confirmed to WPTV that Kraft is one of the men being charged and said there's video evidence of all the men being charged. 
Jupiter Police Chief Daniel Kerr said he was shocked to learn Kraft was paying for sex inside a strip mall massage parlor. "We're as deeply stunned as anyone else," he told WPTV.
According to TMZ, officials said Kraft is accused of soliciting a prostitute on at least two separate occasions, and in one of them, he was driven to the spa by a chauffeur. 
The women accused of running the sex trafficking ring operated out of spas which called themselves massage parlors, according to TMZ. 
The charges were part of an eight month investigation. 
The Patriots won the Super Bowl earlier this month in Atlanta. The team did not immediately respond to requests for comment.
In a statement, a spokesperson for Kraft said they "categorically deny that Mr. Kraft engaged in any illegal activity. Because it is a judicial matter, we will not be commenting further."
Kraft's wife Myra Hiatt died in 2011. He has been dating 39-year-old actress Ricki Noel Lander since 2012.
The NFL did not immediately respond to a message Friday seeking comment.
CONTINUING COVERAGE BELOW:
The Associated Press contributed to this report.