Texas Rangers beat Houston 11-4 in Game 7, return to the World Series for the first time since 2011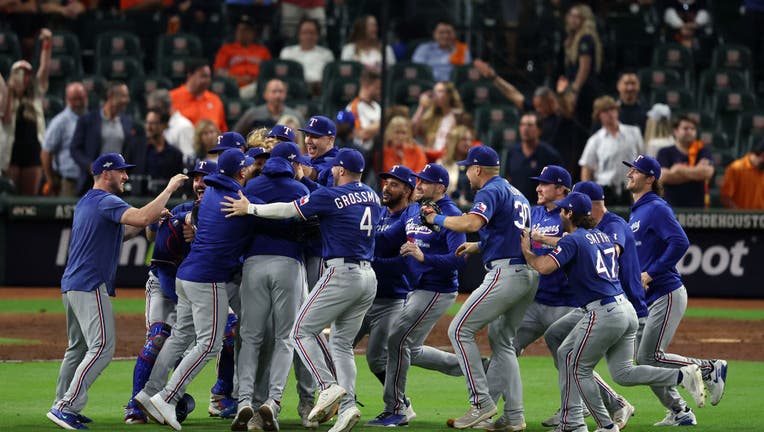 article
HOUSTON - The Texas Rangers are going back to the World Series for the first time since back-to-back trips in 2010 and 2011.
The Ranger bats struck early and often as they blew out the Houston Astros in Game 7 by the score of 11-4. 
Texas started quickly when Corey Seager hit a 440-foot bomb into the second deck.
Adolis Garcia mashed a ball into the left field wall to drive home Evan Carter to put the Rangers up 2-0.
Mitch Garver looped a single into center to score Garcia as the Rangers' piled on to Astros starter Cristian Javier.
Javier was lifted after giving up 3 runs and getting just one out in the first inning.
Mid-season acquisition Max Scherzer started on the mound for Texas. 
The Astros scored a run of their own in the first.
---
MORE RANGERS COVERAGE:
---
Jose Altuve started the game with a double and he was eventually driven home on a single by Jose Abreu.
Adolis Garcia homered in for the 4th straight game in the third, sending a solo shot to right field.
Alex Bregman responded with a solo homer of his own in the bottom of the third.
Scherzer was pulled after just 2.2 innings and replaced with Game 1 and 5 starter Jordan Montgomery.
Evan Carter and Adolis Garcia drove in runs in the top of the fourth to push the Rangers lead to 8-2.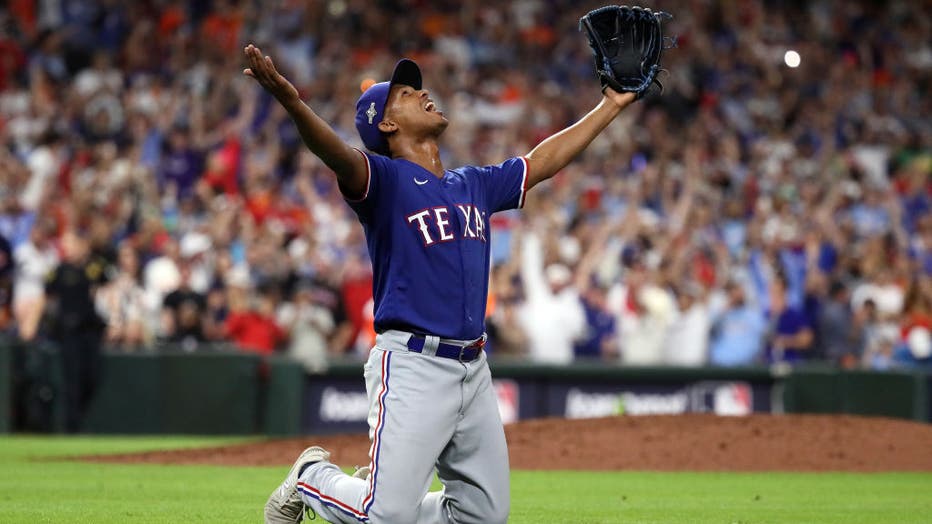 HOUSTON, TEXAS - OCTOBER 23: Jose Leclerc #25 of the Texas Rangers celebrates the final out to defeat the Houston Astros in Game Seven to win the American League Championship Series at Minute Maid Park on October 23, 2023 in Houston, Texas. (Photo by
Nathaniel Lowe hit a two-run homer off Bryan Abreu in the top of the 6th after the Astros reliever hit DH Mitch Garver in the ribs.
Yordan Alvarez drove in Bregman in the bottom of the seventh as the Astros worked to cut into the Rangers' lead.
Adolis Garcia homered a second time to put the Rangers up 11-3.
Alutve took Jose LeClerc deep in the ninth as the Astros tried to rally, but LeClerc closed out the ninth by getting Kyle Tucker to ground out to second.
Rangers RF Adolis Garcia was named the MVP of the series.
Garcia hit 5 homers and knocked in 15 runs in the ALCS.
"He's a bad man, isn't he?" Seager said. "To be able to come into this atmosphere and get booed every at-bat and do what he did was really special. It was really fun to watch."
Texas' win continues the streak for the two managers involved: Rangers manager Bruce Bochy has never lost a Game 7 and Astros manager Dusty Baker has never won a Game 7.
Bochy, who came out of retirement this season to manage the Rangers, became the first skipper to win a League Championship Series with three different teams, after previously leading San Diego and San Francisco to NL pennants.
"I didn't know if I'd get back in it. And here I am. I know how blessed I am," Bochy said. "We've had our streaks. We've had our injuries. They keep getting up. To come in here and beat such a great team like Houston — and congrats on their year. But it's great to be wearing the horns in Texas."
Fittingly, it came at home, where they went 40-47 this year and 0-4 in this series. They won all three games at Texas and came home a win shy of their third straight pennant, but Houston's pitching staff got pounded for 20 runs in the final two games of the team's seventh consecutive ALCS.
"I don't like tipping my cap to anybody," Astros manager Dusty Baker said. "But when someone beats the hell out of you, what are you going to do?
"It's not easy to accept or say, but we got beat. We have been spoiled around here as far as winning and winning and winning. And heck, I've been here four years, and we've been to two World Series and two Championship Series. We have nothing to be ashamed of or nothing to hold our head down about. We're down, but we're not out. And every team in baseball would trade to have had the last four years that we've had."
The Rangers improved to 8-0 on the road in the playoffs, joining the 1996 Yankees as the only teams to win their first eight games away from home in one postseason.
The Rangers have never won a World Series in franchise history.
Texas will play the winner of the NLCS, either the Arizona Diamondbacks or the Philadelphia Phillies.
The teams are playing Game 7 of the series on Tuesday night.
No matter who wins, Game 1 and 2 will be played in Arlington.
Game 1 is scheduled for Friday, Oct. 27 at 7 p.m.
The Associated Press contributed to this story
Rangers Fan Reaction
Plenty of Rangers fans made the trip to Globe Life Field for tonight's Game 7.
They had a reason to cheer early.
Corey Seager hit a 440-foot homer to put the Rangers up 1-0 in the first inning, sending the crowd into a frenzy.
Adolis Garcia's homer in the third inning was another big moment for Rangers fans.
Garcia has homered in four straight games.
Houston Fans Leave Stadium
FOX 26 in Houston talked to disappointed Astros fans as they left the stadium. 
Their reactions did not disappoint.