Redskins backup QB Colt McCoy out for the season with lower leg injury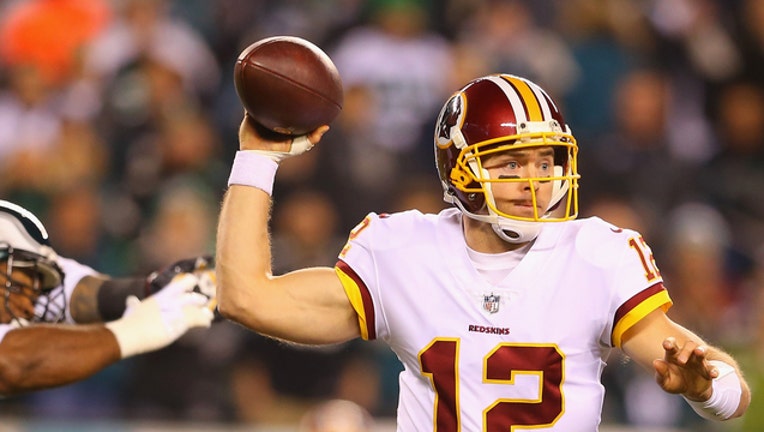 article
WASHINGTON - The Redskins backup quarterback, Colt McCoy, is out for the season after suffering a lower-leg injury against the Philadelphia Eagles on Monday night, according to reports.
Fox Sports tweeted the update to McCoy's status around halftime.
McCoy took over and made his second straight start after the gruesome season-ending leg injury to Alex Smith. McCoy's start in the Thanksgiving game against Dallas was his first since 2015. McCoy, who started for Cleveland and San Francisco earlier in his career, had appeared in nine games over the last three-plus seasons with Washington, until Smith was injured.
 Sanchez, signed two weeks ago, played for the first time since Jan. 1, 2017, when he was with Dallas. Sanchez, a former Eagle, was eased into the lineup. On his first snap, he handed the ball to Adrian Peterson, who raced 90 yards for a touchdown. The 33-year-old Peterson had the longest rushing TD of his career, the longest rushing score in Redskins' history and he became the oldest player in NFL history with a 90-yard rushing touchdown.
Sanchez was once the franchise quarterback for the New York Jets and led them to the AFC championship game his first two seasons in the NFL. Sanchez was the fifth overall pick in the 2009 draft and drew comparisons to Joe Namath in New York. He was 4-2 in the postseason and helped the Jets beat Peyton Manning and Tom Brady in consecutive road playoff games in January 2011. But Sanchez had an NFL-leading 52 turnovers in 2012-13 and lost his starting job to Geno Smith. He spent two seasons with the Eagles and one with the Cowboys.
His lasting image of his time with the Jets came in 2012, when he fumbled after running into the backside of guard Brandon Moore. It was returned for a touchdown by New England's Steve Gregory in front of a national television audience on Thanksgiving night and was infamously labeled "The Butt Fumble."