Big-dollar investment in Seager and Semien has boosted Rangers from 102 losses to the ALCS
ARLINGTON, Texas (AP) — The Texas Rangers were coming off a 102-loss season when they invested a half-billion dollars in free agents Corey Seager and Marcus Semien.
Now with their All-Star middle infielders at the top of the batting order for the second straight year, the Rangers are getting ready for their first AL Championship Series since 2011 after opening this postseason with sweeps of the American League's two winningest teams of 2023.
"They've been everything we could have expected," general manager Chris Young said. "They've been wonderful in terms of the performance on the field, but also the leadership and the roles that they've played behind the scenes, which we get to see on a daily basis. And the expectation to win, the way they come to the ballpark every day with a focus and a work ethic that they want to win."
Seager was World Series MVP when the Los Angeles Dodgers won the 2020 title in a neutral-site matchup at Globe Life Field, but the Rangers had never had a postseason game in that ballpark until this week's Division Series clinching Game 3 against Baltimore. Seager's 445-foot homer in the first inning put the Rangers ahead to stay.
Texas opens the best-of-seven ALCS on Sunday night at AL West rival Houston.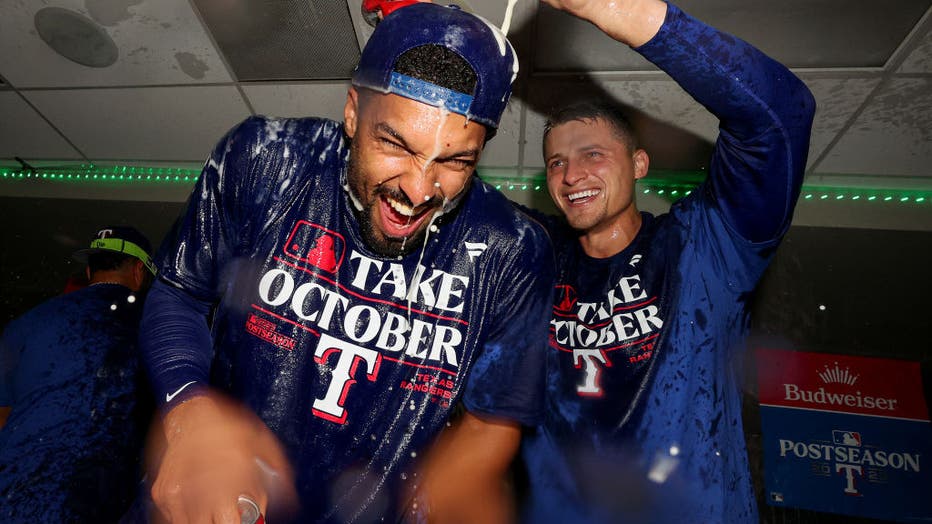 SEATTLE, WASHINGTON - SEPTEMBER 30: Marcus Semien #2 and Corey Seager #5 of the Texas Rangers celebrate in the clubhouse after the Texas Rangers clinched a 2023 MLB playoff berth Mariners at T-Mobile Park on September 30, 2023 in Seattle, Washington.
"Our goal last year was to be here," said Semien, the second baseman. "Corey and I have understood where we're at in Texas, and what our routine is."
Seager, a self-admitted meticulous guy in all that he does, said the Rangers had a thought-out plan during that offseason two years ago and a goal of returning to the playoffs for the first time since 2016. Seager was intrigued with the opportunity to energize fans, much as the Dodgers did when they won their first championship since 1988.
"When I won in LA, it was a long time since they'd won. I saw what that did for a fan base," Seager said. "When I heard (the Rangers) had never won, it was extremely exciting for me to be part of something and to be able to be on the ground for and build that."
Texas signed Seager for $325 million for 10 seasons, and Semien got a $175 million, seven-year contract. They were formally introduced by the Rangers on Dec. 1, 2021, hours before MLB's five-year collective bargaining agreement with the players' union expired and management imposed a lockout that stretched for 99 days and delayed spring training and the season.
The Rangers went 68-94 in 2021, then focused on pitching in another spending spree last offseason Acquisitions included two-time Cy Young Award winner Jacob deGrom, though he last pitched in April before elbow surgery, and All-Star right-hander Nathan Eovaldi, who has won both of their clinching games this postseason. They also hired Bruce Bochy, who managed San Francisco to three World Series titles.
They won 90 games this year, when Seager had an MVP-caliber season despite missing 40 games because of two stints on the injured list. He hit .327 with 33 homers and 96 RBIs in 119 games; he lost the AL batting title on the final day of the regular season, but matched his season high for homers for the second year in a row.
"He's going to hit," Semien said of Seager. "That's what I've watched over the years, as the Dodgers went further and further every year was Corey Seager leading that team."
The business-like Semien played all 162 games, and led the AL with 185 hits and 122 runs. He batted .276 with 29 homers and 100 RBIs, joining slugging teammate Adolis García as one of only three AL players to score and drive in at least 100 runs.
When Bochy got to his first spring training with the Rangers, he saw Seager and Semien playing catch and spending all their time together.
"They're completely wired different. They are. But yet, they both have the same goals, and that's to be good teammates and play winning baseball. And that's what you appreciate about both of them," Bochy said this week during the ALDS.
"We've learned each other over the last two years, and we're in a great spot," Seager said. "I know where he's going to be. He knows where I'm going to be. And that's just the gel and the camaraderie that you need to build with your double play partner and a guy that you're going to play with every day."
All the way into October.