Officials urge people to prepare as severe weather possible across Texas
AUSTIN, Texas - Much of Texas is under the gun for severe weather, which is expected to last for the next few days. Officials are urging folks to be prepared, especially if you are in a flood-prone area.  
The Storm Prediction Center has placed Central Texas under a slight risk of severe storms for today and tonight. Good Day Austin meteorologist Zack Shields says we are expecting numerous storms to form west of here and line up and move this way late this afternoon and evening.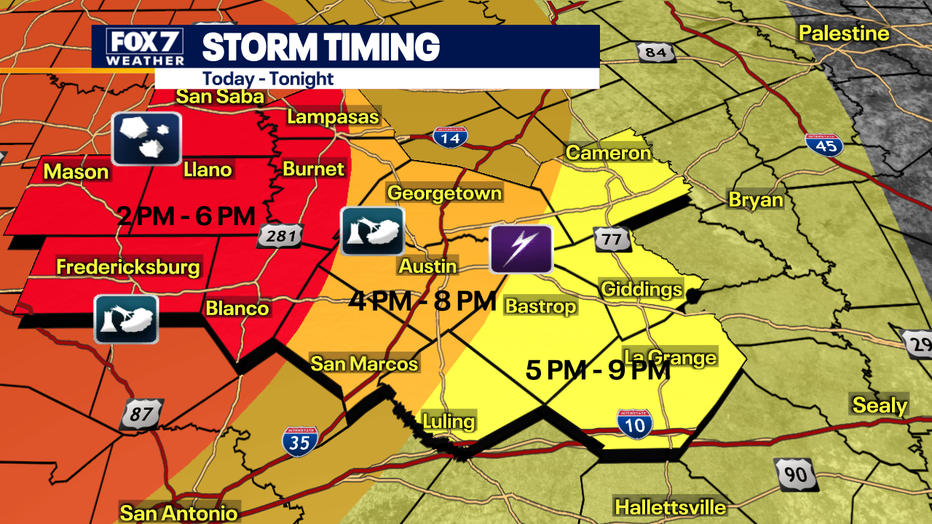 The line will push through from 2 p.m. to 9 p.m. Damaging winds will be the number one threat followed by small to moderate-sized hail. Heavy rain and lightning are also possible. 
DOWNLOAD THE FOX 7 AUSTIN NEWS WAPP
Get ready for multiple rounds of heavy rain this week. We will transition to a flooding threat in the coming days. National Weather Service is projecting 4 to 7" of rain the next several days. 
Over the past 24 hours, Central Texas has already seen some heavy rain and storms, with intense downpours, high winds, and even hail in some spots. Given that the storms are expected to last most of this week, the major concern is for flooding and possible damage.
Flooding of rivers and creeks is a concern, and, given those threats, Gov. Greg Abbott has activated a number of resources. The state has boat squads, helicopter teams as well as forest service crews ready to go in case rescues need to be made, but officials are urging everyone to be prepared for potentially dangerous conditions.
SIGN UP FOR FOX 7 AUSTIN EMAIL ALERTS
Officials say it can only take an inch or two of rain to trigger flash flooding. Low-lying roads are of particular concern, and, according to the Austin Fire Department, just a few inches of rain can sweep away a person, and less than a food of water can sweep away a whole car.  
"Normally it would take three to four inches of rain in an hour to cause a flood in a particular area. Now that our ground is saturated, all of that water will run off rather than stay or trying to be absorbed into the ground. So it'll definitely start or flash floods a little faster," said Battalion Chief Eddie Martinez with the Austin Fire Department. "Our best advice if it's raining really hard flooding, it's best to stay put and not to get up and go around."
There are some things you can do to make sure you are prepared for potential flooding:
Know the flood risk in your area. You can learn more about this by checking out FEMA's flooding map online
Have an emergency supply kit with essentials, especially if you're in a flood prone area.
Move valuables to higher ground or put them in waterproof containers.
If your property tends to flood,  consider a sump pump with a battery.
Be cautious of water on roadways. Never try to cross an area that's flooded or barricaded: "turn around, don't drown".
Stay weather aware and download the FOX 7 WAPP. The design gives you radar, hourly, and 7-day weather information just by scrolling. Our weather alerts will warn you early and help you stay safe during storms.