700 cases of Rambling Sparkling Water donated to Central Texas Food Bank
AUSTIN, Texas - Rambler Sparkling Water, a water company found and sourced in Austin, donated seven pallets of its product to the Central Texas Food Bank to help do its part to help those in need as people in the area deal with COVID-19.
RELATED: Local restaurants changing way they do business due to coronavirus
"The coronavirus pandemic has a lot more people turning to us for help and our resources are being strained to the limit. Donations like this can help us make a real difference in the lives of our neighbors in need," said President and CEO of the Central Texas Food Bank Derrick Chubbs in a news release. 
The seven pallets Rambler donated is about 700 cases or 16,800 cans.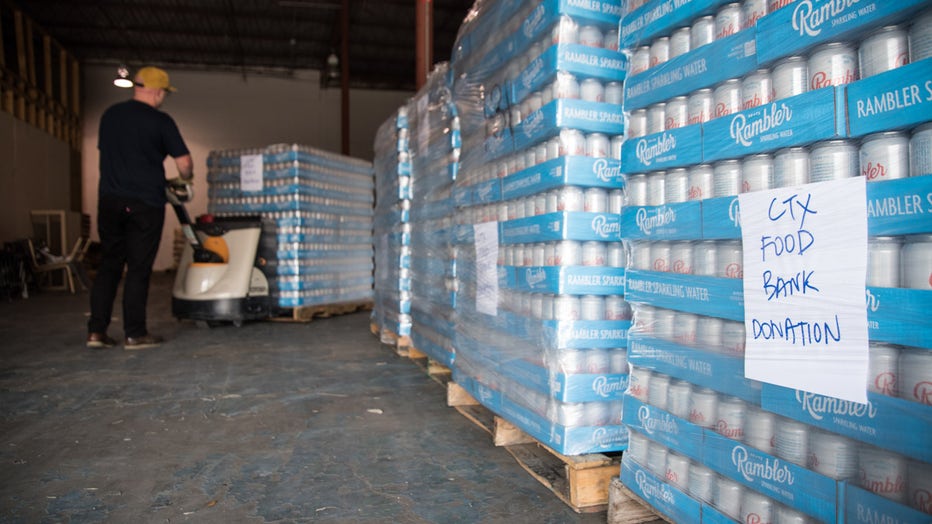 Photo courtesy Rambler Sparkling Water.
RELATED: UT Austin Chemistry Department donates PPE gear to local hospitals
Rambler CEO James Moody says the company was "proud" to support the food bank "in their noble efforts to supply the Austin Independent School District mobile food pantry sites with food and water during this difficult time for our community."
With the donation from Rambler, the goal is to help hydrate Central Texans through the brand's largest donation in its two year history.
CLICK HERE FOR THE LATEST INFO ON THE CORONAVIRUS OUTBREAK
Donations like Ramber's helps the Central Texas Food Bank fill unmet needs in Central Texas and allowed the organization to bring 52 million meals to Central Texans in need last year thought its network of distribution partners and mobile food pantries.
For more details on Rambler Sparkling Water you can go here and click here to details on how you can help the Central Texas Food Bank.