77-year-old Bay Area nurse competes in her 37th straight Boston Marathon, extending her record streak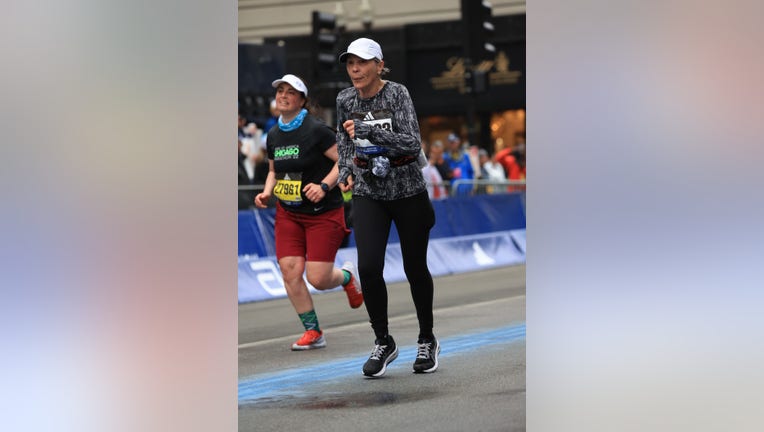 article
BOSTON - A 77-year-old Bay Area woman made her definitive mark in the storied Boston Marathon on Monday, crossing the finish line for the 37th consecutive time-- more than any other woman in the history of the prestigious, world renowned road racing event.
Patty Hung, of Orinda, completed the 26.2 mile race with a time of 5:40:37, putting her in 9th place in her division of women aged 75-79.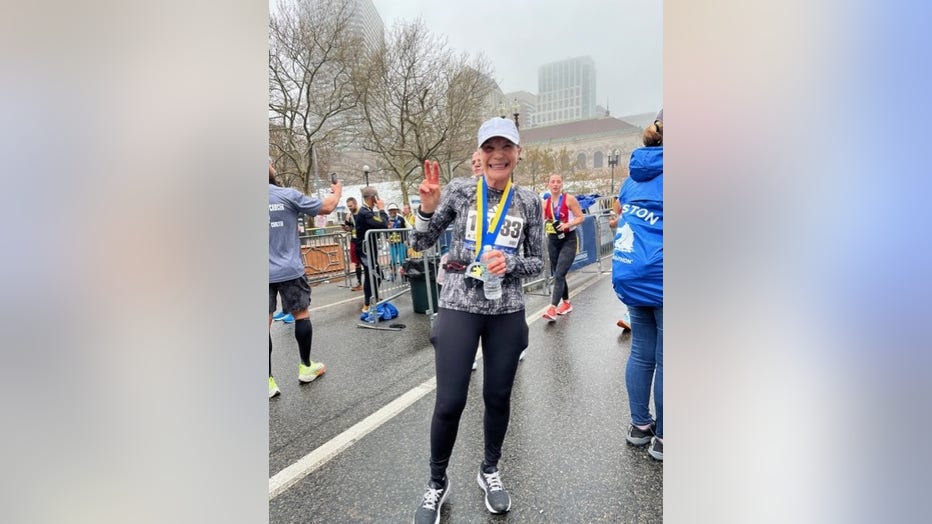 Orinda, Calif. resident, Patty Hung, 77, completed her 37th consecutive Boston Marathon on Monday, April 17, 2023. She holds the record for longest active streak in the storied race among women.
Last year, she set her name in the Boston Marathon record books owning the longest active women's streak with her 36th consecutive run, surpassing the previous record set by Andrea Hatch of Maine who ended her streak in 2013, according to the Boston Athletic Association. 
SEE ALSO: Boston Marathon 2023: Defending champ Evans Chebet wins, spoils Kipchoge debut
SEE ALSO: Warriors' Draymond Green ejected after stomping on chest of Sacramento King's Sabonis
A former math teacher at Miramonte High School, Hung returned to school later in life to become a nurse. She's currently a pediatric night shift nurse at UCSF Benioff Children's Hospital Oakland. 
Her never-too-late-to-try-something-new attitude was what brought her to a life of running. 
Hung has said that she didn't consider herself much of an athlete before she took that first run in her late 30s, a life-changing moment that she remembered clearly.
In a recent interview for the podcast Women Running Stories, she told host Cherie Louise Turner about that first run, which occurred when she was living in Oakland at the time. 
"I was sitting around a beautiful Lake Merritt in Oakland, and I was watching these people run past me, and the lake is about three miles around. And I did have some kind of athletic shoes on, and I said, 'You know, I think I'm going to try this.' So I got up, started running, ran around the lake," Hung recalled emotionally, adding, "I'm crying, because I've never stopped running since then."
Hung said that her road to Boston came at a time in her life when she was going through some trials and by way of running, she found control and direction. 
"I got divorced. My life was pretty much in disarray. I wanted a purpose in my life, so I could help my own psyche of being a mom with three young children, no husband," she told Turner. "I wanted something that would challenge me to be strong in my mind and have a purpose. And I decided I'm going to run the Boston Marathon."
That decision led to her first Boston Marathon in 1987. And at the center of what has motivated her to return for almost four decades, she said, was her family.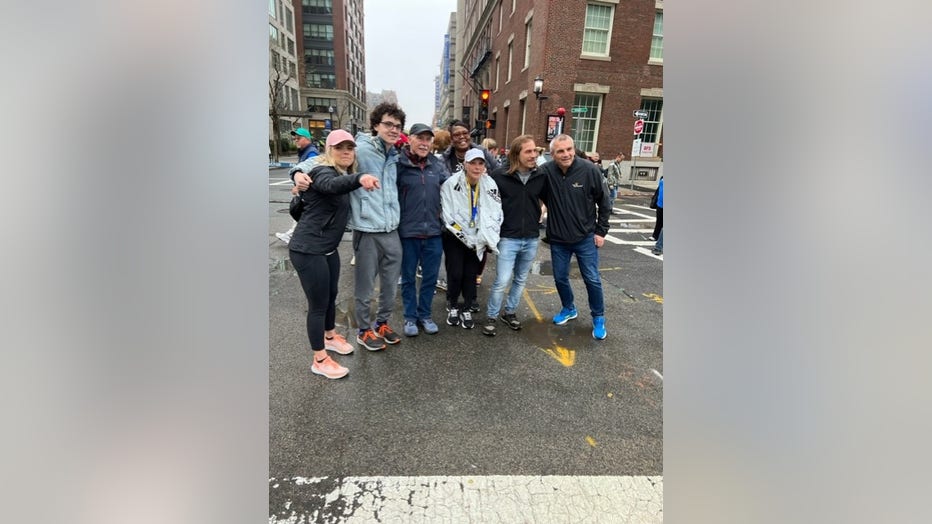 Orinda, Calif. resident, Patty Hung at the 127th Boston Marathon on Monday, April 17, 2023. (Patty Hung)
Born and raised in Boston, the Bay Area transplant said that year after year, many of her relatives who still lived in the Boston area would come out to cheer her on. Many of her family members who started as spectators of the marathon, including her sons, would be so inspired by Hung, they would become participants of the race themselves.
"People who were my family were all now running with me in Boston, and then it just kept escalating to be a big family thing," Hung shared. 
Her energy and dedication were infectious and would even reach and influence those outside of her family in the classroom where she taught. 
"When I was teaching at Miramonte High School, a few of my students started running Boston, and of course I had all these Boston Marathon bibs on the walls in my classroom, and that inspired a lot of kids," she said in the podcast. 
All of those characteristics that have made Hung a standout and remarkable runner-- longevity, commitment, endurance and strength, have been demonstrated in other parts of her life, including her work. UCSF Benioff Children's Hospital Oakland (BCH), where she has worked since 2012, praised her for her accomplishments. 
In a statement to KTVU, BCH President Matt Cook said, "We are so proud of Patty, whose hard work and perseverance in her work as a nurse at UCSF Benioff Children's Hospital Oakland is mirrored in her dedication to competing in the Boston Marathon."
Hung said her return to Boston year after year, was never about chasing a record or extending a streak. 
"I never had that desire to beat a record," she said, reiterating, "It goes back always to my family." 
Decades later, since her first Boston Marathon, her family has remained at her side, as her biggest supporters and inspirations for her to keep running. "My sons are all there for me, and they are now my coaches," the runner said. "They make me feel that I still can do this."
And with that fuel that has long kept her returning to Boston, she said she has no plans to stop. 
"I'm just going to keep it going as long as my body allows me to and my mind. The purpose of running the Boston Marathon was no longer to just run the marathon," the athlete said. "It was discipline of this challenge every year. It was the purpose of being with my family and sharing all of this excitement with my family. So all of that made me want to do it again and again and again. And here I am at 37!"
This story was reported from Oakland, Calif.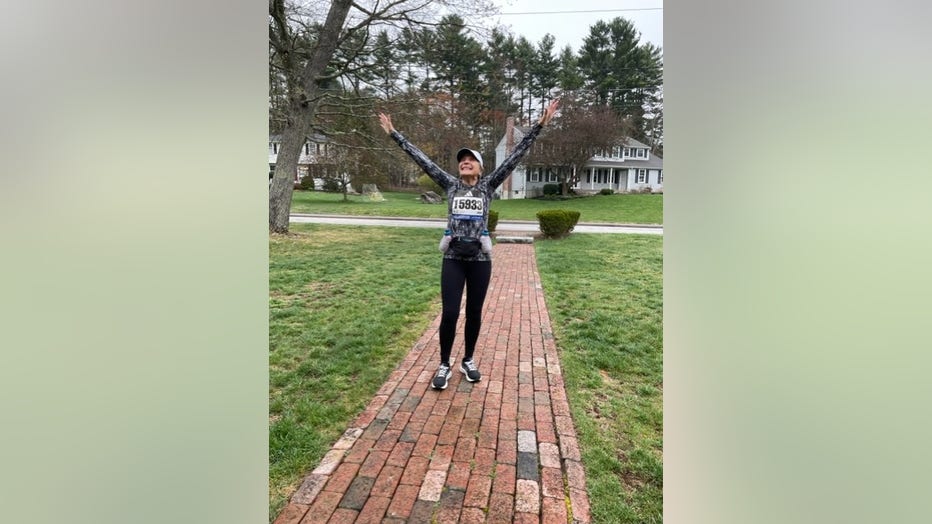 Orinda, Calif. resident, Patty Hung, 77, completed her 37th consecutive Boston Marathon on Monday, April 17, 2023. She holds the record for longest active streak in the storied race among women.  (Patty Hung)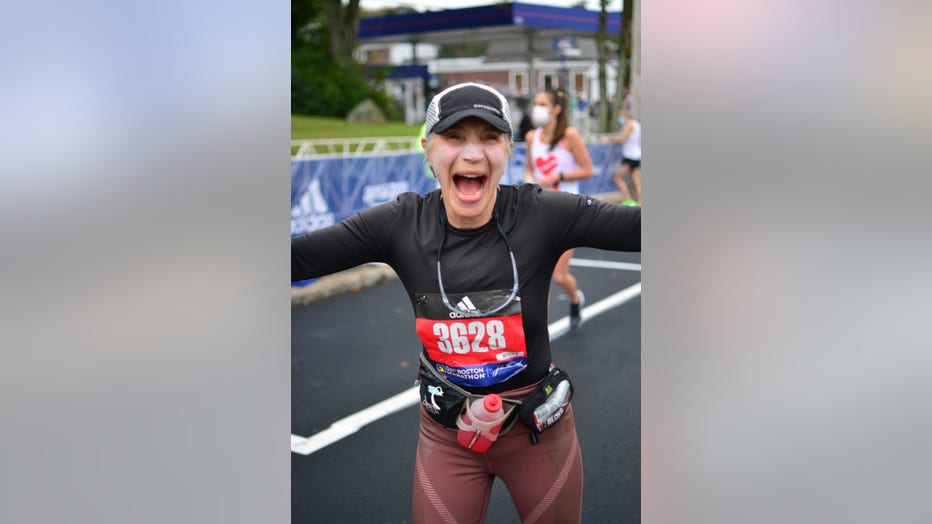 Patty Hung of Orinda, Calif at the Boston Marathon on Oct. 11, 2021 for her 35th straight finish.  (Boston Athletic Association)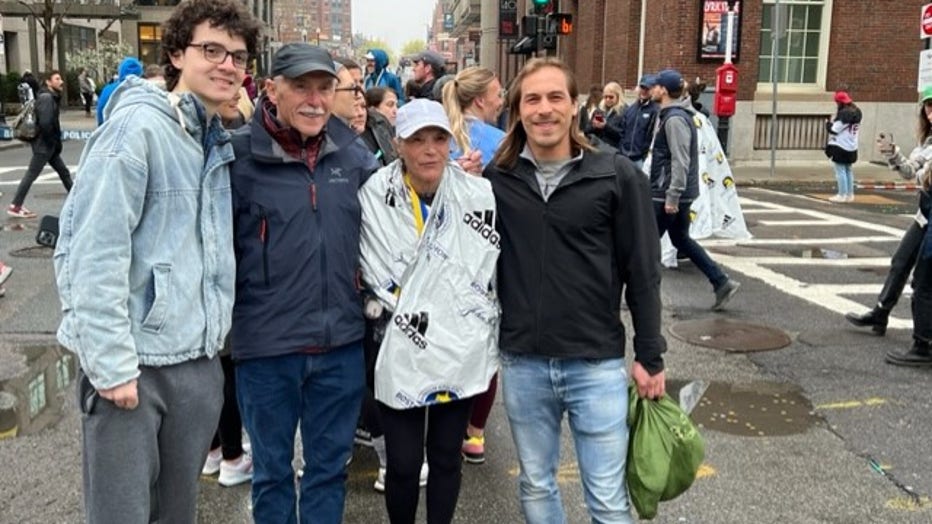 Orinda resident, Patty Hung, with loved ones after crossing the finish line at the Boston Marathon on Monday, April 17, 2023. The 77-year-old holds the record for the longest active streak among women in the prestigious race. (Patty Hung)