AFD rescues bystander nearly swept away while trying to help stranded motorist
AUSTIN, Texas - Turn around, don't drown, says the Austin Fire Department after one of their crews rescued someone who had been trying to help a stranded motorist.
AFD posted pictures of the rescue on Twitter, saying that the bystander had nearly been swept away while trying to help the motorist who was stranded in high water. The incident occurred at the entrance to Austin Ridge Bible Church's southwest campus on W. SH 71 in the Bee Cave area. 
DOWNLOAD THE FOX 7 AUSTIN NEWS APP
SIGN UP FOR FOX 7 AUSTIN EMAIL ALERTS
AFD Engine 37 performed what is called a "throw bag" rescue, where crews throw a bag of rope to victims and pull them back out of the water. The bystander was rescued with no injuries.
"A lot of people don't know how fast the floods come around here," said Mike Depue who lives nearby and chose not to cross the low water crossing and instead followed the warning signs. "To be honest I really try to take it seriously I wouldn't even think about it, it's only 6 inches deep and I wouldn't even think about even in a car, just 1 step away from tragedy."
Depue said the water here can rise quickly and easily take people daring to cross them by surprise. "I know a lot of people impacted by flooding and it's truly a tragic event for people that get flooded it often changes people's lives and is difficult to recover from," he said.
Many cars at that location did turn around, there were some who chose to test their luck and one car even chose to move a barrier and go around the barricade. Depue said doing stuff like this just to save time on your commute isn't worth putting your life or the people with you in danger.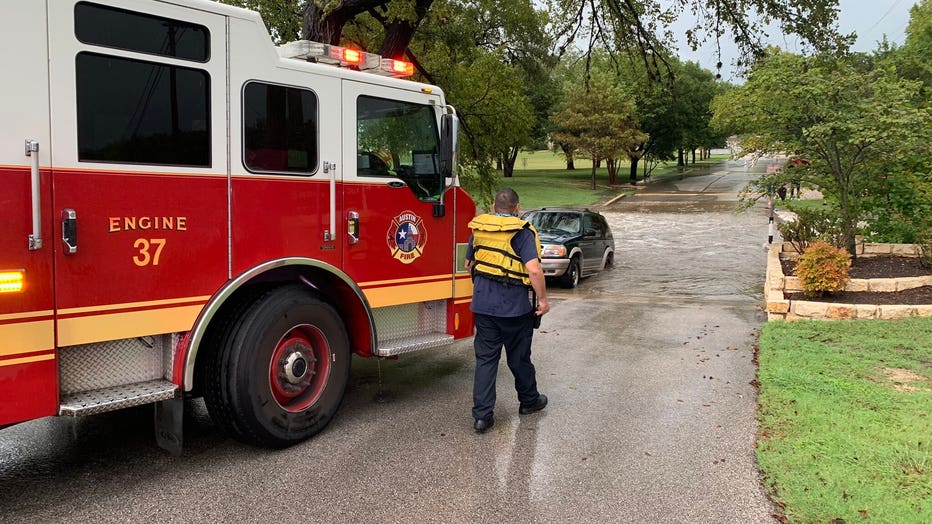 According to the National Weather Service, more deaths occur each year due to flooding than from any other thunderstorm-related hazard. Over half of all flood-related drownings occur when motorists drive their vehicles into hazardous floodwaters, says the CDC, and many are from cars swept downstream.
NWS says that a mere six inches of fast-moving flood water can knock over an adult. Just 12 inches can carry away most cars, and it takes just two feet to carry away SUVs and trucks.
NWS says to follow these safety rules when it comes to flood waters:
Monitor the NOAA Weather Radio All Hazards, or the news for vital weather-related information
If flooding occurs, get to higher ground.
Get out of areas subject to flooding, including dips, low spots, canyons, and normally dry washes
Avoid roads already flooded, as the road may be washed out under floodwaters
Turn Around Don't Drown™ when you encounter a flooded road. DO NOT drive around barricades
If heavy rain is forecast or occurring, move your campsite and vehicle away from streams and washes
Be especially cautious when driving at night when it is harder to recognize flood dangers