Alma Wahlberg, matriarch of the Wahlberg family, dies at 78
Alma Wahlberg, who shared the screen with her sons in the A&E series "Wahlburgers," has died at the age of 78.
Both Mark and Donnie Wahlberg posted a tribute to their late mother on social media Sunday. 
"My angel. Rest in peace," Mark wrote. 
Donnie shared a video montage of sweet moments with his mother, calling her "such an amazing woman."
"She was the epitome of the word grace," he continued. "I never heard her say, or do, anything disrespectful to anyone. She was, as anybody who ever came across her knows, true blue."
Donnie had previously alluded in a post on his Instagram that his mother's health wasn't the best, though he didn't give specific details except to say "she didn't remember much and was often confused." 
"But somehow she was still Alma. She still lights up a room. She still made me smile. She's still stubborn. And she still loves her baby Donnie," he wrote on July 2, 2020. 
Alma had nine children and worked as a bank clerk and nurse's aide to make ends meet, according to her biography on A&E. 
On the "Today" show in 2018, Alma Wahlberg opened up about her parenting and how hard it was early on. "I invented the craziest meals," she said. English muffin pizzas were among her creations to feed her hungry lot.
The A&E reality show "Wahlburgers" followed her son Paul's ambition to start and take on the challenges of running a restaurant franchise. The original location in Massachusetts spurred the show, which ran for 10 seasons.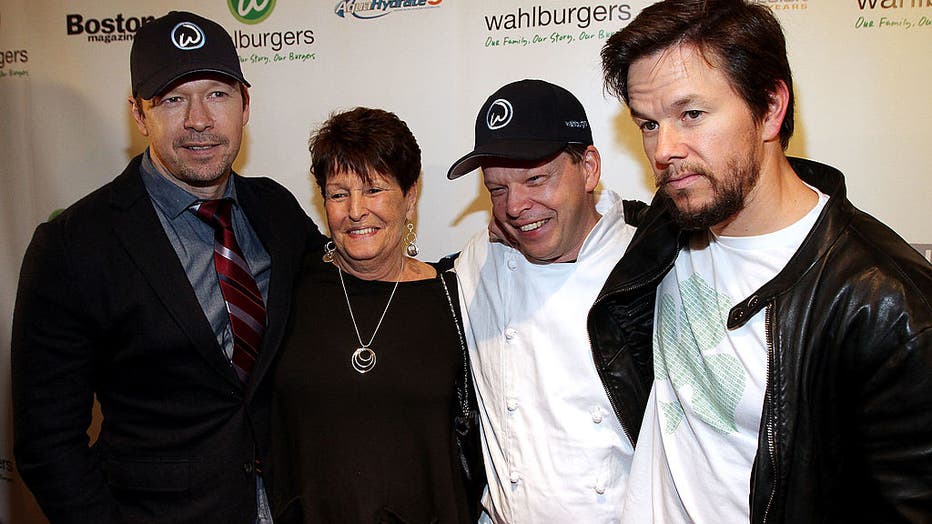 BOSTON, MA - OCTOBER 24: (L-R) Donnie Wahlberg, their mother Alma Elaine Wahlberg, chef Paul Wahlberg and Mark Wahlberg attend the grand opening of Wahlburgers on October 24, 2011 at the Hingham Shipyard in Boston, Massachusetts. (Photo by Marc Andre
Wahlburgers now has locations in 20 states, as well as internationally in Canada and Germany. The franchise's website says a location is coming soon too to Australia. 
While her health allowed, Alma spent her time working as a greeter and hostess at some of the restaurants.
"After all of her sons' success, the proud mother always makes sure family still comes first," her A&E bio reads. 
More than a few of her children went on to great successes and fame. Paul Wahlberg, the chef behind the namesake burger chain, also named the Alma Nove restaurant in Hingham, Massachusetts, after her.
"People know me as being the mother of famous children, and although this fact has brought many gifts into my life and has afforded me opportunities that may never have been possible otherwise, there is a whole lot more to my story than most people know," Alma Wahlberg said in an interview with Boston's WCVB-TV in 2018. "I've lived with alcoholism and abuse; struggled with poverty and experienced great wealth; lost so many that I've loved; struggle to raise nine children, and I love them more than anything else; watch them suffer, learn and come out on the other side; lost myself; found myself, again and again; and kept moving forward, no matter what."
Alma is survived by eight children. Her daughter Debbie died in 2003.
The Associated Press contributed to this report