Amazon deforestation reaches lowest level in 5 years
Brazil's government reported the lowest levels of deforestation since 2018, Reuters reported on Nov. 9. 
According to government data released last week, deforestation in Brazil's Amazon rainforest dropped by 22.3% in the last year. 
It comes after President Luiz Inacio Lula da Silva pledged reach zero deforestation by 2030.
According to data from Brazilian space research agency INPE, roughly 9,001 square kilometers (3,475.31 square miles )of Amazon jungle were destroyed in the last 12 months through July, down from nearly 12,000 square kilometers deforested last year. 
the recent data represents the smallest area of deforested land since 2018 when previous president, Jair Bolsonaro took office. 
"It's an impressive result and seals Brazil's return to the climate agenda," said Marcio Astrini, head of advocacy group Climate Observatory.
The decline in forest destruction represents a trend since Lula became the leader of the South American nation. 
In his first six months as president, deforestation dropped by 33.6%. That was according to government satellite data released in July.
"The effort of reversing the curve of growth has been reached. That is a fact: we reversed the curve; deforestation isn't increasing," João Paulo Capobianco, the Environment Ministry's executive secretary, said during a presentation in Brasilia.
Capobianco noted that full-year results will depend on a few challenging months ahead. Still, the data is an encouraging sign for Lula, who campaigned last year with pledges to rein in illegal logging and undo the environmental devastation during Bolsonaro's term. The former far-right leader weakened environmental authorities while his insistence on development of the Amazon region resonated with landgrabbers and farmers who had long felt maligned by environmental laws. They were emboldened, and Amazon deforestation surged to a 15-year high.
Most of the data used to monitor deforestation comes from a system called Deter, managed by the National Institute for Space Research, a federal agency. It is an initiative mainly focused on detecting real-time deforestation. The most accurate deforestation calculations come from another system called Prodes, with data released only annually.
"Bottom line, we are prioritizing environmental law enforcement," Jair Schmitt, head of environmental protection at Ibama, Brazil's federal environmental agency, said in a phone interview with The Associated Press.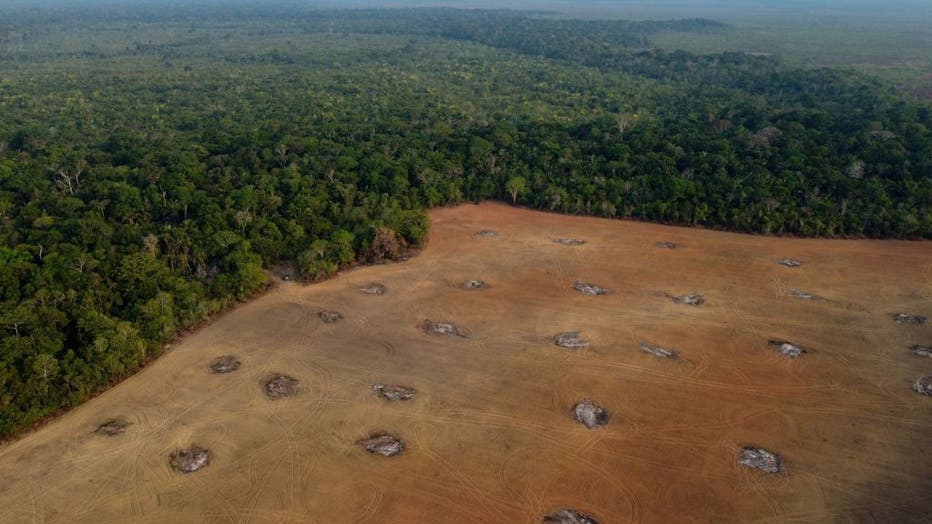 Aerial view of a deforested area of the Amazonia rainforest in the surroundings of the BR-319 highway at the city of Humaita, Amazonas state, Brazil, on September 15, 2022. (Photo by MICHAEL DANTAS / AFP) (Photo by MICHAEL DANTAS/AFP via Getty Images
However, the continued shortage of personnel means the task hasn't been easy, he said. Many Ibama agents retired and weren't replaced during Bolsonaro's administration, reflecting his effort to defang environmental authorities. Lula has committed to restoring the workforce, but the number of Ibama's enforcement agents remains at its lowest in 24 years. For the entire country that is bigger than the contiguous U.S., there are just 700 agents, with 150 available for deployment.
Ibama has also strengthened remote surveillance, where deforestation is detected through satellite imagery, according to Schmitt. By cross-referencing with land records, it is possible to identify the owner of the area in many cases, leading to an embargo that restricts access to financial loans and imposes other sanctions.
Another strategy has been to seize thousands of illegally raised cattle within embargoed areas. It is effective because it inflicts immediate punishment, whereas fines are rarely paid in Brazil due to a slow appeals process, Schmitt said.
Rodrigo Agostinho, the head of Ibama, noted in the presentation Thursday that the value of fines imposed in the first half of the year jumped 167% from the 2019-2022 average, and the agency embargoed 2,086 areas — up 111%.
"We started the year with a lot of difficulty because of everything we inherited, reorganizing all the enforcement teams, environmental protection, reactivating tech systems," said Agostinho.
Improved deforestation data also reflect the change in rhetoric coming from the top, said Schmitt. Whereas Bolsonaro openly criticized Ibama and advocated for the legalization of deforested areas, Lula has said he will rebuild law enforcement and promised to expel invaders from protected areas. Experts say the mere expectation that a land-grabbed area will eventually be regularized has historically been one of deforestation's biggest drivers.
It may be premature to celebrate the reversal in deforestation's trend, however. According to satellite monitoring, there were 3,075 fires in the Amazon in June alone, which marks the beginning of the dry season — the most since 2007. The jump is due to the clearing of areas deforested in the second half of 2022, Schmitt said. In the Amazon, fires are mostly man-made and occur after clear-cutting of the forest.