AMBER Alert: Dallas County father accused of abducting 10-year-old son, killing boy's mother
WILMER, Texas - An AMBER Alert was issued Tuesday night for a 10-year-old who was abducted in the Dallas County city of Wilmer.
Investigators believe 10-year-old Ian Aguilar was abducted by his father, 38-year-old Juan Aguilar-Cano.
The Dallas County Sheriff's Department said on Wednesday that Aguilar-Cano is a suspect in a homicide investigation.
Neighbors told FOX 4 this all comes as a shock, and that a relative found the boy's mother dead inside a mobile home off of Interstate 45 in Wilmer Tuesday afternoon.
"I wouldn't think nothing would happen in a small town right in front of us, and a family man turns out to be a murderer," neighbor Marissa Gonzales said. 
Apparently, no one had heard from her since Friday, November 10.
"It was initially reported as a welfare concern and after some investigation we found that a homicide had been committed. Immediately, our concern was for the 10-year-old boy and his safety," said Wilmer Police Chief Victor Kemp.
By the time the police arrived, Aguilar and Aguilar-Cano were gone.
Aguilar-Cano's tan 2007 Chevy Tahoe was also gone.
Wilmer Police requested an AMBER Alert, believing that Ian is in grave danger.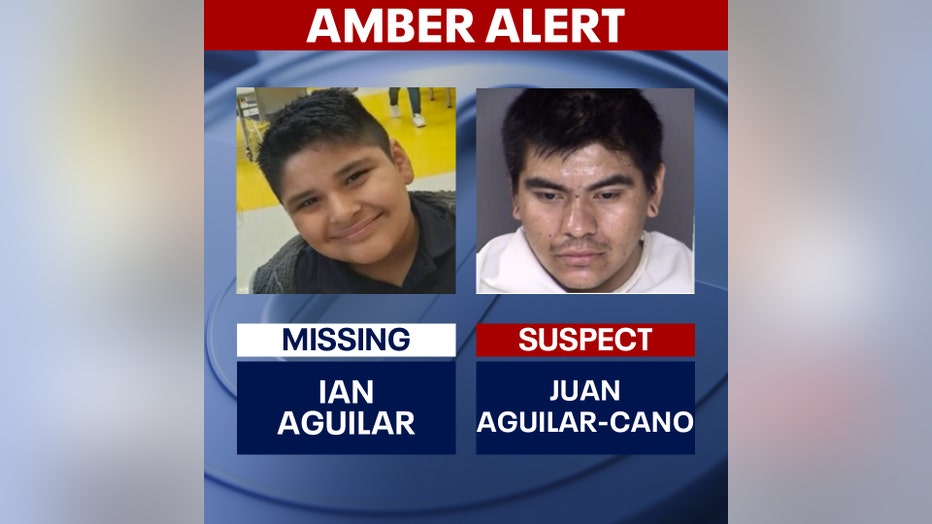 The car was found in Houston Wednesday morning, but there was no sign of the father and son.
On Thursday, Wilmer Police said the car was found at a Tornado Bus Company location.
"We appreciate all eyes and ears out there. Any information you have forward it to the Wilmer Police Department," said Chief Kemp.
Police would only confirm the murder victim was a relative who had custody of the child.
Gonzales is still trying to come to grips that a statewide AMBER Alert began just steps away from her Wilmer home. She said she first became concerned when she heard banging Tuesday evening. 
"We saw this young lady hop the fence and she was trying to break in. She had a big pole with her," she recalled. "She goes to the front and she just starts crying, but we don't know what happened."
Another neighbor, who asked FOX 4 not to show her face or use her name, said it was the boy's mom.
The neighbor said the mom lived in the mobile home on Oakdale Street, along with the father and son.
She said she never heard any problems.
"No, never ever has the police shown up there, heard any fighting or screaming.  We just thought they were a loving family," the neighbor said.
CPS tells FOX 4 they do not have any history with the family.
The neighbor was home around 5 p.m. Tuesday, when the couple's adult daughter showed up to the home and began breaking windows, trying to get in.
Once inside, the neighbor said she found her mom dead and no one else inside, sparking the AMBER Alert.
"She finally found a way inside the house and that's when we started hearing screaming," said the neighbor. "The cops came out crying, so it had to have been a really brutal murder."
Dallas ISD confirmed to FOX 4 that Ian Aguilar is enrolled at Eddie Bernice Johnson STEM Academy in Wilmer.
The homicide is the first in Wilmer in at least 12 years.
"It came to a shock to everyone here. [Aguilar-Cano] was known as a family-friendly, helpful person. He has helped up on occasion. He has talked to all our neighbors. All our neighbors know him," Gonzales said.
The Dallas County Sheriff's Office is handling the murder investigation since Wilmer PD does not have any homicide detectives.
Before this murder and kidnapping, police said they had never been called out to the home.
Child Protective services also told FOX 4 they were never called out to the home. 
While Aguilar-Cano has violations on his criminal record, including DWI and evading arrest, FOX 4 could not find any history of violence.
Anyone with information about Ian Aguilar or Juan Aguilar-Cano is asked to call 911.