Anti-Israel statements sweep more colleges; critics slam leaders for staying out of fray
Elite U.S. universities are getting sharp criticism in response to statements by anti-Israel campus groups that have gone unchecked by campus leaders.
On Sunday, a day after Hamas terrorist attacks on Israelis killed over 1,000, including children, and wounded over 2,000, nearly 30 "Palestine solidarity groups" at Harvard University issued a statement saying "the apartheid regime" of Israel "is the only one to blame" for the atrocities committed by Hamas terrorists. 
"Today's events did not occur in a vacuum," the statement said. "In the coming days, Palestinians will be forced to bear the full brunt of Israel's violence." 
Roughly 24 hours later, on Monday, Harvard University President Claudine Gay released a statement, saying, "Let there be no doubt that I condemn the terrorist atrocities perpetrated by Hamas."
PROTESTERS FACE OFF NEAR HARVARD, MAN CALLS PRO-ISRAEL DEMONSTRATORS 'NAZIS' AND 'PIGS'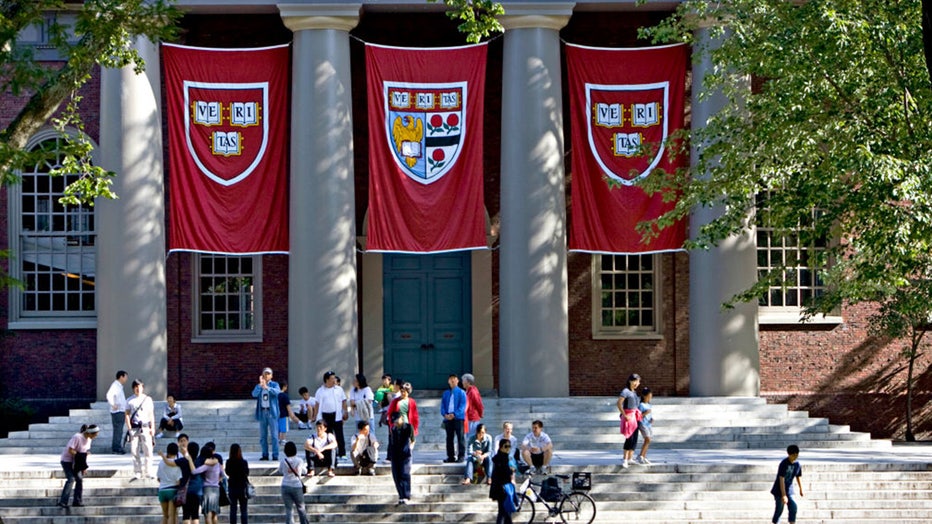 FILE - Harvard banners hang outside Memorial Church on the Harvard University campus in Cambridge, Massachusetts, U.S., on Friday, Sept. 4, 2009. (Michael Fein/Bloomberg via Getty Images)
She added that while students have the right to speak for themselves, "no student group — not even 30 student groups — speaks for Harvard University or its leadership."
But Lawrence H. Summers, president emeritus of Harvard, says the school's "delayed statement fails to meet the needs of the moment." 
"Why can't we find anything approaching the moral clarity of Harvard statements after George Floyd's death or Russia's invasion of Ukraine when terrorists kill, rape and take hostage hundreds of Israelis attending a music festival?" Summers, who served in senior leadership posts under presidents Clinton and Obama, asked in a post Tuesday on X, formerly Twitter.
"Why can't we give reassurance that the University stands squarely against Hamas terror to frightened students when 35 groups of their fellow students appear to be blaming all the violence on Israel?" 
DEMOCRAT BLASTS 'SQUAD' MEMBERS OVER CALLS TO END ISRAEL ASSISTANCE: 'IT SICKENS ME'
Prior to Gay releasing her statement, Summers said he had never felt so "disillusioned and alienated" during his 50-year affiliation with the university.
The former Clinton Treasury secretary compared the school administration's silence on the attacks in Israel to Gay's nearly 500-word "powerful" statement condemning police violence when George Floyd was killed in 2020.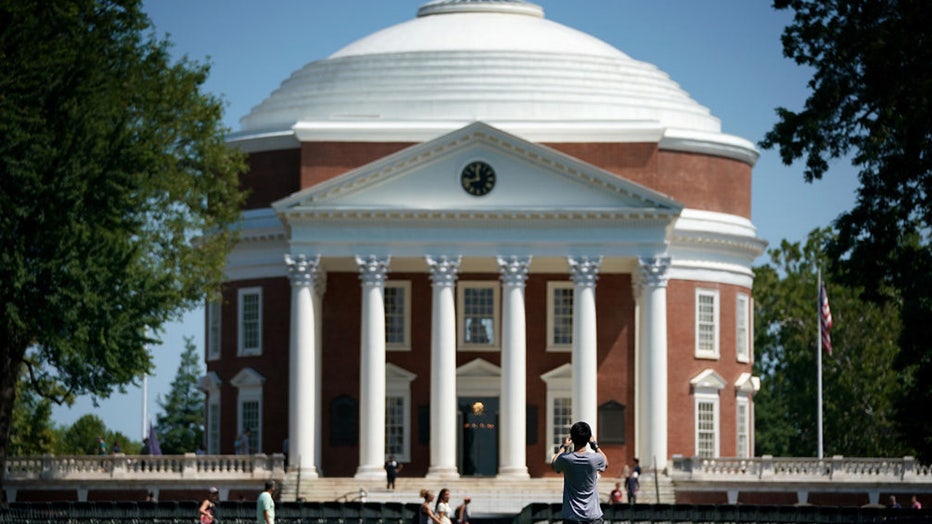 FILE - Students return to the University of Virginia for the fall semester on August 19, 2017 in Charlottesville, Virginia. (Win McNamee/Getty Images)
In the more than 48-hour window before Gay published her statement, Summers said Harvard was "being defined by the morally unconscionable statement apparently coming from two dozen student groups blaming all the violence on Israel."
Northwestern University Students for Justice in Palestine issued a similar statement on Monday, saying Israel is not "the aggrieved party." 
PROGRESSIVE DEM SLAMS 'REPREHENSIBLE AND REPULSIVE' RESPONSE TO HAMAS ATTACK ON ISRAEL AFTER 'SQUAD' REMARKS
"The events of October 7th are more than just isolated incidents; they're symptomatic of decades-long desperation stemming from subjugation and systemic oppression," the statement said.
"Israel's portrayal as the aggrieved party is not only historically inaccurate, but also contradicts the very dynamics they've established. A party that controls the resources, dictates movement, dominates military might, and infringes upon the rights of another, cannot, by any logical construct, claim victimhood," the statement says.
Guy Benson, political editor for Townhall and a Northwestern alumnus, called the statement "morally inverted" and "disgusting.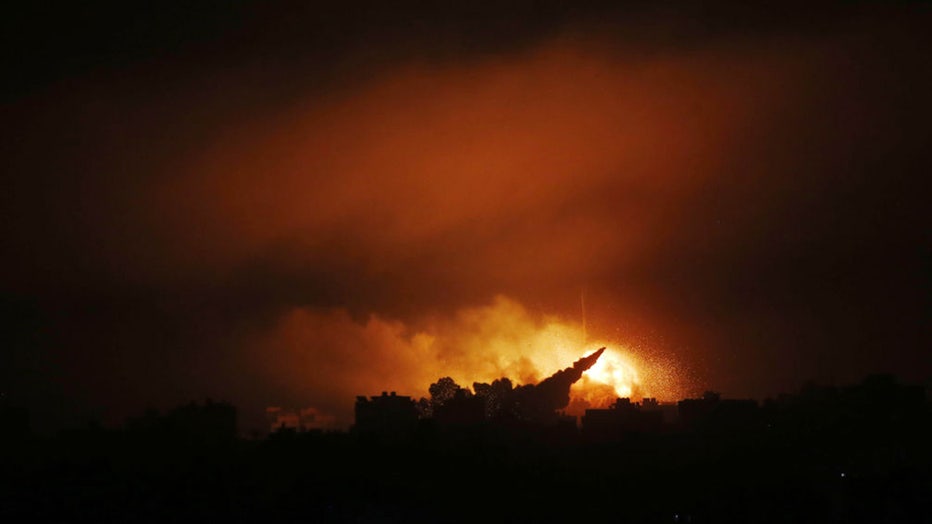 FILE - Smoke rises after an Israeli airstrike that has been going on for six days in Gaza City, Gaza on Oct. 12, 2023. (Ashraf Amra/Anadolu via Getty Images)
University of Virginia (UVA) Students for Justice in Palestine said Sunday that following the brutality carried out by Hamas, it was "hopeful for the future."
"Over the past two days, many of us have been afraid, worried, and even hopeful for the future of Palestine," the group said. 
HARVARD WAS RANKED LAST FOR FREE SPEECH. HERE'S WHAT THE STUDENTS ARE SAYING
"Students for Justice in Palestine at UVA unequivocally supports Palestinian liberation and the right of colonized people everywhere to resist the occupation of their land by whatever means they deem necessary.
"We mourn the loss of human life and hope for long-lasting peace which cannot be achieved without the firm establishment of equality and justice. In an unprecedented feat for the 21st century, resistance fighters in Gaza broke through the illegitimate border fence, took occupation soldiers hostage, and seized control of Israeli settlements that are illegal under international law."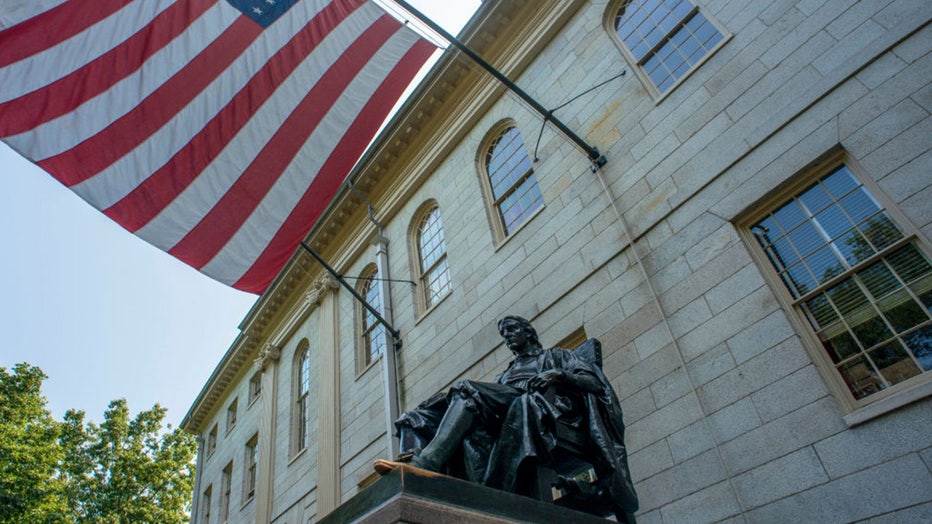 FILE - John Harvard Statue by Daniel Chester French on the campus of Harvard University, Cambridge, Massachusetts, USA.  (Sergi Reboredo/VW Pics/Universal Images Group via Getty Images)
On Tuesday, Israeli media reported Israel's military had discovered unspeakable horrors, including the bodies dozens of beheaded babies, in an Israeli community attacked by Hamas Saturday.
According to local Israeli outlet i24News, Israeli Defense Forces (IDF) soldiers moved into Kfar Aza, one of the communities Hamas terrorists invaded early Saturday morning, and discovered about 40 dead babies, some decapitated. 
IDF soldiers were removing the bodies of victims found in the area when they found the children's remains. Israeli soldiers are attempting to use bones to identify the victims, according to the report.  
Harvard, Northwestern and the University of Virginia did not respond to Fox News Digital's request for comment.