Apartment fire kills 2 despite 'very heroic' rescue efforts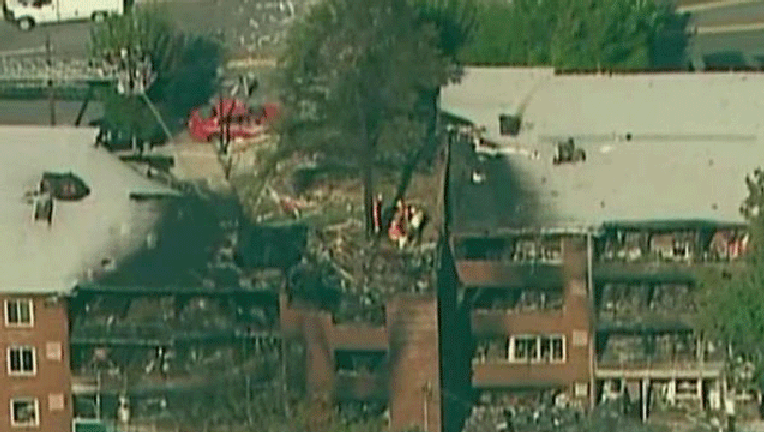 article
SILVER SPRING, Md. (AP) — At least two people died, despite "very heroic" rescue efforts, and dozens were injured after an explosion and large fire at an apartment complex in a Maryland suburb of Washington, and searchers are seeking others who remain unaccounted for, authorities said Thursday.
Two people were found dead in the ruins of a four-story building in Silver Spring, but have not yet been identified, Montgomery County Police Assistant Chief Russ Hamill said at a news conference. Three firefighters with minor injuries were among 34 people taken to local hospitals after the blaze, and were released Thursday.
Initially officials said they were looking for five to seven people who were unaccounted for, but now say they don't have a firm number. Hamill appealed for all residents of the building to contact authorities as people have still not been accounted for.
An off-duty police officer working part-time nearby heard the blast just before midnight Wednesday, saw large flames and began a "very heroic" effort to rescue people with other officers and firefighters, Hamill said.
Firefighters called to the four-story apartment complex found people on upper floors who needed help, Montgomery County Fire Chief Scott Goldstein said at a briefing. Local television showed firefighters helping people down fire ladders.
"People were dropping children and jumping out of other windows," Goldstein said. "Everybody was getting out of the building as rapidly as possible."
Goldstein said natural gas furnaces and stoves are in each of the units. It took at least an hour and 45 minutes to put out the blaze and Washington Gas helped safely turn off gas, he said.
There's no leading theory on the fire's cause, Hamill said, but they are investigating reports from residents of a gas odor before the blast.
The building was still at risk of collapsing, so it had to be shored up before recovery efforts and the investigation could continue, County Fire and Rescue Service Division Chief David Steckel said.
Erick Jimenez was outside the building Thursday looking for his father, Caesar, who he said lived on the first floor.
"I've gone to the emergency rooms, Holy Cross, Shady Grove, nobody knows," Jimenez said.
County officials said they were receiving multiple calls from people trying to reunite with loved ones and they were sending those people to a local elementary school.
Paul Carden, regional disaster director for the American Red Cross, estimated that 100 people were displaced and 60 or 70 were staying at a Red Cross shelter established at a nearby community center.
Carden said those displaced are primarily Spanish speakers. Translators were being brought in to ease communication. Officials made comments in English and Spanish during a Thursday news conference.
Carden said the nature of the explosion was especially traumatic.
"To basically be in an event where people were blown out of their beds ... and what they own is lying across the street, that's a key difference" from a typical fire evacuation, he said.
Mariana Turay, who has lived in the apartment complex for 30 years and spent the night in the shelter, said she chooses to view the explosion as a blessing, so loud that it woke everyone up and alerted them to get out.
"It was just like a bomb fell," she said. When she escaped her first-floor apartment, the fire was "right in my face."
Hours later, smoke still was rising from the garden style apartment building. Debris from the blast was scattered nearly 200 feet, including what appeared to be an apartment door blown all the way across a two-lane road and parking lot. Brightly colored bras hung from a tree in front of the apartments, apparently from a dresser drawer launched in the explosion. Windows across the street were broken.
Keni Flores said she was in an adjacent building when she heard an explosion and saw the flames.
"I just see fire everywhere," she said. "I was thinking nobody can survive in that fire."
Karina Hauffen was also in a nearby building at the time.
"It was a big boom, the building shook and everybody ran out," she said.
Eddie Macario said he lives in the building where the fire started.
"We were sleeping when we felt everything started shaking. We thought it was an earthquake, or just a tremor. And when we came out to the living room, it was full of smoke. We went out to the hallway and all the neighbors were getting out, running. A lady even said she had lost her baby in an apartment, I went in to see if I could get him, but I couldn't; it was collapsing, full of smoke. Nothing could be done, and she lost her baby there, and up until now they haven't found him."
___
Associated press writer Sarah Brumfield in Washington, D.C., contributed to this story.