APD officer who took down rampage shooter back on the job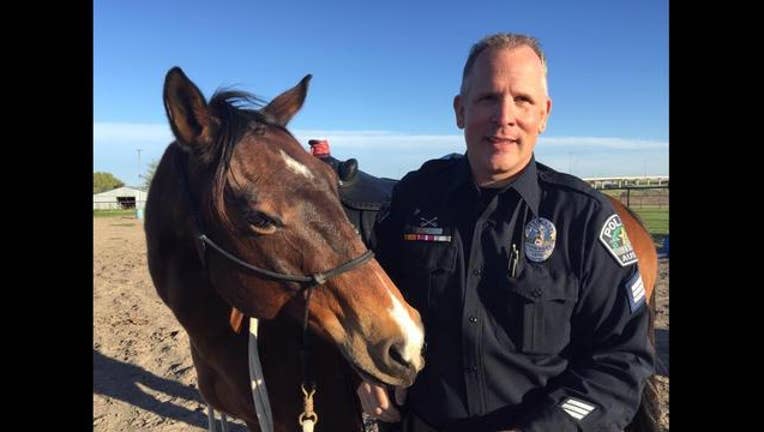 article
AUSTIN, Texas - The day after Thanksgiving last year, a man fired more than 100 rounds at multiple downtown buildings, including APD headquarters. According to a map found in his car, he had dozens more targets. The sergeant credited with stopping the rampage is back at work.
On Thursday evening FOX 7 met with Mounted Patrol Unit Sgt. Adam Johnson at APD's horse barn where he was preparing for his overnight patrol shift downtown.
He was on mandatory administrative leave and he then he underwent surgery which had him out much longer.
He cannot discuss specifics about what happened because the grand jury has not yet reviewed the case. He did talk about what it was like returning to APD and seeing the damage to which has not be repaired.
"It's just very surreal. You see in the news things that happen like the Boston Marathon and other things that happen across the country and brings it home when it happens in our own back yard. So it just kind of awestruck," said Johnson. "Big events I think they always change people and make us re-evaluate and see things through new perspective. I'm the kind of guy I try to live my life by the golden rule and try to treat other people the way I would expect them to treat me. [The shooting] certainly reinforced some of my fate.
Johnson said there was not a question about his return to the overnight shift in the Entertainment District.
"I love the environment. I love the exposure to people. We have a lot of people that come to Austin sometimes, once or twice in their entire lives and they always comment on the professionalism and how great the city is. I like to represent that," he said.
When it comes to any "hero" talk, Johnson says he's still learning how to respond to it.
"It's very embarrassing. I don't know how to handle that much attention or that type of attention so. I don't even know how to answer that. It's just hard when people thank us. I don't know whether to say you're welcome or thank you for thanking us because it's always appreciated when people tell us they appreciate us," he said.
Police say the gunman--identified as Larry McQuilliams--fired more than 100 rounds at the department after shooting up the Mexican consulate, a bank and the federal courthouse.
The bullets ricocheted throughout the main entrance of APD and into adjoining offices. Employees were inside at the time and took cover. None were injured.
Johnson had just completed his shift on mounted patrol and was holding the reigns of two horses when he heard the rapid gunfire. Johnson fired a single shot from 312 feet away fatally wounding McQuilliams.
Investigators recovered multiple weapons as well as IED's that were not configured correctly from McQuilliams' vehicle as well as a map of other targeted locations.
During McQuilliams' autopsy, the medical examiner says the words "let me die" were written in ink across his chest.
There is no date for the case to go before the grand jury. It could take up to two years.