Austin City Council, CapMetro board approve final Project Connect plan
AUSTIN, Texas - The CapMetro Board, in a joint session with Austin City Council on Wednesday, approved the final version of the Project Connect transit plan.
According to CapMetro, the program will now proceed with discussions on investments over the summer and towards a transit referendum for voters in November.
RELATED: Capital Metro unveils transit system recommendations, including light rail, Austin Underground
"Project Connect is a bold plan for a high-capacity, regionally connected system that is designed to help ease congestion, reduce carbon emissions, and provide equitable transportation options for every resident," says CapMetro. "The expanded transit system is designed to offer more access to opportunity for education, health care, and jobs."
The approved plan includes four new rail lines, 15 new fast and frequent bus routes, additional stations and frequency on the Red Line, 24 new Park & Rides, and the transition to a zero-emissions fleet. Another key component of the plan includes a downtown transit tunnel, which will separate transit services from street traffic, according to CapMetro.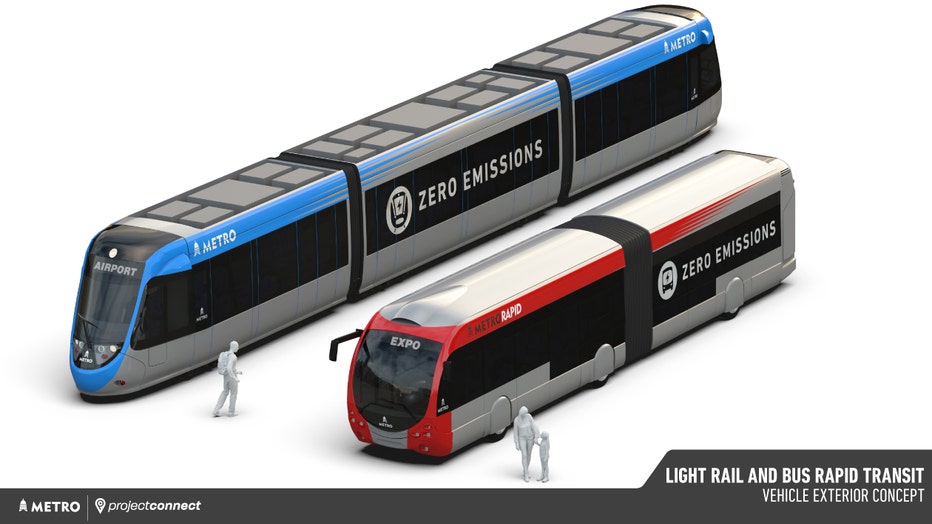 CapMetro is committing to a cleaner future with an entire fleet of vehicles that are zero emissions. Both BRT and LRT vehicles will have boarding from multiple doors, and new features would include interior bike racks, on-board digital information ce (Capital Metro)
RELATED: FOX 7 Discussion: CapMetro CEO on COVID-19 response
The tunnel, the most ambitious part of Project Connect, is where passengers can switch to trains heading north, south, and to the airport. There will also be space for shops and restaurants.
"Today to me is an incredible day because today is the day we transition from a vision plan, a lot of talk about what we want to do after all this work, to an actual action-based plan," said President & CEO Randy Clarke.
The price tag for Project Connect is expected to range from $5 to $10 billion. To fund it, Cap Metro managers told both groups that estimates show property tax bills could increase, on average, $200 a year. The amount depends on if the build-out is in 15 or 30 years. 
---------
Get breaking news alerts in the FOX 7 Austin News app. It is FREE!
---------
Other funding options include federal grants and local fee increases. A tax plan that exceeds the new state cap requires a public vote, possibly on the November ballot. Mayor Steve Adler indicated he is confident it can win approval.
"We've never had a plan or a proposal that has really had broad support and I think that we do now and that's real exciting. This is the first time that I've understood us to have a truly regional plan," said Adler.
RELATED: CapMetro sees 65% drop in ridership after stay-at-home order
"With Austin's population expected to double by 2040, Project Connect is the right plan for a public transportation system capable of responding to that growth," said Board Chair Wade Cooper. "Getting final approval on the plan is a major milestone as we move forward on realizing this bold vision for Austin's future. We're proud to have worked closely with the community to ensure Project Connect has a positive impact on our future."
CapMetro says that over the last two years, it has collected community feedback from nearly 60,000 community members, conducted hundreds of community meetings, and worked closely with city staff to design this transit plan. More than 4,000 people also shared feedback recently through virtual community meetings and a virtual open house.
RELATED: CapMetro launches mobile hotspot program with Austin ISD
CapMetro also says that economic benefits include four dollars in economic return for every dollar invested in public transportation, and approximately 21,800 jobs will be supported for each $1 billion spent. More than 200,000 jobs should be supported over the length of the project.
RELATED: FOX 7 Discussion: CapMetro CEO on next steps for Project Connect
In August, the City of Austin and Capital Metro could take action towards the creation of a joint oversight board – Austin Transit Partnership – that would administer federal and local funding and be responsible for the construction and implementation of Project Connect, according to CapMetro.
Construction on some parts of Project Connect could start early next year while others would take decades to complete. Special committees will be set up to monitor different parts of the plan- keeping them on track. Another vote on construction schedules will be done later.
SIGN UP FOR FOX 7 AUSTIN EMAIL ALERTS
For more information on the plan, visit Project Connect's website.